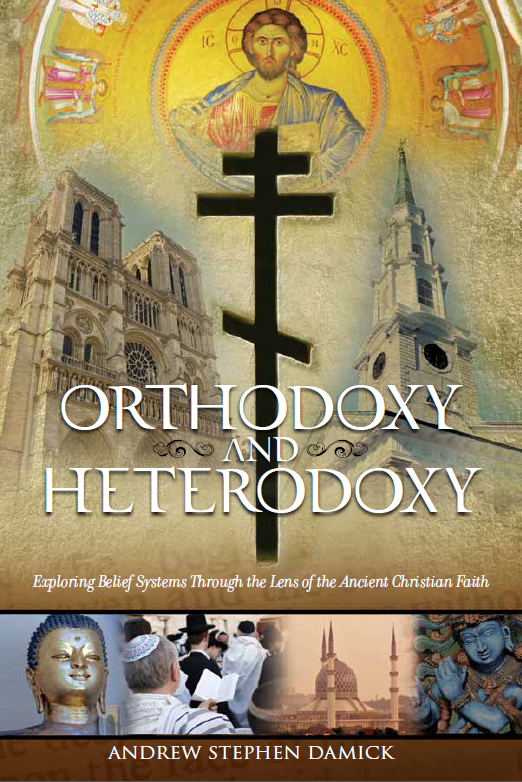 Are you an Orthodox Christian who wonders how to explain to your Baptist grandmother, your Buddhist neighbor, or the Jehovah s Witness at your door how your faith differs from theirs? Or are you a member of another faith who is curious what Orthodoxy is all about? Look no further. In Orthodoxy & Heterodoxy, Fr. Andrew Stephen Damick covers the gamut of ancient heresies, modern Christian denominations, fringe groups, and major world religions, highlighting the main points of each faith. This book is an invaluable reference for anyone who wants to understand the faiths of those they come in contact with as well as their own.
If you would like to win a free, autographed copy of Orthodoxy and Heterodoxy: Exploring Belief Systems Through the Lens of the Ancient Christian Faith, all you have to do is help a little with the promotion:
Share or link to this weblog post (shortlink: http://wp.me/prN4b-iY ) on Facebook, Twitter, Google+ or your weblog.
Send me an email with the URL link to your post (if you're using Twitter, a weblog, or posting publicly on Facebook or Google+), or if you're posting only to your friends, let me know that, too.
Your name will be entered once for each site you share or link on (i.e., once for Facebook, once for Twitter, etc.), so your chances of winning go up the more sites you use.
Bonus for Bloggers: If you post this contest to your weblog, then your name will be entered in the contest twice per weblog (not per post).
Commenting on other people's posts doesn't count.
When you send me the email, include your real name and an email address I can use to contact you.
All entries must be received by July 31st, 2011. A winner will be drawn randomly and announced on August 1st.
I look forward to hearing from you! (You have to send me that email—while I appreciate it when you share this link, if I don't know that you did it, I can't enter you into the contest!)
Orthodoxy and Heterodoxy is available from Conciliar Press (the publisher), as well as Amazon.com. You can follow updates from the author on his projects via his weblog, Google+, and Facebook.
This contest is not officially sponsored or endorsed by the publisher but is purely a private project of the author.