The above video recently made the rounds on social media, and in many of the discussions that followed, there was a predictably negative response from traditional liturgical Christians and a predictably positive response from those who have in one way or another departed from liturgical tradition. From the latter, the question is typically why the former are so uptight as to insist that worship be boring and can't include jumping about like this (whether technically during the service or after it).
This disagreement comes largely because there is so much confusion about what worship is in Christian circles. In much of modern American Christianity "worship" can be just about anything that happens when Christians get together to do explicitly Christian things. But worship has a definite shape for ancient Jews, and it certainly did for the early Christians. Indeed, it has a definite shape for almost all Christians throughout most of history, and that shape is liturgical and solemn. Here's a typical quote from St. John Chrysostom when addressing the kind of spirit that should be in church:
Nothing so becomes a Church as silence and good order. Noise belongs to theatres, and baths, and public processions, and market-places: but where doctrines, and such doctrines, are the subject of teaching, there should be stillness, and quiet, and calm reflection, and a haven of much repose.

From his Homily XXX on the Acts of the Apostles
Many proponents of modern Pentecostal-style theatrics in Christian worship often cite II Samuel (LXX: II Kingdoms) 6:14, where David dances before the Ark of the Covenant, and there are of course other references to dancing in the Old Testament.
But neither David nor his priests took that incident as a template for how worship was to be conducted in the Tabernacle, nor was it found that way in Solomon's Temple nor the Second Temple, nor was it in the synagogues. So Jews didn't take what happened as a precedent for worship. And the other references to dancing in the Old Testament aren't in the Temple. And Christians for most of the history of Christianity never took it that way, either.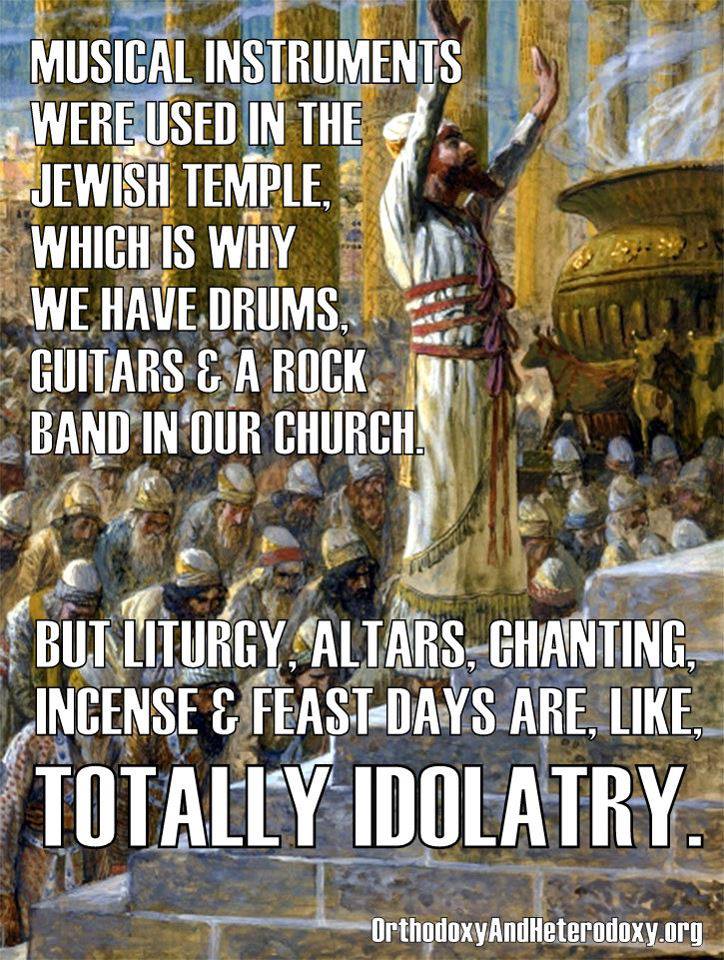 One of the things I often wonder about is why those who advocate certain things they see in the Old Testament for modern Christian worship seem to ignore the vast, explicit instructions concerning worship that God Himself gave in the Old Testament. They want to see musical instruments and "joyful noise" because there are references to them (though almost never in reference to worship services). They want to see dance because David danced. Yet they're not interested in liturgics, incense, chanting, priests in vestments, specified times for prayer, pre-written prayers, etc. Yet it is precisely those things which early Christians saw in Jewish worship as worth keeping for Christianity.
What is the basis for wanting to base Christian worship style on references from the Old Testament that the early Christians mainly ignored when formulating their transformation of Jewish worship, while ignoring the very explicit instructions concerning worship that early Christians adopted almost wholesale?
So when thinking of worship, neither Jews nor early Christians used the Old Testament in the way that modern Pentecostal-style Christians do. It's true that all Christian traditions make choices when it comes to the Old Testament. Those who advocate putting the Old Testament's non-worship things like dance into worship need to explain why they reject most of the worship things of the Old Testament.
Update:
A couple useful comments from Facebook from Eric Jobe, who is a Hebrew scholar:
It's also worth mentioning the possibility that dancing could have been associated with ecstatic prophecy, which was prevalent in early Yahwism, but faded with the growth and development of the prophetic role in Israel. David may have been acting in a special ritual context which including wearing a linen ephod (liturgical vestment) and ecstatic dancing (prophetic ritual action). In other words, it wasn't "dancing" like we think of it, the liturgical conga line as in the video. But, it may have been similar to the kind of ecstatic dancing you may see in some Pentecostal churches. The point is, it was a more primitive ritual action that was not maintained in the Israelite temple cult, possibly because of its pagan Canaanite associations.
Also, the main interpretive point of David's dancing before the Ark, is that he was uniting the kingly, priestly (linen ephod), and prophetic (ecstatic dancing) offices in himself, a prefiguring of the Messiah.