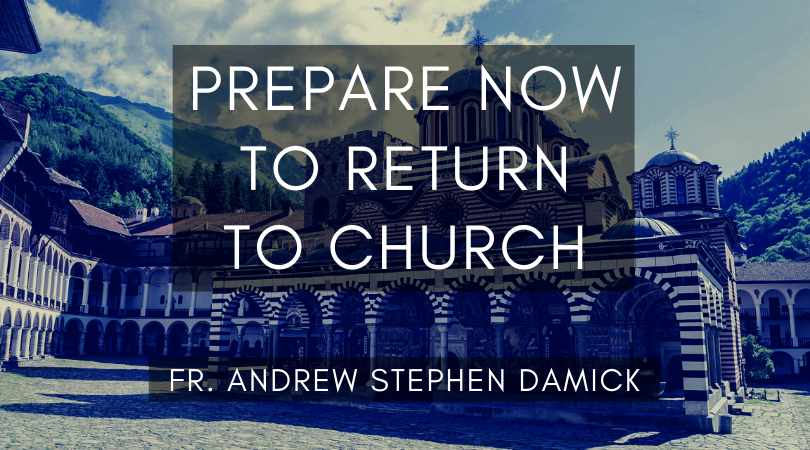 Sunday of the Adoration of the Holy Cross, March 22, 2020
Hebrews 4:14-5:6; Mark 8:34-9:1
In the Name of the Father and of the Son and of the Holy Spirit, one God. Amen.
All across the world right now, this Sunday of the Adoration of the Cross is being marked either with darkened churches or with churches whose doors are closed and are manned by just a skeleton crew, which is the case here today in Emmaus. I am not going to debate whether this is necessary. You can certainly find that debate all over the Internet right now.
This state of affairs is nonetheless where we are, and as we all struggle to be obedient to our bishops and our civil authorities, the question for most of us is not "Should this be how it is?" but rather "Given that this is how it is, what do we do now?" And it is that latter question that I wish to address today.
Today, halfway through the six weeks of Lent, we lift up the Cross of Christ and venerate it because of the Lord's conquest of death and His coming to establish justice on earth, to bring down and punish the wicked and to lift up and vindicate the oppressed. And a lot of us are probably feeling like this rings a little hollow at the moment because of how we feel at being severely restricted in our lives, even for most of us to the point of not being able to worship God in His holy temple and to commune His Body and Blood.
Given our circumstances, however, I say this: Let us take up even this cross and join it to our Lord's cross. Generations of Christians before ours have taken up the cross of martyrdom, the cross of persecution, the cross of the Black Death, the cross of exile, the cross of famine, the cross of foreign invasion, and so on, and joined them all to the cross of the Lord Jesus Christ.
I will not belittle today's cross in any way, even if it may seem less extreme than those other crosses, because it is the cross given now to us. No cross is a lesser one if it is from the Lord, being permitted by Him for our repentance, for our holiness.
The Call to the Couch
So the question, then, is how exactly we take up this cross? I have seen it said that to take up this cross we need merely sit on the couch for a few weeks. This glib response makes no sense to me for two reasons: First, it is deeply inconsiderate of those who are already being devastated financially by the economic suppression that is now happening as a result of our restrictions. Not everyone has months of reserves saved up, and not everyone can afford to stay at home for even a week.
But second, the call to sit on the couch is not merely a call to a holding pattern, waiting until we can get back to normal, but it is rather a call to begin a different way of life. What do I mean by that? Let me explain.
Most of us probably think of what we choose to do and the kind of people we are to be the result of conscious choices of conviction. I believe something, so I act on that belief. I believe something, so I am the kind of person who aligns with that belief.
But that is not usually how human beings work. That is not to say that belief does not affect who we are and how we behave, but the influence flowing in that direction is actually pretty rare.
Rather, the way it works most often is this: What I do affects who I am and what I believe, especially when it is something I do over and over.
In other words, it is my habits, my repeated actions, that influence how I see the world and who I am.
In the situation in which we find ourselves, this means that if I choose today to sit on the couch, and then I choose tomorrow to sit on the couch, and then the same thing the day after, then I am becoming the kind of person who sits on the couch. I will come to believe over time that sitting on the couch is the normal thing to do.
What you do every day trains you to be who you are.
Now, you might say to yourself, "It doesn't matter how long this social distancing goes on, I will definitely be back in church when it's over!" And that might be true.
But what if you discover that watching services on live-stream is not too bad? After all, you can stay home, have breakfast, maybe even watch in your pajamas. And if you duck out during the sermon, no one will even notice.
And what if you discover that you're saving a little extra money during this time because the habit you had of bringing your tithes and offerings to church isn't happening? After all, it sure is nice to have that 10% back in your pocket, and surely the church can get on without you. Shouldn't all this online stuff be free, anyway?
And what if you discover that going without the Eucharist doesn't seem so bad, anyway, that you still can love God without it, still can believe in Jesus without it? And do I really have to commune every week? Can't the priest just bring it to me once in a while instead? It's the same, right?
Now, you may not identify with any of those ways of thinking right now (though it's very clear to me as a pastor that some people have thought in those ways for a long time already), but if you simply put your spiritual life on hold during this time, you will gradually begin to feel pressure to think in exactly those ways. Why? Because whatever it is you do every day is what is "normal" to you, and then when something pushes against that "normal," it will be easiest to try to reestablish the "new normal" again.
That is why, even outside this current crisis, when you miss church a couple times, it's far easier to do it some more. That's why, when you decide to have a snack in the evening a couple times, before you know it, you find that you're doing it every night. That's why, when you decide to blow off the needs of your spouse or kids or neighbors a few times, it gets to the point that you don't even think about it any more. That is how human beings work.
The Call to the Cross
So, what do we do? How do we make sure that we take up this cross in such a way that it is in fact joined with the Lord's cross? How do we prepare now for the return to church?
First, it is utterly critical that you are practicing daily prayer, at least every morning and, God willing, every night, as well. It is hard to establish this habit, I know, but do it now. You may not be able to participate in the sacrifice of the altar right now, but you can offer up the sacrifice of praise and asking for forgiveness and mercy at home. And pray those pre-communion prayers even if you don't know when you'll receive communion next. I'm serious about that.
Second, if you live with a family, pray together. Read the Scriptures together. Talk about your faith together. Right now, the community with whom they usually do these things cannot come together. But you are together. Do this together.
Third, set a schedule to practice care for your neighbor—your family first, then the people near you whom God has given you. Check in with them, ask what they need. If you don't make that into a habit now, you will be neglecting someone God gave you—and you should not be surprised if, when you are in need, you are also being neglected.
Fourth, figure out a way to be consistent in giving to God both through the church and also through other worthy outlets. Mail it in, give through PayPal, automatic bank draft—whatever it is you need to do. If you neglect this habit now, then you will be the kind of person who is not giving as God commanded. Your belief in supporting good works will be eroded by your failure to support good works.
Finally, connect to church life in whatever way you can right now—live-streaming services, reading or listening to good things sent out from church leaders, spiritual books, etc. These things are not substitutes for being there in-person, but they are at least stop-gaps for the moment.
In short, develop habits of worship, education and outreach that you can do at home and that shape your daily life.
If you do these things, then when the time comes to return to church, it will be with rejoicing. If you do not do these things, then there is a very strong possibility that you will have become conditioned by the "new normal," becoming the kind of person who believes that the norms for Christian life in the New Covenant are not actually really the norms. I mean, I can love God and believe in Him anywhere, right?
The Call to Continue
I will leave you finally with this thought: Here now is where taking up this cross is not actually just a temporary set of measures to get us through until we can come back to church. Here now is where taking up this cross actually is going to make us stronger, holier, more Christ-like people. How?
When we do come back to church, keep doing these things. That's right. Keep up the daily worship at home, keep up talking about the faith at home, keep up outreach to your family and neighbors at home, keep up your giving to Christ at home, keep up connecting to good materials at home.
Why? Because that is what we should have been doing all along anyway! This crisis we are now in has revealed to many of us—including myself—how weak we are on the home front of the spiritual battle. Now is the time to become strong. Now is the time to sanctify our homes. Now is the time to commend ourselves and each other and our whole life unto Christ our God.
Don't wait. Don't let the couch become the new normal.
And when we can all come together again, having been strengthened in the might and power of the Holy Spirit we will have invited so deeply into our lives, we will come together with a shout, with a voice of glory and joy that we are together again in the presence of the Lord, communing together and sharing all things together.
To our Lord Jesus Who took up His cross for us and who gives us our cross, with His eternal Father and His all-holy and good and life-giving Spirit, be all glory, honor and worship, now and ever, and unto ages of ages. Amen.