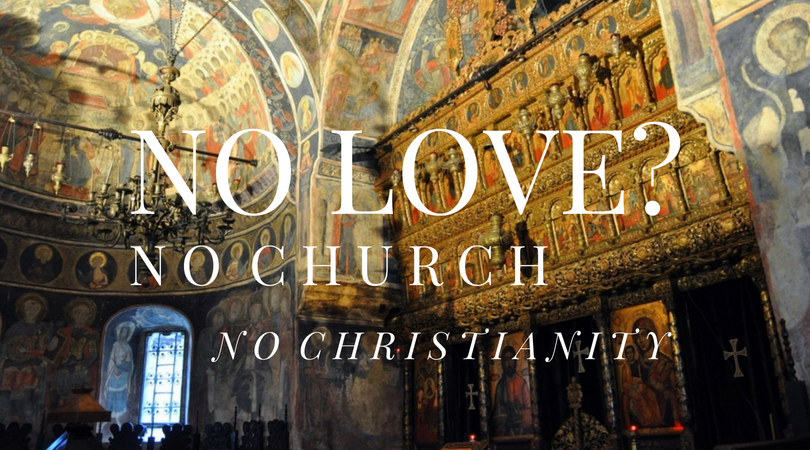 Ss. Cosmas & Damian of Rome / Fifth Sunday of Matthew, July 1, 2018
1 Corinthians 12:27-13:8; Matthew 8:28-9:1
In the Name of the Father and of the Son and of the Holy Spirit, one God. Amen.
What is love?
If you grew up when I did, you probably now have that 1993 Haddaway song in your head. But if you don't know what I'm talking about, this should all still make sense anyway.
Today's epistle reading from First Corinthians includes the famous "love chapter" that is First Corinthians chapter 13. But before we get to that part, we need to put it within the context of what is included from chapter 12. They go together, and of course it wasn't St. Paul who divided his book into chapters, anyway.
So here is that first part again:
You are the body of Christ, and severally members of it. And God has these in the church, first apostles; second prophets; third teachers; then powers; then gifts of healings, for relief-workers, for administrators, and for speakers in diverse tongues. Are all apostles? Are all prophets? Are all teachers? Are all workers of powers? Do all have the gifts of healings? Do all speak with tongues? Do all interpret? But earnestly desire the best gifts. And moreover I will show you a most excellent way.
So the context here is all the various gifts that God has given to the Church. There are so many roles in the Church right from the beginning. Not everyone is supposed to be an apostle, but also not everyone is called to be an administrator. We all have different gifts. We all have different abilities and callings God has given to us as the Body of Christ.
Sometimes we can get caught up in assigning these different gifts to people in ways that God has not assigned them. For instance, we may think that those who are teachers or apostles also ought to be administrators. Or we can think that those who are healers of various kinds also ought to be teachers. Or we may decide that we should not have any gift assigned to ourselves. Or we may try to assign more to ourselves than we ought!
But Paul goes on to say "And moreover I will show you a most excellent way." And this is when the famous "love chapter" begins. We have this reading today from the beginning of chapter 13:
If I speak with the tongues of men and of angels, but have not love, I have become a sounding brass, or a clanging cymbal. And if I have prophetic powers, and know all mysteries and all knowledge, and if I have all faith, so as to remove mountains, but have not love, I am nothing. And if I give away all my possessions for the nourishment of others, and if I give up my body to be burned that I may boast, but have not love, it profits me nothing.
So let's stop there. What is Paul saying about all those gifts in the Church that he just mentioned? It's pretty clear: You might be awesome at all those things, might be really skilled or really talented, might work really hard in the Church, but if you don't have love, it's worth nothing at all. He doesn't say "Well, at least that's something." He says it's nothing. He says it is of no profit at all. He in fact starts out by saying that it's just noise, which is actually making things worse.
So why do we need love for all these talents and skills and all this hard work to mean something? It is because we are the Church.
There are some churches that are run as though they are basically religious building maintenance societies. When leadership meets, that is what they focus on almost to the exclusion of everything else. When they make their pitches for greater giving or greater involvement in church activities, it is the maintaining of the building that they have in mind.
And there are churches that are run as though they are basically religious social clubs. It's having social events that is the focus of everything, including those pitches for greater involvement.
And there are churches that are run as though they are basically social outreach programs. The whole point of Church life is to contribute to the civic good of society, so everything is aimed in that direction.
And there are churches that are run as though they are basically religious education societies. Everyone must know everything there is to know about the practice, history and teachings of the Church.
I could go on and on. For some people, church is about music. Or it is about culture. And so on.
But you know what? As good as all those things are, if they are not done with love and for love, then they are nothing. All the effort put into them is nothing. It is just noise.
But what is this love? Why is love necessary for all these roles and emphases within the Church? Let's hear the rest of what Paul has to say to us today:
Love suffers long, and is kind; love does not envy; love does not show off, and does not puff up; it does not behave unseemly; it does not seek its own; it is not easily provoked; it does not think evil; it does not rejoice in iniquity, but rejoices in the truth; it bears all things, believes all things, hopes all things, and endures all things. Love never fails.
So this is what love is. And if I am doing anything in the Church, anything in my life, and my actions and my attitude don't fit that description, then I'm not doing it with love. And that means it's not going to profit me or anyone else in terms of the Kingdom of God.
So that's a pretty tall order. But it actually is possible. How? How is it possible to love with long-suffering, with kindness, without envy, without showing off, without being puffed up, without unseemly behavior, without seeking our own, without being easily provoked, without thinking evil, without rejoicing in iniquity, rejoicing in the truth, bearing all things, believing all things, hoping all things, and enduring all things? How do we have that love that never fails?
It's not by just trying harder. If you are going to attempt to love like that by just trying harder, then it will fall flat. Your love will collapse into the clanging cymbal or into the profitlessness that Paul mentions.
How do we get that kind of love? There is only one way. That kind of love comes only from Jesus Christ, Who is the One Who gives all those gifts to the Church. Without His presence in us and to us, then all those things can actually become demonic. There is a kind of Church life that actually turns people away from Jesus Christ, and it is the kind that does not have Him present within it.
If we are going to labor with love, labor with Jesus Christ, then just like any co-worker at our jobs or in our schools, etc., we have to spend time with Him and know Him. We have to engage in private prayer alone, private prayer with our families, and public prayer here in the church. We have to open ourselves to Him in the sacraments of the Eucharist and confession in particular. We have to engage in those close-contact ways of meeting and knowing the God-man Jesus.
It is His Kingdom in which we are living, and so we seek out His direct influence and presence in all that we do. When what you are doing falls flat and is profitless or even is just a bunch of noise, ask yourself this: How is my prayer life?
There are many things that Christians do which can in some sense be considered optional or only for certain people with certain gifts. But prayer is the thing that all Christians have to do, or else the rest is just meaningless. We cannot have love without prayer. We cannot have Christ without prayer.
If your prayer life needs some deepening, speak with your father-confessor about it as soon as you can. We cannot be Christians without Christ, and we cannot have love without Christ, and we cannot have Christ without prayer and without praying well.
To the One Whose love energizes all things, our Lord Jesus Christ, be all glory, honor and worship, with His Father and the Holy Spirit, now and ever, and unto ages of ages. Amen.