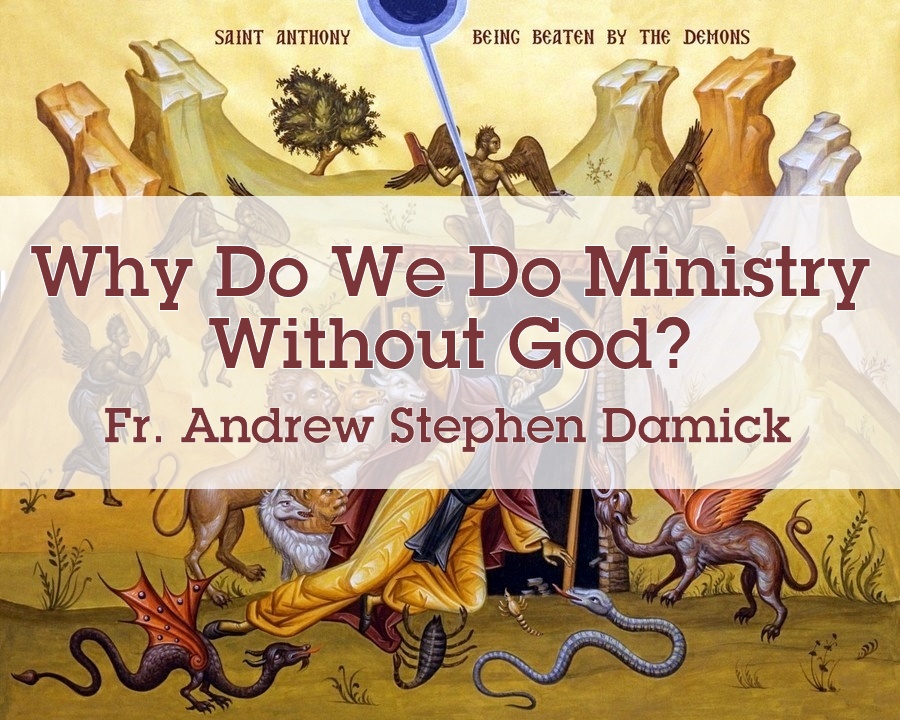 Twenty-Seventh Sunday after Pentecost / Tenth Sunday of Luke, December 10, 2017
Ephesians 6:10-17; Luke 13:10-17
In the Name of the Father and of the Son and of the Holy Spirit, one God. Amen.
For our wrestling is not against flesh and blood, but against the principalities, against the powers, against the world-rulers of the darkness of this age, against the spiritual hosts of wickedness in the heavenly places. (Eph. 6:12)
A friend of mine has observed that sometimes we use ministry as a kind of technology. If we see a problem in our our families, in our church, in our community, etc., then we think of a way that we can solve that problem. We will have a program. We will have a class. We will have a plan to change the circumstances so that the problem will be addressed. We will fix it. We have the technology.
Our success will depend largely on how hard we worked, what expertise we brought to bear, what information we had at hand, what experience we have that helps us, how good our ministry concept was, and so forth.
And when we are about to fix our problem, we will probably pray beforehand. And we might pray afterward, too. And we hope that God will bless our efforts and that we will be successful.
But let me suggest that this whole paradigm of what ministry is about, of what Christian life is about (for all Christian life is ministry), is actually deeply problematic and not really Christian. And this passage that we read today in Ephesians 6 underlines this problem for us.
After telling us to "put on the whole armor of God," Paul says that it is so that "you may be able to stand against the wiles of the devil." That is our first two clues. He does not say "Get all the expertise you can" or "work as hard as you can," but rather "put on the whole armor of God." And why? So that we can stand against the devil.
So, first we have to see what we're doing and what we're up against. What we're doing is putting on the armor of God. And what we're up against is the devil. That is why Paul next says that "our wrestling is not against flesh and blood." In other words, the challenges that we face as Christians and as a parish are not primarily challenges of an earthly character.
Now, they might seem that they're about earthly matters—a tight budget, not enough volunteers, bad church attendance, broken toilets and air conditioners, etc.—but there is actually something bigger going on. What is our real enemy? It's not toilets or bank accounts. And it's not other people. We're not up against flesh and blood. Our real enemy is the devil. Our real enemy is spiritual powers of darkness.
Paul says that we are wrestling "against the principalities, against the powers, against the world-rulers of the darkness of this age, against the spiritual hosts of wickedness in the heavenly places." Yes, demons are real. Yes, the spiritual force of sin is real. Yes, the darkness that seeps into everything mankind does—including what we do—is real. It's all real.
We often like to believe in angels, in the power of goodness, etc., but in the Christian tradition, we also know that demons are real. We also know that sin exerts power over us. And the devil is real. He is the evil one. When we pray the Lord's Prayer, we pray, "And deliver us from the evil one," not from evil in general but from the evil one, from an actual evil person, an evil spiritual power who is teamed up with other evil spiritual powers in order to destroy, if possible, the souls of the children of God. That is what we are wrestling against.
So even though our problems that we can see often manifest themselves in ways that seem pretty everyday and earthly, there is a spiritual reality behind them. That does not mean that when a pipe bursts here in the nave when it gets cold in winter that there is a demon who made the temperature go down. But it does mean that how we respond to these challenges really is about our spiritual state. And we also shouldn't doubt that, when problems seem to rain down on us with no end in sight, we are under spiritual attack from the forces of darkness.
But here's the thing: We put on the armor of God. Listen to what Paul says:
Stand therefore, having girded your loins with truth, having put on the breastplate of righteousness, and having shod your feet with the preparation of the gospel of peace; above all, taking up the shield of faith, with which you shall be able to quench all the fiery darts of the evil one. And take the helmet of salvation, and the sword of the Spirit, which is the word of God.
What do all these things have in common? They come from God! The challenges that we meet in our personal lives and in our parish life have to be met with the armor and weapons that God gives to us. Yet so often, it seems like, when we have a challenge, we might try on some of that armor or swing that sword a couple times, then we put those things down and take up our own armor and weapons and figure that those will do the trick. We ask God to "bless" something, but how often do we expect that He's just going to get out of the way to let us do the real work? Do blessings even do anything?
Now, don't get me wrong—when a toilet breaks, it's okay to call a plumber. When you've got an ache or pain, it's okay to take an aspirin. When you've got a hole in the church budget, it's okay to ask someone to fill it. But why do we so often do these things with either no prayer or very little prayer? Why, when we sometimes see the problems piling up, do we just write it all off as coincidence and keep pushing forward as though we've just had a run of bad luck?
Why do we act like God isn't going to show up at all—even in our church's ministries?
And when I use we here, I am speaking of myself, by the way. It's amazing to me how often I think that the real solution to the challenges of spiritual life is to devise some method with little or no reference to asking God to work—in a word, I also treat ministry as technology. And I must tell you that I am sorry for that. Please forgive me.
So let us decide together that, as we see challenges in our lives and in our parish life, we will meet them with prayer—not just as a kind of little invocation at the beginning or benediction at the end, but as the very life and breath of all that we do. Let's put actual effort into our prayer. Let's see if we can find people whose whole contribution to a project will be their prayer. Let's believe in prayer. And let's believe together that God will do what He has said He will do.
And why?
Because "our wrestling is not against flesh and blood." Our problems are not about money, about toilets, about attendance, about whatever. Yes, we do need to do the earthly things to solve these problems. But we have to stop doing them in such a way that we act and believe that that is all it takes. Everything gets prayer. Everything gets the sign of the cross made. Everything really is ultimately spiritual. Everything is about the spiritual work we are doing.
We are not a building maintenance society. We are not even a teaching society or a charitable society. We are a church. We are a royal priesthood. We are a kingdom of priests. And what do priests do? We sacrifice. We pray. We offer up offerings on the altar of God. We expect that God will Himself act. We believe that blessings do something, that they are part of the work of the Christian life. And in that spirit and with that method, we work.
It's God's mission and ministry that we are part of. So let's do it His way, praying to Him and expecting Him to work, while we work alongside Him.
To our Lord Jesus Christ, Who is our source and strength in all things, with the Father and the Holy Spirit, be all glory, honor, and worship, now and ever, and unto ages of ages. Amen.