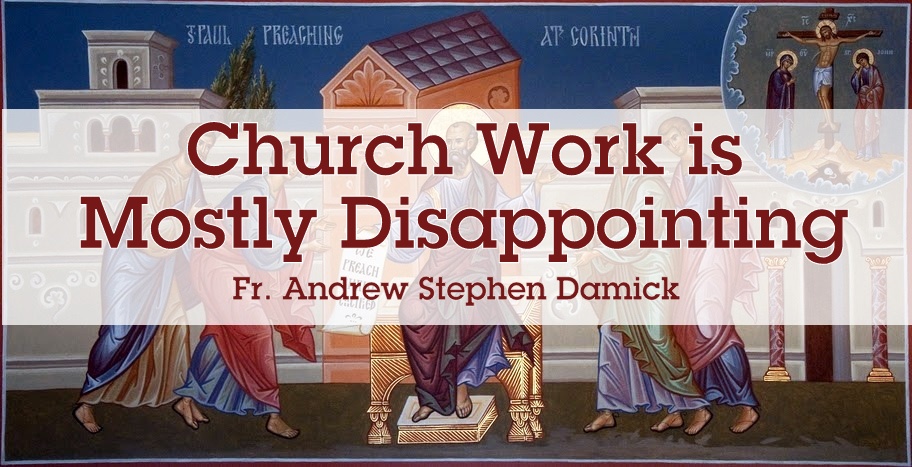 Clergy often share ministry stories and then say, "They didn't teach me that in seminary!"
One of the things that I wasn't taught in seminary (and wish I were) is that ministry in church life is mostly a disappointment.
We clergy don't often like to talk about that. I mean, who would like to say that most of the time, the work they do, in terms of verifiable results, is mostly useless and has no discernible effect? Yet that is where most of us are in our ministry most of the time.
Most of the time, people do not actually convert in their hearts to becoming like Christ. Most of the time, when we ask people to give their time, they don't. Most of the time, when we ask people to give their resources, they don't. Most of the time, when we teach people the truth of Jesus Christ, what the Gospel is and how we should live as a result, they just ignore it.
And even if we do get regular responses, they're usually pretty half-hearted. (Actually, I wish it were at least half-hearted. It's more like a quarter-hearted.)
What if everyone in my congregation actually tithed? Well, I'm not sure how much everyone makes, but if all 105 of our families made the median income for our area and they all actually tithed, our income would quintuple.
Or what if all our families came just twice a month to church? Our Sunday attendance would go up by more than 60%. Or what if they all came to confession even just once a year? I'd probably hear at least three times the confessions I do.
I could go on and on, but you get the idea. Most of the time, in terms of what can be measured, church work is a disappointment.
But sometimes…
One time, I had a parishioner email me and say that she didn't want me to think I was just shouting into a void. She and her husband heard me and were being changed by the content of what I was preaching.
And another time, as I was wrapping up a wedding with a mixed-faith couple (always a gamble in terms of whether they'll really stay in the church now that they jumped through the hoops), the non-Orthodox spouse said to me that they were going to become Orthodox.
Another time, I had someone tell me that since they'd come to our church, their eyes had been opened; they never believed that Christian life could really be so good and so committed.
Still another time, I had someone whose marriage had been going through very difficult times come out the other side still intact say to me that their marriage had been saved.
And it's moments like this that some clergy will point to and say, "This makes it all worth it." And yes, those moments are a great blessing and really satisfying to experience.
Still, there's a problem.
The problem with looking to those moments to make it all worth it is that our sense of what we're supposed to be accomplishing is still placed in the hands of the people we serve. What if we're not really that good at our jobs and people just never respond that way? What if we have active antagonists in the congregation who just outbalance everything positive? What if those satisfying moments don't come that often?
Some clergy will look to outside pursuits to keep their chins up — hobbies, writing, reading, non-church friends, family, etc. And these things can and do help us to keep stable and sane.
But the thing that I discovered is that I have to expect to be disappointed by the results. That's why I wish someone had told me. But I also discovered — with the good advice of more than one much more experienced clergyman than I — that the work of ministry has to be done for the purpose of my own growth in holiness, for the working out in fear and trembling of my own salvation.
So long as I hitch my ministerial wagon to anyone in the parish, even the really "good" ones, I have handed over my sense of who I am, of what my mission is, to someone else. And they will disappoint me.
I have to keep my sense of mission firmly with God and firmly within the scope of how He wants me to work out my salvation.
That doesn't mean that I shouldn't always be trying to learn how to reach people better. What I do is a craft that requires experience and skill, and I can always be honing it and learning more.
But it does mean that I can't let other sinners be the measure of who I am. That belongs only to God, and He's working that out in me with my cooperation.
And you know what I've also found out? When I refocus my ministry in terms of working out my own salvation, I'm actually a more effective minister, even in all those measurable ways.
So if you find yourself disappointed in ministry, whether you're a clergyman or not, even if your ministry is "just" the ministry of kindness and love within your family or workplace, remember that we are called to do this all "as unto the Lord," that it is for Him alone and not any human master or recipient (Col. 3:23, Eph. 6:7).
He will not disappoint. It will definitely be hard, but over time, it will indeed get done.
I have to wonder if Paul himself was thinking about disappointment, both his own and that of those he worked with, when he wrote this:
"I thank my God upon every remembrance of you, always in every prayer of mine making request for you all with joy, for your fellowship in the gospel from the first day until now, being confident of this very thing, that He who has begun a good work in you will complete it until the day of Jesus Christ; just as it is right for me to think this of you all, because I have you in my heart, inasmuch as both in my chains and in the defense and confirmation of the gospel, you all are partakers with me of grace" (Phil. 1:3-7).