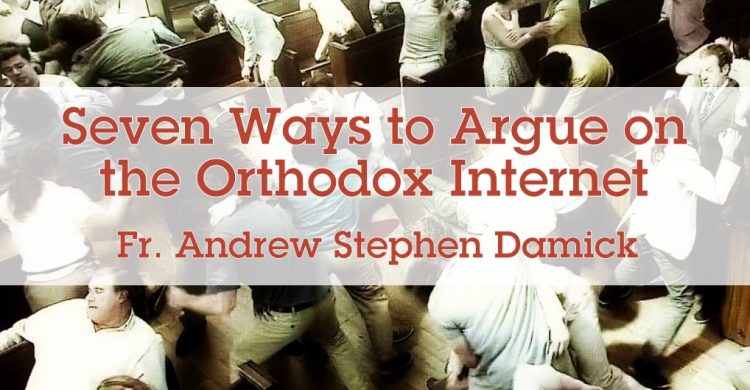 Orthodox Christians argue on the Internet. It seems like everybody does it. Well, it's not everybody, of course. But, boy! is it rampant! I figure that, so long as we're going to do it, we might as well keep some things in mind so that we can do it better.
1. Actually, you probably shouldn't.
It's so super-easy to get into arguments on social media that it's very rarely done well. Believe me, I know — I've been arguing on the Internet for 23 years now, and I've done it badly many times.
But, if you really must…
2. Don't believe it just because it's negative.
People love to post about scandalous or gossipy events, and they also love to respond to mere headlines without actually doing a little research first. And they also often tend to believe whatever is negative, especially if it's about someone they don't like.
For example, there is a certain blog out there (I won't link to it) that depicts a testimony from an anonymous (shocker!) informant, who supposedly witnessed a conversation with me about tithing. It goes on about how I try to force everyone to tithe, how I forbid fundraisers, cut off other people talking about "tradition, culture, community relationships," etc. The only problem is that exactly none of it is true. The conversation never happened. (In fact, I'm actually still in the long-term process of trying to get my parish to do a food festival, the purpose of which will be to introduce visitors to the parish.)
Now, if you happen not to like me (and there of plenty of reasons not to), you might easily believe that stuff. The only problem is that, despite the fact that I am indeed a sinner, that never actually happened and has nothing to do with how I see (and have publicly written about) tithing.
Further, just because someone disagrees with you on one thing doesn't mean he disagrees with you on everything. Another example from my own experience is that I was once accused of disdaining the Church Fathers entirely (which is demonstrably nonsense) just because I don't think that quoting them is the only permitted Orthodox theological thing to do.
Likewise, if you see big, sweeping negative (or even positive) statements about The State of the Orthodox Church or even just The State of Orthodoxy in America, you have every right to wonder whether there is actual data to back up such statements. There usually isn't. (Some actual sociological research has been done on Orthodoxy in America, but it covers only so much.)
3. There is always more to the story. Always.
This is related to #2 right above, but it's a slightly different take on the question.
The example I'll give here is of a priest who several years ago was supposedly being persecuted by a prominent hierarch. Everyone was up in arms over that bishop's terrible treatment of this "traditional," "loving," etc., priest. Only later did it come out that that priest had had his pastorate commandeered by a thrice-married, excommunicated "prophet" whom the priest had made his "spiritual father," etc. But no big retractions were forthcoming.
So it's a good idea just to assume that, unless you can verify something, anything that seems too good to be true in how bad it is — well, there is probably way more to the story.
4. Never call out anyone by name who isn't an actual public figure.
Mind you, I don't care if people call me out by name, because I'm involved in publishing and media, etc. (Really. Not kidding. Trash away.) I accept that this goes with the territory. But if you start posting negative posts about "regular" people who aren't self-consciously part of public life, then you're trying to push said people into the spotlight. That's just dirty pool, and it almost always escalates tensions rather than enabling healthy debate.
Even if you feel that you must call out a public figure, see if you can do it without using his or her name. After all, what's most useful is not tearing down someone's reputation but rather engaging his ideas. Saints used to do this when they disagreed with each other — they would criticize theology without naming names. (Think of St. John Cassian's corrections of St. Augustine.)
Keep it about ideas, not about people. It's not our job to show the world what a sinner the other person is. God will take care of him.
We are not the Savior, you know.
5. Everyone needs Jesus Christ.
…especially that big jerk whose name you just dragged through the mud when he so richly deserved it!
Oh, wait.
That's right, everyone needs Jesus — including me. And including you. If you're so busy handing someone "the truth in love" by rhetorically handing him his posterior, you just might miss this. But if you keep this in mind, you may well take a different approach. I'm not saying that you can't debate ideas, but if your purpose is actually to bring someone the love of Jesus Christ (hint: you don't do that by ripping him to shreds and telling him what a jerk he is and demanding his repentance) then you'll remember that you are interacting with living, breathing icons of Christ.
And remember that Jesus' presence gives people freedom, not slavery. That changes things.
6. Assume everyone is just as sincere, informed and intelligent as you are.
Actually, maybe assume they're moreso. And don't just say that. Act like it.
The truth is that genuinely honest people who have read all the things you have and are just as smart as you are may well come to different conclusions than you do. The only thing standing between them and your superior enlightenment is in fact not that they are immoral or ignorant or stupid.
In fact, you might be wrong.
But even if you aren't, and even if that other person really is wrong, you can't know all of what goes into someone else's interpretive matrix that got them to draw a different conclusion from you. So cut them some slack and stop the freak-out.
7. The world is watching.
I can't tell you how many times I've come across people who were interested in joining the Orthodox Church or used to be part of it but were turned away because they fell victim to the eat-our-own Orthodox social media phenomenon. Why would anyone want to join with that? Why would anyone want to throw themselves into the midst of accusers whose definition of spreading the love of God is to prove how correct they are?
And before you go blaming them because they walked away from Christ and His true Church, consider the possibility that they may not have known you were Jesus' disciple because you didn't have love for the other disciples.
So, see #5. Repeat.
---
See also: "You MAKE Me So Angry: How Do I Acquire the Spirit of Peace?"