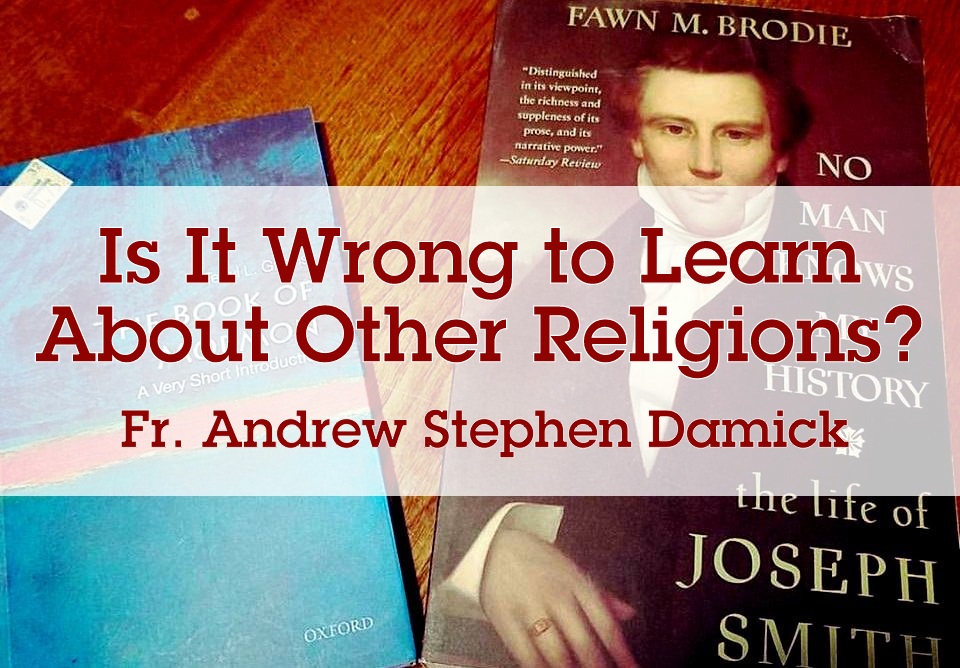 In response to my recent posts (here and here) where I talk about the research I've begun into Mormonism, I've gotten several comments urging me to reconsider, not to learn about Mormonism. Most comments have gone the other way, encouraging me to keep going and to write on this subject. But several have come from folks concerned that either I will be led astray by learning about Mormonism or that I will lead others astray.
Some of the concerned comments have said that Mormonism is a cult and will therefore seduce me to join it through mind control techniques. Others have insisted that it's futile to try to learn about Mormonism, because Mormons will lie about what they believe to outsiders.
One could of course apply these arguments to nearly any non-Orthodox religion, but there seems to be a certain amount of fear regarding Mormonism that is heightened beyond other religions. Is there something about it that makes it extra dangerous?
I don't know the answer to that, but I will say that I have studied and written on dozens of non-Orthodox religions for years now. In the Orthodoxy and Heterodoxy book and podcast series alone is material on more than 100 non-Orthodox religions, denominations, movements, etc. And while I find things admirable and even congruent with Orthodoxy in many of those religions, I've never had a desire to join any of them. And I've also never heard of anyone else who read what I wrote and decided to leave the Orthodox Church as a result.
In fact, all my studies have led me to be even more confirmed in my now nearly 20-year-old decision to become an Orthodox Christian. I am grateful to be Orthodox, and there is nowhere I'd rather be. I've never seen anything in all my studies that has made me regret that choice, and I can't imagine I ever will see such a thing. What could there be? I've found the true Church of Jesus Christ, the one founded by Him on His apostles and prophets, the one that is the Ark of Salvation, the one that is the path to Paradise, the one that is the extension of the Kingdom of Heaven on earth. Where else would I go?
And I've heard from hundreds (yes, hundreds) of people over the past several years who have told me that reading O&H or other things I've written on non-Orthodox religions have either confirmed them in their identity as Orthodox Christians or even led them to want to become Orthodox. O&H has sold thousands of copies (the last time I got numbers was in 2014, and it was about 6,000 then), and it's not because people are using it to convert to non-Orthodox religions.
All that said, the Church has from the very beginning both studied and responded to other religions. St. John of Damascus famously wrote in detail on Islam. St. Basil responded to several kinds of heretics. St. Athanasius responded to Arians and pagans. St. Justin Martyr responded to pagans and Jews. St. Irenaeus responded to gnostics and various heretics. St. Ignatius of Antioch responded to Docetists and Judaizers. And even St. John the Theologian responded to Docetists. I could name a lot more.
The point in all these saints understanding other religions' teachings and practices was twofold: to draw their members to life in the Church and to protect Christians from being led astray.
The Church has always responded to the religions that surround it, the ones it encounters, and the ones that it finds growing nearby. I don't claim to be a true apologist (I'm just introducing people to the main apologetical questoins), but apologetics is itself an ancient programme within the Church. This is part of what the Church does, and it's also where a huge amount of her dogmatic and theological heritage comes from.
I'm only one participant in this programme, but I'm proud to be part of it. And I'm grateful that I have been blessed to do so.
So I want to hear some of your experiences, too. Has it been useful to you that the Church understands and responds to non-Orthodox religions? Was it a part of your own journey in some way? Are you grateful? Do you think the Orthodox should avoid any study or response to the non-Orthodox? I want to hear from you.