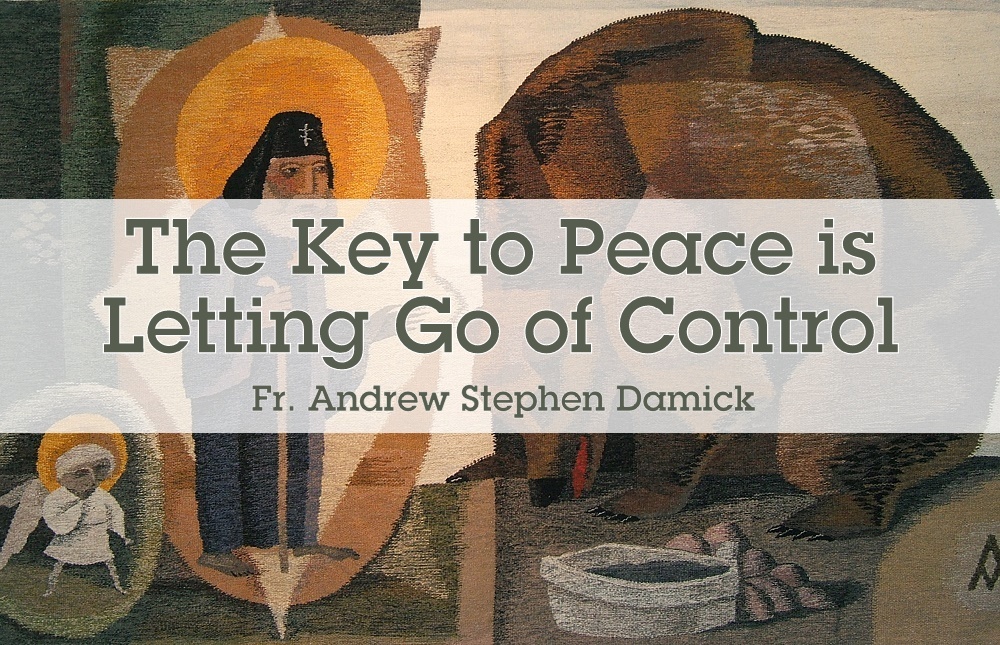 For today's entry, I wanted to share some excerpts from some of my reading lately. We've been doing a conversation-oriented class on acquiring the spirit of peace at St. Paul's over the past several weeks, and this past Wednesday night included the discussion of letting go of the need to control others as engendering peace within our own souls.
And one of the things that we can notice as we let go of this need for control is that we then let go of the need to be controlled. By this, I mean that we often feel that we need to react to other people, especially to their negative behavior. By their behavior, they effectively control our behavior, as well—but that is only because we handed over control to them by becoming reactive.
When we let go of the need to control others, then we also find that, because we have accepted they are out of our control, then we don't need to be reactive to their behavior which we object to. We can become comfortable with another person's discomfort—not that we like it, but rather that we are not pushed about by it.
Thus, being free, we're able to act with compassion rather than with the negative passions which so addict us and bind us.
Anyway, here are some quotes from a variety of sources that all connect with this topic in various ways:
The work of righteousness will be peace, and the effect of righteousness, quietness and assurance forever. My people will dwell in a peaceful habitation, in secure dwellings, and in quiet resting places, though hail comes down on the forest, and the city is brought low in humiliation. – Isaiah 32:17-19

Prayer affords an experience of spiritual liberty of which most people are ignorant. The first sign of emancipation is a disinclination to impose one's will on others. The second is an inner release from the hold of others on oneself. Mastery over the wish to dominate is an extremely important stage which is closely followed by dislike of constraining our brother. Man is made in the image of God, Who is humble but at the same time free. Therefore it is normal and natural that he should be after the likeness of His Creator – that he should recoil from exercising control over others while himself being free and independent by virtue of the Holy Spirit within him. – Elder Sophrony (Sakharov), His Life is Mine, p. 73

The peace of God, and fear or anxiety, cannot coexist. Fear, doubt, and mistrust are of the devil. As Christians, we may fluctuate with having and preserving God's peace inside us, only to lose our focus on God and become filled with fear and doubt. It is a struggle, but there are steps one can take to obtain and preserve the peace of God in our hearts. Indeed, the peace of God must be desired, pursued, and maintained. Prayer is the single most important activity we can do to obtain the peace of God inside of us, and to reacquire it if lost. When we go into our room, close the door, and genuinely seek God, we are opening ourselves for an encounter with the peace of God. Our God is the Alpha and the Omega, the beginning and the end. The events in the world and at times even in our lives may seem chaotic and out of control, but they are not, for there is a beginning and an end. He is in control. When we bring ourselves into contact and dialogue with God, we are bringing balance and stability into our lives. – Fr. Joshua Makoul, "The Pursuit of God's Peace in an Anxious World," Word Magazine, October 2011

There is a curious connection between the way people think and the way people bond. To the extent that they tend to frame life's issues in black-and-white, either/or, on-and-off alternatives, to that extent their responses to the challenges of life will lack resiliency. And the more likely it is that their bonds will become binds. On the other hand, to the extent individuals are unafraid of ambiguity and can even come to appreciate its value, then the repertoire of their relational responses is broadened, and that in turn will enrich the alternatives in their style of thinking. – Edwin Friedman, Friedman's Fables, p. 109