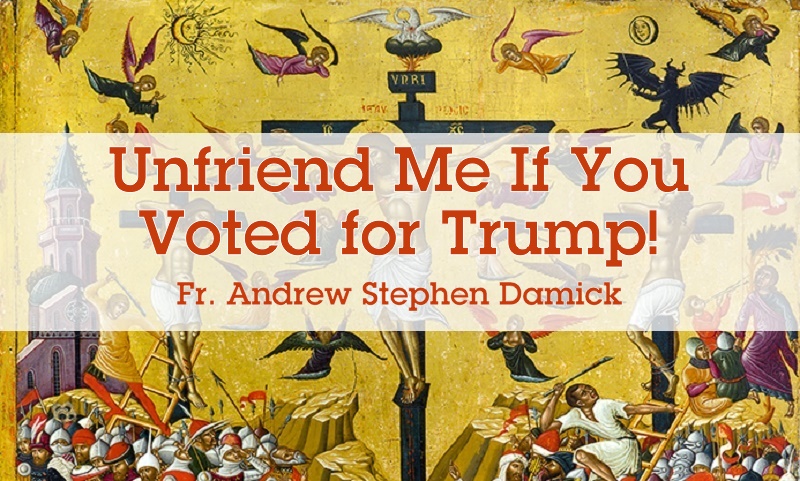 Are you unfriending people who voted for Trump (or Clinton or someone else)?
Ending friendships (online or otherwise) over political preference doesn't make any sense to me. (And I'm speaking of friendships here, not following public figures.)
At the very least, it is highly likely that all the horrible things that made you vote against your friend's candidate are not the reasons why he voted for that candidate. So your reasons for rejecting that friendship probably don't even apply. I believe that most people vote in good faith.
Remaining in the presence of people whose ideas, pain, struggles, personalities, etc., are uncomfortable or even repugnant and not letting anxiety take over is a key element in emotionally maturing as a person. And intellectually, it actually helps to sharpen and perhaps even revise our own thinking.
And of course, if you're a Christian, you have to love not just friends who are challenging you but even enemies:
But I say to you who hear: Love your enemies, do good to those who hate you, bless those who curse you, and pray for those who spitefully use you. To him who strikes you on the one cheek, offer the other also. And from him who takes away your cloak, do not withhold your tunic either. Give to everyone who asks of you. And from him who takes away your goods do not ask them back. And just as you want men to do to you, you also do to them likewise. (Luke 6:27-31)
Think of all the awful things people have done in this world. Jesus still loves those people. Jesus still became incarnate and died for those people. Jesus loved them even while they were still sinners!
And you are one of those people.