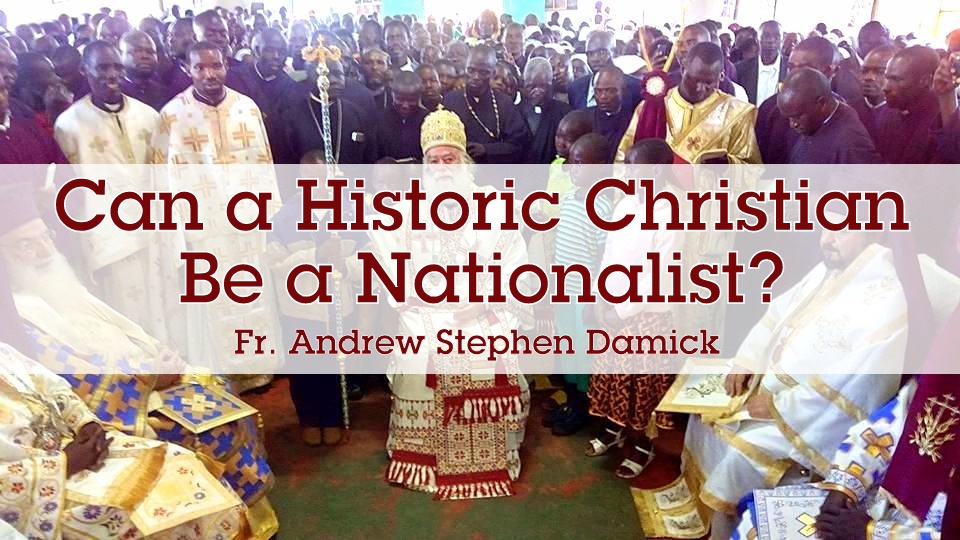 Lately I've been seeing nationalistic / racialistic rhetoric from some who identify as Christian. Some say that this is just their politics and has nothing to do with their religion.
That is, of course, a distinctly secular idea, that one can practice some part of life in a way that is separate from religion. While we don't have to pursue theocracy, dominionism, etc., to be authentically Christian, we still don't turn off our Christianity when practicing politics. It is not Christian to say that I can act one way in church and in a contradictory way in politics.
Please note well that this post is not to promote some particular policy position about borders, immigration, globalization, etc. I'm talking about the underlying exclusionary philosophy of nationalism. One might, for instance, decide to close borders for defense reasons rather than nationalistic ones or to emphasize localist economic policies to stimulate local commerce rather than out of fear of cultural pollution. I'm also not critiquing the idea of having a "Christian nation" (which of course is a very complicated issue all on its own) or even just a nation.
All Christians may find it interesting to read this 2014 Biblically-based reflection by Dr. Eric Jobe on this question: Is Racial Nationalism Compatible with Orthodox Christianity? A Theological Reflection on Holiness and Priesthood in the Old Testament. Eric gets down to the questions of division and distinction through the priesthood as represented in the Hebrew Scriptures. It's very much worth reading.
Some say that their Christian religion is neutral on the question of nationalism or perhaps even positive on it. There are so many kinds of religion out there going by the name of Christian that one cannot generalize too much about them all. That said, the varieties that claim any kind of historical succession from the early Church should remember well that line from the Nicene-Constantinopolitan Creed:
I believe in one, holy, catholic and apostolic Church.
It's kind of hard to be catholic in anything but name when practicing nationalism or racialism:
Yes, the Church is for all people, and all are my brothers, but you are not my kind, so go stand over there. I'm happy to receive communion with you, but not with you, please understand.
There is a reason why, in Orthodox Christian liturgical texts, we so often see this phrase: "the race of Christians." Christians are a new nation, a new people joined together all in Christ. A truly catholic Christianity will not inspire its followers to divide people on the basis of "kind" (however construed). Only sectarian religion does that.
To be catholic (from Greek katholikos, "according to the whole") is not only to be universal but also to embrace the wholeness of humanity. It is not a system of correctness but a spirit of love. In catholicity we do indeed find true dogma, true faith and true worship. And in catholicity we find a spirit which invites all into the intimacy of communion. Catholicity does not promote error, for most errors are sins against catholicity. And catholicity does not remove distinctions, for it would not be catholic if it imposed utter uniformity.
There is nothing wrong with being of whatever "kind" one is—culturally, racially, nationally, etc., or even with wanting to preserve and cultivate those things. The problem comes when we seek to divide and to exclude on the basis of such things. That is not catholic. It is sectarian.
Historic Christians have to resist the temptation to the sin of sectarianism, the feeling that one must be divided from the other because of the impurity or difference of the other. Rather, while true divisions do exist over things like dogma, our hearts should be torn over those divisions and seek to overcome them. Certainly, a much lesser division such as nationality or race should not divide us, because such identities are temporary, anyway, and do not contradict the catholicity of the one Church.
---
Just as an addendum, it should be noted that this post is not about what we might think of as the "ethnic problem" in the Orthodox Church, though of course it is related. If you're interested in my thoughts on that, here's a piece I published last October: How I Made My Peace with "Ethnic" Orthodoxy.