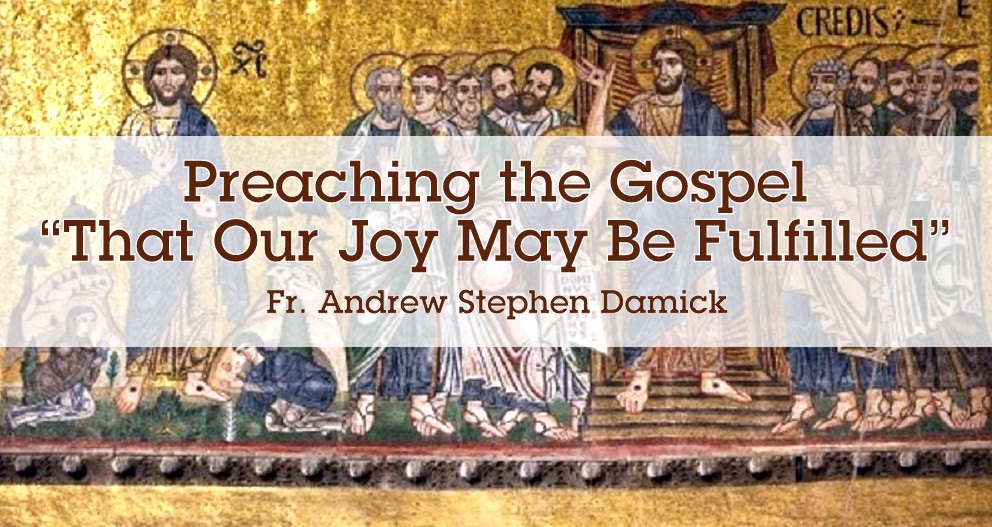 Thomas Sunday / Feast of the Apostle John the Theologian, May 8, 2016
1 John 1:1-5; John 20:19-31
Rev. Fr. Andrew Stephen Damick
In the Name of the Father and of the Son and of the Holy Spirit, one God. Amen.
Christ is risen!
The Gospel story begins today with the gathering of the disciples of Jesus in a room where the doors were shut. It was evening of the first day of the week. By that time, they had begun hearing from some of their network of friends that Jesus had been seen. He is alive, they said. But they just couldn't believe it. A couple of them had even been to the empty tomb. But they didn't know what to think. They were in doubt. Were they just seeing what they wanted to see? Had the Romans taken the body for some reason? What was going on?
We have to imagine that the disciples of Jesus were confused, anxious and concerned. The One Who was to redeem Israel had been publicly executed by the Romans at the behest of the Jewish religious leadership. Their whole world was crumbling. They had been plunged into grief and mourning. Their beloved Shepherd they had followed for three years was gone. They all saw it. And now some said that He was alive? What could that mean?
Then Jesus steps into the room, just coming out of nowhere. (As the Gospel says, the doors were shut.) And He brings them peace, and He shows them His hands and His side. And as we hear in the other Gospel accounts, He scolds them for their unbelief. And they believe.
Essentially the same thing happens on the eighth day, that is, the following Sunday, with Thomas, who was not there during that first encounter of Jesus with the other disciples. We often scold him ourselves for his doubt, but he really is acting the same as the other disciples had been, and he was not there during that first encounter. So his doubt was basically the same, but Jesus clued him in a bit later than everyone else.
Within that context, we have a beautiful coincidence today of another feast, the feast of the Apostle and Evangelist John the Theologian, the son of Zebedee along with his brother James. John is the youngest of the apostles and the only one who is not eventually martyred for his faith (though the enemies of Christ tried!). Because today is John's feast, the usual epistle reading from Acts which is appointed for Thomas Sunday is supplanted by a reading from the very beginning of the first epistle of John, which starts like this:
"That which was from the beginning, that which we have heard, that which we have seen with our own eyes, that which we beheld, and which our hands handled, concerning the Word of Life—for the Life was manifested, and we have seen it, and testify to it, and proclaim to you the Eternal Life, which was with the Father, and was manifested to us—that which we have seen and heard we proclaim to you, that you also may have communion with us; and indeed our communion is with the Father, and with His Son Jesus Christ."
We have to imagine that John must have had these encounters with the risen Jesus Christ in mind when he wrote this: "that which we have heard, that which we have seen with our own eyes, that which we beheld, and which our hands handled." In other words, he was there. He heard Jesus, he saw Him, he even touched Him with his own hands! He's telling us about his own direct experience of Jesus Christ. This Jesus is no mythology, no mere hearsay. He was there. He saw Him, he heard Him and he even touched Him. He was an eyewitness.
And John is now proclaiming this experience to us. Why? So that we also "may have communion" with him and the other apostles, a communion which he explains is "with the Father, and with His Son Jesus Christ." So John, who has this communion with God the Father in Jesus Christ, is proclaiming the Gospel to us so that we can also have this communion. This is the point of what he is writing.
And he says essentially the same thing at the end of today's Gospel reading, which he also wrote: "these are written that you may believe that Jesus is the Christ, the Son of God, and that believing you may have life in His Name."
So all of what we hear today in these two readings comes from the perspective of this beloved disciple, John the Theologian. And he has one motivation in mind: He wants us to believe that Jesus is the Christ, the Son of God, and when we believe—and this means an active trust and obedience, not just intellectual agreement—then we will have life in His Name, a life of communion with Him, a life which grants communion with the Apostles and therefore the whole Church, as well.
There's one phrase I'd like to focus in on especially today from this epistle reading. Listen closely to it: "And we write these things to you, that our joy may be fulfilled."
Why is he writing? That his own joy "may be fulfilled." What does that mean? To understand this, we have to read what he says over in the Gospel reading. Just after Jesus had given His peace to the disciples, He breathes on them, granting them the Holy Spirit and the gift of forgiving sins, a gift which is retained in the Church and exercised through the priesthood. But listen to what He says right after His blessing of peace: "As the Father has sent me, even so I send you."
He gives them peace, He gives them the Holy Spirit, He gives them the gift of forgiveness of sins, but why? "Even so I send you." He is sending them out into the world to bring the good news of what they had heard, what they had seen, what they had touched with their own hands—the truth of the resurrection of Jesus Christ, the truth of His identity as the Son of God, as the God-man sent to us to bring us resurrection.
So when John later writes his epistle, he is doing it in obedience to what Jesus had said to him. John was sent by Jesus to proclaim what he had experienced directly as an eyewitness. And so when John passes on this Gospel of communion with the Church and most especially with the Holy Trinity, he is doing so because it makes his own joy fulfilled! John counts it as a joy to pass on the Gospel. He had been sent, after all, and in obedience to Jesus Christ is true joy.
As a parish, we now find ourselves in a time of sorrow for our departed pastor, Fr. Ted. At seventy years of age, especially in our time, his departure may seem like it was entirely too soon. We've begun the process of gathering together to mourn him, to comfort his family, to be comforted ourselves. I am sure that his passing has left some at a loss as to what exactly the future will look like, especially in his family.
And while no one of us can truly be compared to our Lord Jesus Christ, all of us who are Christians try to imitate Him as best as we can. And in the most profound way, Jesus has offered us the possibility to imitate Him in the way that matters the most—resurrection. We will all be raised at the last day. And things will become clear. And we will understand finally all of the suffering and confusion and sorrow that we now have in this life.
As we are still experiencing the joy of the resurrection of Jesus Christ, and as we mingle our sorrow with joy in the hope of resurrection for Fr. Ted and for all of our departed in Christ, we have a new opportunity to be like the Apostle John. Although none of us are eyewitnesses to the ministry of Jesus on this earth, and although we are called upon to receive that blessing Jesus mentions in the Gospel, that we may be blessed who have not seen yet believe, we do still have something that we have witnessed that we can proclaim.
We have witnessed the power of Jesus Christ in our own lives and in the lives of those we love who are in Christ, most especially meditating now on the love Christ showed us through Fr. Ted. And we, like John, have been sent to tell the story of that power. And when we do that, when we bring other people into this communion of love, then we also will find that our joy is fulfilled.
To the risen Lord Jesus Christ be all glory and honor and might, with His Father and the Holy Spirit, unto the ages of ages. Amen. Christ is risen!