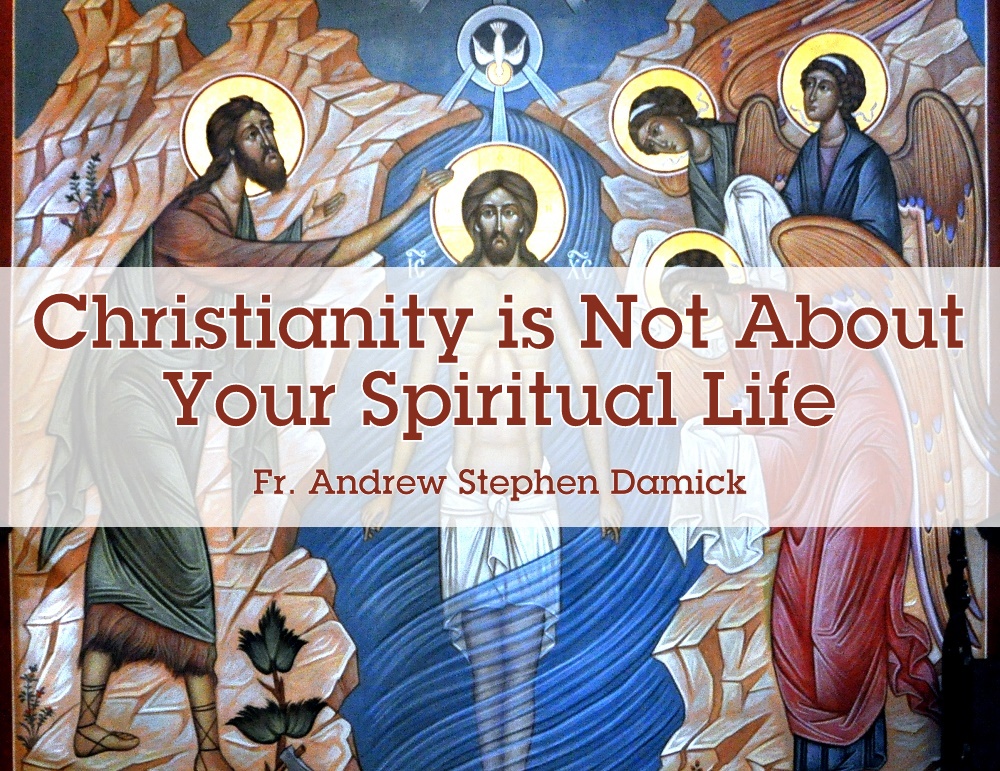 Sunday after Theophany, January 10, 2016
Ephesians 4:7-13; Matthew 4:12-17
Rev. Fr. Andrew Stephen Damick
In the name of the Father and of the Son and of the Holy Spirit, one God. Amen.
"To each one of us is given the grace according to the measure of the gift of Christ."
This phrase from Paul's epistle to the Ephesians is appointed for us to hear every year on the Sunday after Theophany. It is in Theophany that we see Jesus Christ baptized, and it is also in Theophany that we therefore see our own baptisms. Because Christ is baptized in the Jordan, our baptism becomes possible, not just a baptism of repentance as had been appointed for the Jews, but a new baptism that includes repentance but exceeds it, because that new baptism gives something beyond forgiveness of sins—it gives "the gift of Christ."
I would therefore like us to focus on Paul's message here in the context of our baptism. In baptism, we are granted admission into the Church. In baptism, we are justified by faith, made righteous before God, and become part of the New Covenant of God's Kingdom. In baptism, we become Orthodox Christians. This much, I think, is familiar to most of us. We have a sense that baptism is a new beginning, a beginning of our membership in the Church.
But there is something about baptism which I believe has been de-emphasized for many of us, if not most of us. In this de-emphasis is a serious problem for many Christians in the Orthodox Church. And what is this? What has been de-emphasized? What has, for some, even been lost? It is that in baptism we receive "the gift of Christ."
Now, we can of course say that this means that Christ is given to us as a gift, that we can be saved as a result of the process begun at baptism. And that is true and should be obvious. And I don't think that that emphasis has been lost too badly, at least not for those whose membership in the Church actually means something to them after the day of their baptism.
But there is something else here that Paul means by "the gift of Christ." There is something that we receive in baptism that is more than our entrance into the Church or something starting us on the path to salvation. So what's going on here?
In order for us to understand what Paul will say next in this passage from Ephesians 4, we have to have a little historical background for our current cultural moment and how we understand what it means to be part of a church.
Part of why we have a tough time fleshing out what it means for us to be baptized is because of a movement that began among Lutherans in late seventeenth century Germany. Stick with me here, because this is important.
That movement among Lutherans was called Pietism, and its purpose was to try to refocus people on their personal commitment to the Christian life. Sounds pretty good so far, right? There was a problem, though, in how the Pietists went about getting people to renew their personal commitment to Christ. So what did they do?
Pietists emphasized that what mattered the most was your own private connection to God, that you were sincere and that you lived a good moral life. What doctrine you believed or which church you belonged to didn't really matter. The Pietists organized private Bible studies, encouraged independent governance of congregations, and praised preaching that focused on the inner life of the believer.
And because these were their emphases, at the same time, they de-emphasized the sense of mutual responsibility that believers had for each other, the sense that local parish life was connected to a larger church beyond the parish, and that salvation was something that was not just a private arrangement between the believer and God. In short, they made religion primarily a private matter.
Pietism spread quickly beyond the Lutherans and came to be a cross-denominational movement. Throughout Western Europe, numerous Christian churches adopted this sense of true religion, that doctrine didn't matter, education didn't matter, church membership didn't matter—what mattered was that you and God were on good terms.
Eventually, this sensibility about what Christianity should be made it here to America, too, and I think it is fair to say that this is now how most people tend to think of what it means to be a Christian—no matter what church they belong to or even if they belong to no church at all. Ultimately, it's a private matter between you and God. Attending church is good, of course, but one does it to serve one's own personal spiritual "needs." And if those "needs" are not being served satisfactorily, one can of course always change or just stop participating.
Okay, so let's get back to Paul and what he says about "the gift of Christ." We can now see that, if we view his words through the lens of Pietism, then the gift of Christ is given for me and my spiritual needs. I am baptized into the Church and do things in the Church to serve that aim. But Paul absolutely does not leave it there. He won't let us interpret this gift in Pietistic terms. He has something much bigger in mind. What Paul has in mind is truly Church. For Paul, Christianity is not about one's private path to salvation. No, it's about the baptized functioning together as the Church, and in that mutual edification we are all saved together.
Let's hear what he says about "the gift of Christ" and why we receive it:
"When He ascended up on high, He led captivity captive, and gave gifts to men…" And He gave some to be apostles; and some, prophets; and some, evangelists; and some, pastors and teachers, for the perfecting of the saints, for the work of ministry, for building up the Body of Christ.
The gift of Christ is not for the building up of the individual Christian and his private spiritual "needs"! It's "for the perfecting of the saints, for the work of ministry, for building up the Body of Christ."
And what is the goal? What is the end point in all this? What is the gift of Christ supposed to accomplish? He says this building up is "until we all arrive at the unity of the faith, and of the knowledge of the Son of God, to a perfect man, toward the measure of the stature of the fullness of Christ."
Until we all arrive! That's right. We are in this together. We are variously called to be apostles, prophets, evangelists, pastors and teachers, for the perfecting of the saints. We are all called to the work of ministry. The gift of Christ in baptism and in all the sacramental life of the Church equips us for this work of perfecting each other, for the work of the ministry.
The true Christian is not a religious "consumer" who comes here to "get" something out of church. The true Christian is an apostle, a prophet, an evangelist, a pastor or a teacher—maybe some combination of more than one of those—a worker of ministry who is baptized into Christ in order to work together for the perfecting of the saints.
If you think that Christian life is about your own private path, that you don't have a critical responsibility to other Christians to help perfect them in every way through your own ministry, then you have perhaps unknowingly submitted yourself to a 350-year-old movement begun by a Lutheran pastor in Germany who thought people talked too much about doctrine.
And we have to get over this clericalist idea that we have a few "religious professionals" whose job it is to serve, to pastor, to educate, and to heal. Clericalism is the natural outgrowth of Pietism—if Christian life is about my private path to God, then I don't have a duty to be a "professional" in the Church. I just look to be served by the handful of necessary "professionals" we keep around to get the job done. But this is wrong.
Yes, we all have different roles, but if you think that you have to wear a cassock or a collar in order to be a true servant of the Church, then you've got it wrong. In his list of different roles in the Church, does Paul list "ordinary Christian" in there somewhere? No, everyone is an active servant in the Church. Everyone is here to help equip and perfect one another.
In this regard, most of our parishes here in America are so very weak. Most of our parishes are Pietist in their basic feeling and clericalist in their operation. The average parishioner does not see himself as one whose job it is to help perfect the rest. The average parishioner does not believe that he is supposed to be an educator, a helper, and a healer.
But, brothers and sisters, we do not have to be satisfied with our weakness. We cannot afford to be satisfied with this weakness. Our salvation truly does depend on being Church in all the fullness of what that means, that we become an army of those who minister to one another, who educate one another, who encourage one another, who heal one another. We are all on staff here. No one is just a "member." No one is just an "ordinary Christian."
Part of our great calling is that we as Christians are, like Israel of old, a whole nation of priests. Not all are presbyters, to be sure, but all are priests. Where you are now gathered architecturally corresponds to the part of the ancient Jewish temple that was the Court of the Priests. Only priests enter and serve here in this holy place.
We have all been given the gift of Christ. We are all called—every one of us, with no exceptions—to build up the Body of Christ.
The irony of the Pietist movement is that, as it began to dissolve the bonds of churchliness that had existed for so many centuries, it also began to dismantle the true fulfillment of the Christian life. The very things that it aimed at—personal commitment and sincerity and fulfillment—were being undermined by the dissolution of the sense that what it meant to be a Christian was communal.
Our faith is indeed personal, but it is not private. And there is nothing more personal than when persons are in communion with one another.
So how will you use the gift of Christ? How will you build up the Body of Christ, to the perfecting of the saints? Let us do this together, "until we all arrive at the unity of the faith, and of the knowledge of the Son of God, to a perfect man, toward the measure of the stature of the fullness of Christ."
To our Lord Jesus Christ therefore be all glory, honor, power and worship, with the Father and the Holy Spirit, now and ever, and unto ages of ages. Amen.