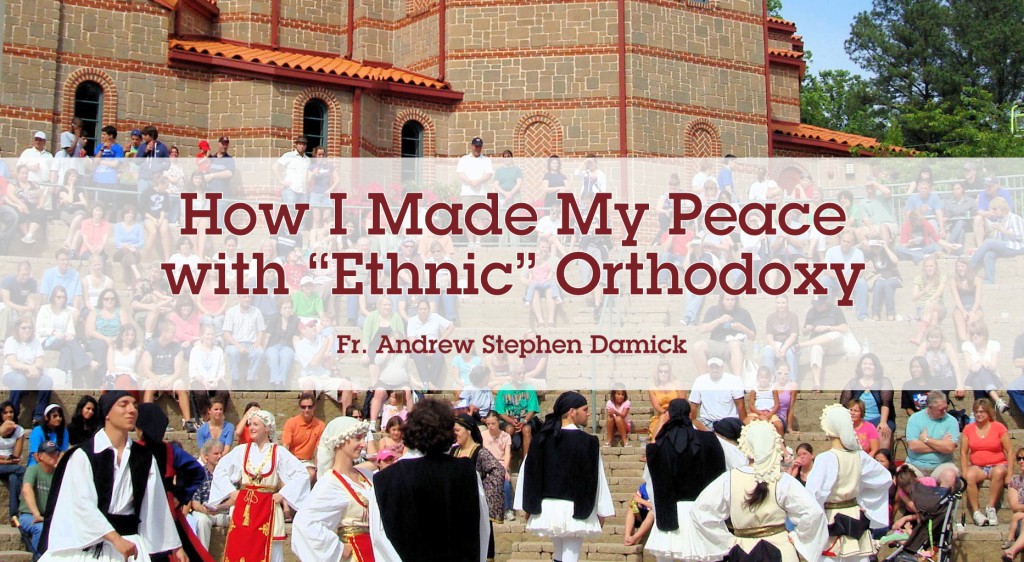 The following is from a larger talk I am working on about Orthodoxy in the West.
That nationalism exists among Orthodox Christians, both in their historic lands and also here in America, is now so self-evident that you'd have to be living under a rock to miss it. That Orthodoxy is associated with ethnicity, both in the minds of many of the Orthodox and the relatively few Americans who have heard of us, is also rather self-evident, especially to those of us clergy who have ever received that phone call asking if it is required to be Greek in order to join your church. Yes, I've gotten that phone call. No, my parish is not a part of the Greek Archdiocese. But, let's face it—there are more Greeks among the Orthodox in America than everyone else combined. So that's probably why those callers ask about being Greek.
This subject is the worst. It can get really heated, really nasty. I once foolishly prodded an American-born Orthodox friend from seminary with a very minor yet very dumb joke about the ethnicity he shouted from the rooftops, and he exploded at me with profanity and didn't speak to me for several years afterward.
"Americans" (and here I use the word to mean "everyone who is not the ethnicity at the parish in question") feel out of place at parishes where they don't speak the language and don't share the cultural background. "Ethnics" (forgive me the shorthand, but I hope you know what I mean) feel out of place at parishes composed mainly of converts or composed mainly of "ethnics" other than their own sort.
Sometimes, it goes beyond feeling out of place. People often leave parishes or never join parishes because they don't fit in or because their spouse doesn't fit in. There can be conflict between parishioners. I know of one parish where the lone "other" on the parish council was told that his opinion wasn't welcome because he wasn't "one of our kind."
There can also be conflict between the priest and the parishioners. An "other" priest might not be "ethnic" enough or "American" enough for some parishioners. Or the parishioners might not be one of those things for the priest. I know of an instance where certain parishioners literally asked their bishop (including a sizable donation to the diocese) to expel their not-ethnic-enough priest—a man who spoke their language, liturgized in their language, encouraged their cultural events, was married to a woman of their ethnicity and even gave his child a rather ethnic-sounding name. But he just wasn't one of "their kind."
Sometimes, the conflicts about ethnicity are more slow-moving but often more devastating to the parish community. It's observable that the children and grandchildren of immigrants are far more assimilated to the local culture than their immigrant forebears. The kids and grandkids may simply not care as much about the native culture of the immigration. Some do, but many do not. And the language of the country of origin is usually lost within a couple of generations of the immigration.
Why is this more devastating in a parish? It is because, especially if a parish makes an ethnic identification their primary sense of themselves, people who don't feel that same identification are less likely to associate themselves with the parish. The immigrants and their immediate children may say, "We are this," but some generation not too far down is likely to say, "I just don't feel like I'm this, not like you do." So the conflict may not express itself as anger, but it expresses itself as attrition.
Having observed all this, some who are "American" (and again I am using that term in a much reduced fashion) may want nothing to do with the "ethnics" just as much as the "ethnics" may not want anything to do with them.
Some may go out of their way to say that Orthodoxy has nothing to do with ethnicity. I was once even told by a senior convert priest that I should never use any language other than English, even with parishioners whose first language is something else, because "if you give them an inch, they'll ruin your parish."
These are all issues that we are likely familiar with ourselves. And some of my initial experiences with Orthodox Christianity in my early twenties were very much tinted with these issues—not so much because they were a big problem in my own parish, but because I encountered the ideas often in my discussions. Sure, we had "ethnics" in our parish, but there wasn't an "ethnic problem" there, at least none that I was aware of. And so I formed a certain opinion about these things, an opinion that could roughly be summarized this way: People can be "ethnic" if they want, but ethnicity is bad for Orthodoxy and has no place in the Church.
Shortly after I went to seminary, that opinion began to erode. Why? Because I began to have actual interactions with "ethnic" parishes.
I discovered, for instance, that "ethnic" parishes were populated with actual human persons. Some of them were wonderful, generous people. Some were stand-offish and selfish. Some were holy. Some were nominally Christian. Some were educated. Some were ignorant. They were people.
Another thing that happened is that I married someone with an "ethnic" background. (I did not "marry into" Orthodoxy, though. My wife converted at the end of our engagement. She was raised Lutheran and was an atheist when I met her.) During our engagement period, when her father, who was born in Beirut, showed me a video from a family wedding reception in the Middle East, I was nearly scared out of my mind. I had always been something of a wallflower, and now here was a gigantic dance party—always a frightening prospect for me when I was a teenager—and I was going to be expected to be right in the middle of it.
But as I met some of the people in that video, and as I got to know her father and the rest of her family, I discovered that they were actual human persons. Their accents were different from mine, and their food was different from mine. Their sense of being organized was different from mine. Their sense of being on time… well, I'm still not sure they have one of those. If they do, it's definitely different from mine.
When I was growing up, I was actually interested in many cultures. My father had been in the Navy, and being the son of missionaries, I had done some traveling myself and had even lived in another culture at a young age. But Middle Eastern culture was never one I had imagined connecting with at all. Nor almost any of the cultures connected with the Orthodox Church here in America. They just weren't on the radar for me.
But all of my notions about what "ethnic" people meant in Orthodoxy or even the discovery that my childhood had inadvertently prepared me to like some cultures and not be interested in others melted away in the face of actual human persons. Here were people who maybe thought differently from me or wanted different things from me, but they still felt pain like I did, still wanted love and wanted to love like I did. They were sinners, too, just like me. And loved by God, just like me.
This was something that should have been obvious. But it is so hard to break out of our prejudices, xenophobia and other assorted fears. But once that began to happen for me, I was able by God's grace to open my own heart to let them in. It's still a process that I have to work at.
Of all the "ethnic" traditions present in Orthodoxy in America, my life brings me most often into contact with Middle Eastern people. But I love Greeks, too, and Russians and Serbs and Ukrainians and Carpatho-Russians and Georgians and Albanians and Romanians and Bulgarians and so on and on. I will admit that I think that the Arabs make the coffee the best. And it helps that I have it readily available to me. I will also admit that I like Byzantine chant the best. But there is much that I love about the other musical traditions of Orthodoxy, as well. And while English is the language of worship at my church, I do what I can to try to learn something from the other languages I encounter, as well, even if it is just to say "Good morning."
I have also learned that it is possible to make a nod to someone's culture without making a full prostration to it. And the nod is almost always enough. I do not believe that giving someone an "inch" means that they will ruin everything.
The problem, I believe is that we so often are intellectually and emotionally lazy when it comes to dealing with the differences between people in our parishes, between parishes, between jurisdictions, etc. It is easier to think and to feel in categories. But people are not categories. People are people.
This realization was brought into sharp relief for me once when I had a conversation with a young man at a parish of the archdiocese in which I serve which was made up primarily of American converts and their children. As you know, we have many people of Middle Eastern background in the Antiochian archdiocese. And as you also know, there is war going on in the Middle East right now, a war in which many people are being martyred, especially in Syria. Where I live, there are many people of Syrian background, and they have family and friends who are in danger and many who have already died.
So this young man was saying to me how much it bugged him that our archdiocesan magazine seemed to have too much about the Middle East in it. He felt that it turned people off to Orthodoxy, that it got in the way of our witness to America. And at that moment, I realized that I used to feel as he did. But I also realized that I no longer could.
It is not that I have become a "born again" Palestinian or Syrian or Lebanese or Jordanian, etc. I cannot be any of those things, no matter how much I now love those cultures. I still don't speak very much Arabic, though I did learn how to do Arabic dancing for my wedding. But what I realized in that conversation and knew from my own experience with my own parishioners and my own family through my wife is that, by God's providence, these are the people whom God has brought into my life. And those people in Syria and Palestine and elsewhere who are suffering are important to them—they love them, they fear for them, they are pulling out their hair in worry for them in their prayers.
That does not mean that I have to put those cultures front and center when evangelizing for Christ to people who have no connection to those cultures. But it does mean that I have to serve the real people who are actually in my life. I am not serving a rarefied, idealized "Orthodoxy" that does not touch the lives of the people who are my fellow Orthodox Christians, even if those lives are "ethnic."
I serve Christ in His Church, and these who are members of Christ are so many things. They are Syrians, they are Greeks, they are Ukrainians, etc. They are cradles, they are converts, they are reverts. They are Virginians, they are Pennsylvanians, they are Californians. They are into sports, they are into science fiction, they are into theatre. They are so many things, and they love so many things. I don't have to become those things, but I do have to embrace those people. And if I reject those things, things which in themselves are not antithetical to the Gospel of Jesus Christ, then that means I am rejecting the people who love those things and identify themselves with those things. And I am therefore rejecting the people whom God has given to me. And I am therefore rejecting those who are members of Christ.
I have taken as my watchword the famous saying of St. Raphael of Brooklyn, who served here in America from 1895 to his untimely death at the age of 55 in 1915:
I am an Arab by birth, a Greek by primary education, an American by residence, a Russian at heart, and a Slav in soul.
He did not merely tolerate all those different kinds of people, and he certainly wasn't hostile to them. He identified himself with them. He of course never became a Greek or Slav, etc. But he still could say "I am" about those people. He had space in his heart for all of them and met them where they were and made their lives his own life.
I myself still have a long way to go. My heart still has brambles and underbrush that need to be cleared from the path. But I think that, if we are to ask and to answer the question of how we who are Orthodox Christians encounter the people in this country where we live—both the people inside our parishes and those not yet inside our parishes—we will have to make peace with the "ethnic" question in Orthodoxy.
How do we do that? I think we begin by not seeing people as categories. We try to see them for who they are and love them for who they are. And while we seek the lost sheep who are not yet of the one fold of Christ, we also tend the sheep who are in the fold. And likewise, while we tend the sheep we have in the fold, we do not define them as "our people" in such a way that we exclude those who are truly "our people" (because they are Christ's people) but do not yet realize it.
Christ's universal call to humanity means that we love every single person. And we begin with those whom God has brought to us—not just the ones he's brought to us in our families or in our parishes, but the ones he has brought to us in our neighborhoods and our towns. If we do that, then while there will surely always be "ethnicity" in one way or another within Orthodoxy, we won't have an "ethnic problem" in Orthodoxy. We will simply have people, the people of God.