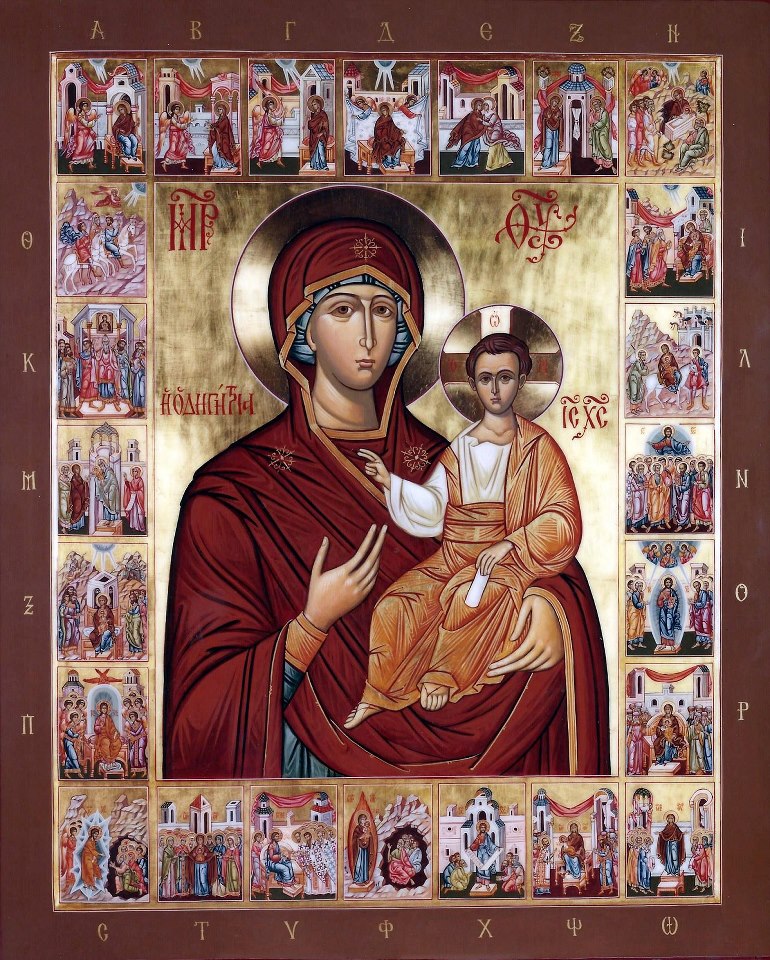 We now come to the part of Lent where we begin to say farewell to various services that have accompanied us on the journey. Today is the Fifth Friday of Lent.
In the practice of my archdiocese, we celebrate the Small Compline service with the Akathist Hymn on the first five Fridays of Lent. On the first four, the akathist is divided into quarters, and one quarter is inserted into compline. In Arabic, this is called the Madayeh, while in Greek, it is the Chairetismoi or "Salutations," so named for the many times Chaire ("Hail!" or "Rejoice"!) is sung in the service. On the fifth Friday, the full akathist is included, interspersed with the Canon of the Akathist throughout the service. (Full service text here.)
I love this service dearly. This practice is probably something of an anomaly, when one looks at the grand sweep of liturgical history, that this should be done on Friday nights of Lent, but it is now the standard practice throughout the churches which follow the Typikon of the Great Church (which includes my own Antioch) and has been for a rather long time. And we love it.
When I was in the process of joining the Orthodox Church and leaving Evangelicalism behind, I remember that I was asked a number of times whether it was tough for me to come to this service, since it is such an all-out veneration and show of love for the Virgin Mary. I don't know why, though, but it just never was a problem for me. Loving her just made sense. And it made sense even before I got all the explanations of how and why.
The akathist is almost entirely a meditation on the conception and birth of the Lord and the Virgin's beautiful Fiat that was the means by which it was possible. Here's the beginning of the text:
An angel chieftain was sent from heaven to say "Hail!" unto the Theotokos. (thrice) And beholding Thee, O Lord, taking bodily form, he stood rapt in wonder, and with bodiless voice cried aloud to her in this wise:

Hail, thou, through whom joy shall shine forth; Hail, thou, through whom the curse shall be destroyed.
Hail, thou restoration of fallen Adam; Hail, thou, redemption of the tears of Eve.
Hail, thou height untrodden by human minds; Hail, thou depth hard to scan, even for angels' eyes.
Hail, thou that art a kingly throne; Hail, thou that holdest the Upholder of all.
Hail, thou star that showed the Sun; Hail, womb of the Divine Incarnation.
Hail, thou through whom Creation is renewed; Hail, thou through whom the Creator becomes a babe.
Hail, O Bride without bridegroom!
We served this full service this evening in Emmaus. In the midst of the nearly limitless cloud of incense smoke, it was a beautiful, sweet sadness as we sang the final refrains. I will miss this beauty.
Until next year.