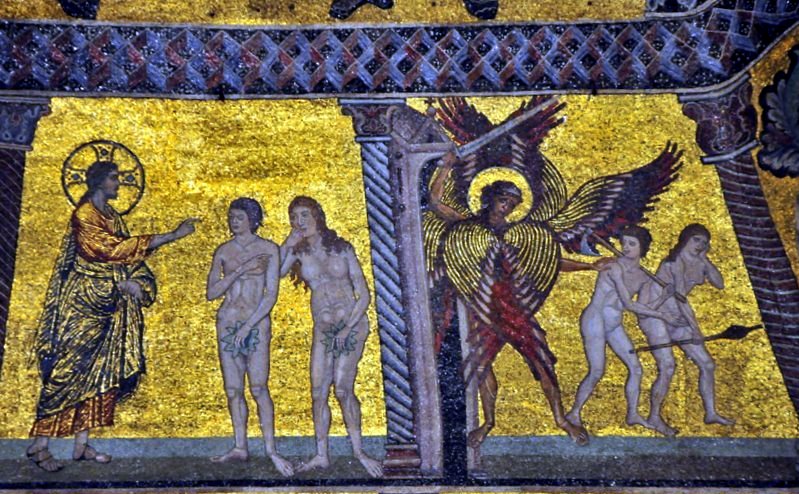 Sunday of Forgiveness, February 22, 2015
Rev. Fr. Andrew Stephen Damick
In the Name of the Father and of the Son and of the Holy Spirit, one God. Amen.
Today we complete the pre-Lenten period of the Triodion with the Sunday of Forgiveness. That is the general name for this Sunday, but we also commemorate another theme this Sunday, and that is the expulsion of Adam from Paradise. And so now we will weave these two themes together and ask how they illumine our series on evangelism, especially as we stand now at the very threshold of the Great Fast.
I wish first to address this theme of the expulsion of Adam from Paradise. If we do not know the story, then we must become familiar with it.
Adam and Eve are created by God as innocent. They have no sin. There is nothing that separates them from God. There is nothing that breaks their communion with God.
That communion is not as full-grown as it could be. They still need to mature, to grow more deeply into the likeness of the God according to Whose image they were created. But there is nothing that hinders that. The environment is perfect for this. The Garden of Eden which God created for them is an ideal setting in which they can grow and become fruitful in every spiritual virtue. As children of God, Adam and Eve are part of His family and resemble Him from the moment of their creation. They are the pinnacle of all that God has made, and the whole cosmos is sensitive to them and moves in response to them.
But then the temptation comes. And first Eve is seduced by the serpent, and then she draws Adam into sin with her. And they eat the one fruit in the garden which God has told them they could not eat, the fruit of the Tree of the Knowledge of Good and Evil. The Scriptures do not say this explicitly, but perhaps we may speculate that, because they were immature and not very developed spiritually, the prohibition on eating that fruit was not because the fruit was itself harmful but because they were not ready for it.
And in their disobedience, they rip themselves away from God. They break their communion with their Creator. This is depicted in Scripture as the expulsion from Paradise, from the Garden of Eden, but it is not merely a change of residence. Paradise is actually intimacy with God. And they destroyed that intimacy when they did the one thing that God commanded them not to do. They had one job! And they ruined it. And they began to die.
What does this have to do with evangelism? Our preaching of the good news requires that we know this story and that we are able to tell this story. We have to understand what exactly was lost when Adam and Eve were expelled from Paradise. They lost their closeness with God. They lost their connection to the Giver of Life, and since they were no longer receiving life from Him, they began to die.
And why is this specifically needed for preaching the Gospel? It's needed because the good news is precisely about the rescue from death, the rescue from the decay and corruption that occur when estranged from the Giver of Life. And how does that rescue work? It works by restoring communion with God. The good news of salvation is the path back to Paradise.
And so we come now to the second theme of this Sunday immediately before Great Lent—forgiveness. Forgiveness is directly linked to the expulsion from Paradise because it is how one actually walks that path back to the Eden of intimacy with our life-giving God.
We should first talk about what forgiveness is, though, before we simply recommend it as the way to get home to God. To forgive is not to hold something against someone. To ask for forgiveness is to admit your sin and seek to live differently. Brought together, giving and receiving forgiveness is reconciliation. It's really that simple.
But to unpack that a little, we should also say what it is not. Forgiving someone does not mean that you don't feel a certain way any more. Giving forgiveness doesn't mean you just turn off negative emotions. Most people just cannot do that, anyway. To forgive is not to treat the other as though you have something against them. It is not to penalize them, not to punish them. It is to choose not to sit there and steam about them. If you forgive, you might still feel negative emotions, but you don't have to feed those emotions, and you don't have to act on those emotions. In forgiving, you have set the other person free, and you have set yourself free.
To ask for forgiveness is also to set yourself and the other free. You are both set free from your sin. By confessing that you are a sinner, you are set free from the pride that prevents you from being truly free. And by confessing your sinfulness to another by asking forgiveness, you set them free because you are declaring that the war is over.
Forgiveness is about reconciliation. It heals relationships. Forgiveness brings together, husbands and wives, brothers and sisters, broken friendships, distorted relationships between co-workers and neighbors. Forgiveness is not about saying, "I don't care about that" or being judgmental to the other, like when someone says "I forgive you" but it sounds like an accusation. Forgiveness is about healing relationships.
Now, some may ask, what if I have been abused by someone? What if the other person is really dangerous? What if I cannot be around that other person and not be tempted so sin? You can still forgive, but you don't have to give your trust to that person. Forgiveness does mean reconciliation, but sometimes you have to be reconciled to the fact that the relationship cannot continue. The only healing possible for it in this life might be separation. But you can still forgive.
Such situations are fairly rare, though, and even if the other person is a complete jerk, it doesn't mean that he or she is an abuser. Especially if the relationship is a family relationship, especially marriage, full reconciliation should be pursued.
So now that we have said something about what forgiveness is and is not, how does that inform our evangelism? How does the message of forgiveness figure into the preaching of the Gospel?
We preach that repentance and forgiveness are possible when we preach the Gospel, because it is genuinely good news to learn that we can be set free from the sin and hatred and resentment and grudges that we carry around with us. It is good news to learn that we can set others free and do not have to be controlled by our resentment. It is good news to learn that, no matter what you have done, God is ready to love you and forgive you and receive you as one of His sons or daughters. This really is good news!
We who are born outside of the Paradise of intimacy with God, having been expelled along with Adam and Eve long before we even came into being, need to be brought back into communion with the Giver of Life, our Creator and God, Whose presence in a person vivifies them and undoes the damage of death and corruption. And we are brought back into that communion through forgiveness, both in offering it and in receiving it.
In the Gospel appointed for the Divine Liturgy today, the Lord Jesus brings together the forgiveness that we offer each other with the forgiveness that we receive from God. He says this: "If you forgive men their trespasses, your heavenly Father also will forgive you; but if you do not forgive men their trespasses, neither will your Father forgive your trespasses."
Let us therefore forgive one another, offering freedom to each other when we confess our need for forgiveness and when we offer forgiveness. And when we do that, we will open ourselves up to experience the forgiveness of God, Who is always forgiving us. And then there will be reconciliation and peace and love—the intimacy of Paradise with God.
To our God therefore be all glory, honor and worship, to the Father and to the Son and to the Holy Spirit, now and ever, and unto ages of ages. Amen.