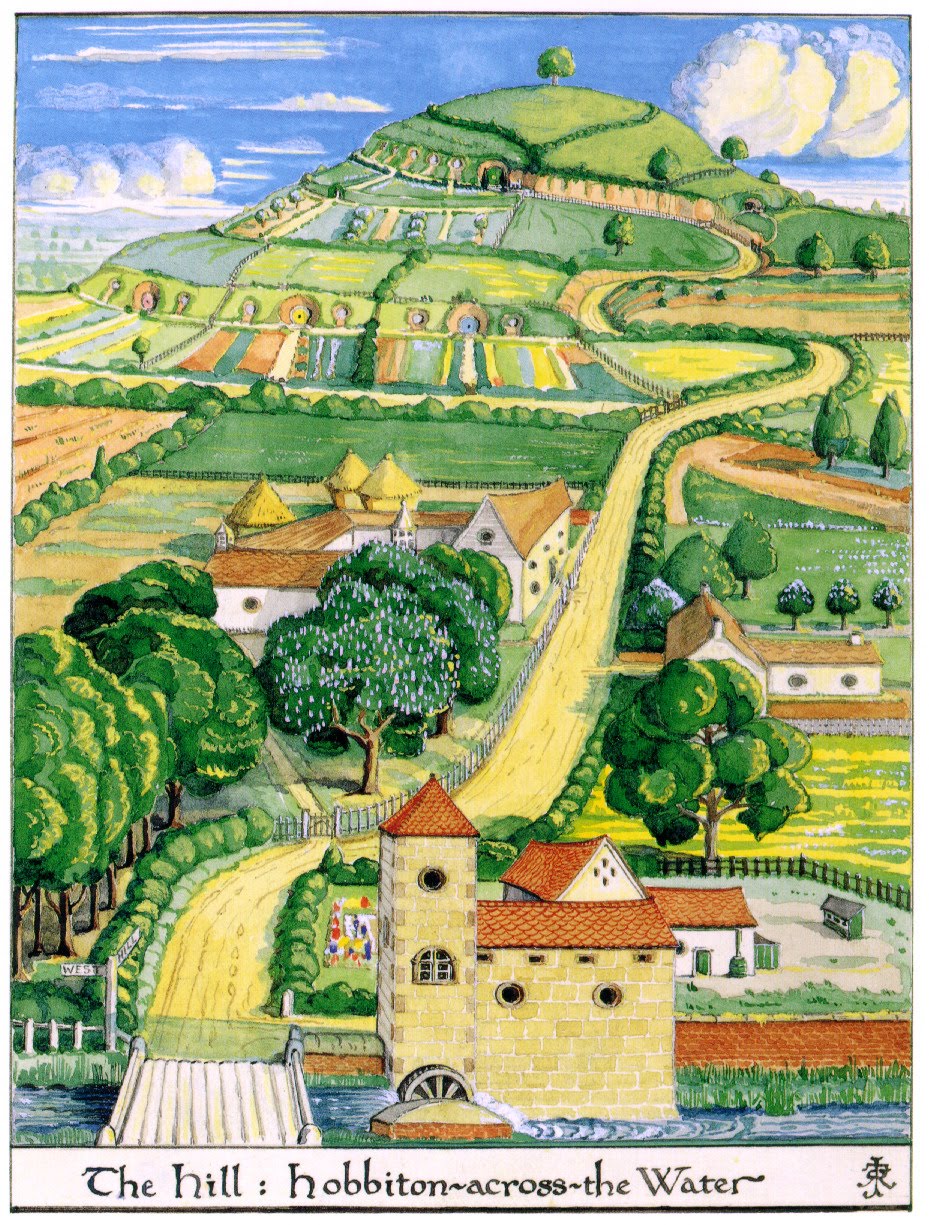 I feel that as long as the Shire lies behind, safe and comfortable, I shall find wandering more bearable: I shall know that somewhere there is a firm foothold, even if my feet cannot stand there again. —Frodo Baggins
I happened upon this quotation again yesterday evening, while I was reading my daughter The Lord of the Rings. It seems a dauntingly long tome to read to a five-year-old, but of course we have years, if need be. She's also already listened to the whole of The Hobbit and liked what she heard and wanted to hear more about hobbits. So of course I could not resist. Naturally she will not remember everything or understand all the details this time around, but that doesn't particularly matter. So it goes with all of the good tales for any of us, including, I think, the Book itself.
As someone who is in some sense homeless (though not houseless), having lived now in twenty-two separate dwellings across fifteen towns, six states and one unincorporated territory, these words from Frodo in anticipation of his great Quest always make me a bit sad. Much of Tolkien's work is about a sense of loss, of remembering things that never will return, and when Frodo speaks these words to Gandalf, he has no idea yet how much he will lose, that he will indeed lose the Shire for himself, even while he saves it for others.
The sadness that I feel is not quite Frodo's sadness, though, because there is no geographic place that I have left behind and can return to or at least hope for while I am in my wanderings. And while I do intend to spend the rest of my days here in Emmaus, I think that it is too late for me to have a home. Though I am not old, I am too old for that. I've done it backwards from Frodo—I have tried to find a home after my wandering rather than embarked upon my wandering from a home already found and already loved.
My point here is not really about me, though. My life is what God has permitted it to be, even if I've muddled it up here and there, and I am grateful for what I have received. No, the point is about that "firm foothold" that Frodo mentions. For him, it is the Shire, and he carries memories of the Shire throughout the Quest to destroy evil. I do not have a Shire of my own, not in the sense that there is some specific place I can place my mind's feet to gain that firm foothold.
But even though some of us are homeless in this life, I think that we nonetheless have the possibility for such a firm foothold, for a memory of beauty and homeliness (to use homely in its British sense, roughly homey in American English, though not so rustic). I hope I can say this without sounding like a romantic, but for me that firm foothold has become the worship of the Church, most especially in its Byzantine iteration, with which I was first imprinted in Orthodoxy. It is not quite the same as having a home in the earthier sense—a sense I encourage all to develop as best they can, even in such a homeless state as I find myself—but there is certainly a firm foothold to be had there, a power and glory and sense of belonging that can be carried along in any place of wandering, any struggle, any peril, as we pursue our own great Quest.
There are many instances throughout the history of the Church in which the saints, those people who were most infused with God's presence here on earth, did something peculiar as they faced imprisonment, torture and even death—they sang hymns. I cannot help but think that their experiences in worshiping the one True God in His Body the Church became for them the firm foothold that made their wandering bearable. And when faced with the gravest of circumstances, they called to mind that power and energy, and they brought it forth again in an act of anamnesis (a term usually referred to the invocational memory that brings Christ's passion and death into the here and now as the Eucharist). While Frodo could only engage in mneia (recall), we Christians have the possibility for anamnesis, bringing the Savior Whose salvation we remember into the very present by means of collective invocational memory.
As we do that, the orcs and Uruk-hai and evil wizards and the Ringwraiths and even the Enemy himself can be borne rightly, with patience and even with love and with joy. And in so doing, like Frodo, we can also destroy evil and loosen its hold on our hearts.