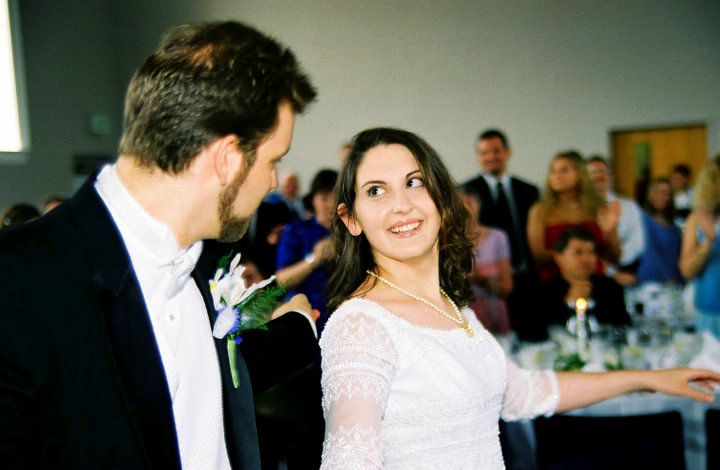 Ten years ago today—April 26, 2002—I first sat down and had coffee with the beautiful woman in the picture above. This picture was taken about sixteen months later, on our wedding day.
Our pairing was (and in some ways, remains) unlikely. When I met her ten years ago, she was actually an atheist with a Lutheran background she had left behind in her teens. Although when I met her I was quite interested in her, I never attempted to convert her to anything, though of course I invited her to church (at our first meeting, in fact). She came, and she stayed.
I proposed to her a little less than four months later, while she was doing dishes. I was fairly sure of her response before I began (by reading her a poem and giving her a ring with an amethyst), especially since she already had her wedding dress purchased. (It had been the tax-free weekend, you know.) We had also actually arranged a wedding date with the priest. I don't remember when that was, to be honest, so I don't really know when we had essentially agreed to be married, although without yet going through the ritual of proposal.
We were also something of an unlikely pairing because, although we never really explored it very much at the time, we were probably initially worlds apart politically. We've both changed a lot in that regard since then, and now we have nearly identical opinions about politics and even work together to figure out how we want to vote.
Probably the biggest unlikelihood of our courtship and marriage was cultural: I was raised Midwestern/Southern/Missionary/Evangelical, while she represents a hybrid of upper-Midwestern/Lutheran and immigrant/Palestinian/Lebanese/latent-Orthodox, favoring the latter in many respects, though of course she still says melk (rather than milk) like her Wisconsin relatives and was raised with their religion. The curious mix of communication styles that come with each of our backgrounds (not to mention, the basic fact that we are a man and a woman) have made for challenges over the past ten years, but I do think that we've largely acquired something of the best of each other's worlds, especially in our better moments.
I was an Orthodox Christian when I met her (though only about four years into it), and of course now we both are, as she was received into the Church just a few days before our wedding. Yet while we are both Orthodox Christians, we are different kinds of Orthodox Christians. From my pastoral experience, I can see that these differences are partly just the differences that come because we are a man and a woman, though they also come from the different paths we took to get into the Church. Hers was always communal, whether from her father's childhood background in Orthodoxy (and even her Middle East relatives' sense of membership that doesn't much include actually going to church) or her reintroduction to it through the guy she decided to date and marry, while my path was (and in many ways, remains) a kind of personal quest, the quest for beauty.
We still have many differences, and some of the things we used to have in common we don't have in common any more. But we also have new things in common. And what we truly share between us is life—in all of its rugged, ragged, rickety glory.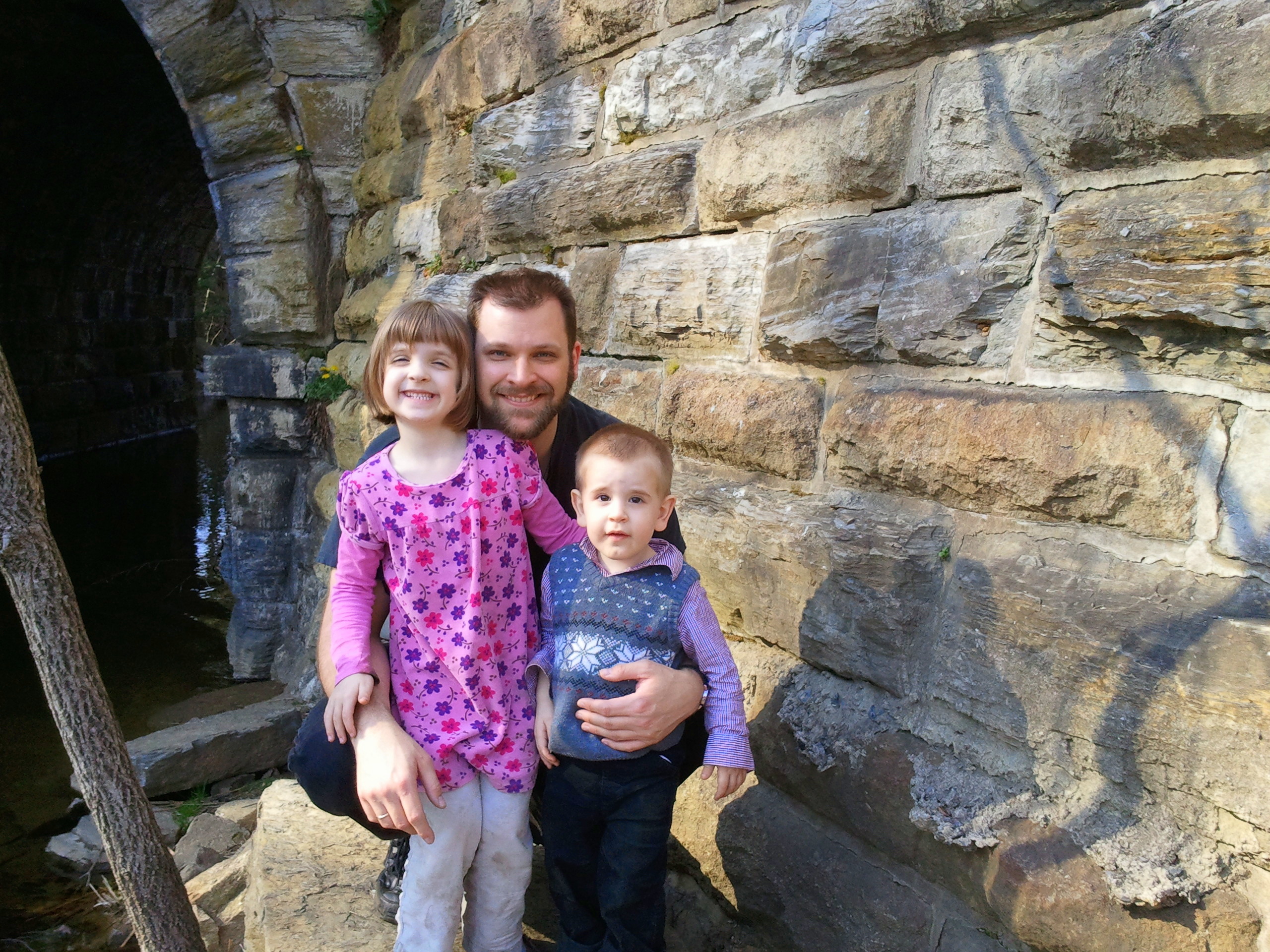 As I write this, she is now quite expectant with our third child, a second son. The due date is less than three weeks away, which puts us in the "any day now" stage. (Inexplicably feel like buying us something for this event? Go here.) She took to motherhood quite a bit more rapidly and with surer commitment than I took to fatherhood, something I think is probably true in many families, if only because of the essential and deep link that is shared in the initial period of life between a child and his mother. But as the children gain more and more interface with the world outside our home, I find that fatherhood is making more sense to me, that I am becoming more a father. So I am slower at this than she is, but God gives His grace in His ways and times and completes that which is lacking—and if there is anything fatherhood reveals to a father, it is that he is lacking.
I think that what we most have in common—though often with different iterations of it—is a deep and enduring longing for home. We are both children of itinerant families and have nearly two dozen residences under our belts, and we are weary of moving, of uprooting and restarting. We want to know this place and remain in this place until our deaths, and our prayer is that our children will desire the same thing. And we mean home for all that the word means, both earthly and heavenly.
I have titled this post Conversions, because that is what it is about, really. Over the past ten years, we each have had to convert on a number of occasions—not just trying to put on an idea of what we think we ought to be, but actually having to become different people in order to meet the new demands of communion.
One of the singular insights of Orthodoxy is that man is not simply a lone hero on a quest, searching for his absolute identity and trying to acquire it or to authenticate what he suspects is his true essence. Rather, man is a dynamic being, dependent for identity not only on God but even (as dangerous as this may feel) on other human persons. He is capable of repentance. He is capable of conversion. He is capable of communion. He is capable of union with the Other.
For all of this and in all of this, I am and will always remain grateful to the Creator for my beautiful, beautiful wife Nicole. Her spunk, longsuffering, flexibility, patience and ingenuity are all elements of her beauty. She is a woman brightly-adorned by her Maker. I do not know or wish to know what my life would have been like without her. But from that moment, ten years ago today, when our communion began, I knew that I had found beauty—and that I would, even in my imperfection and frequent failure, try to be with her always.