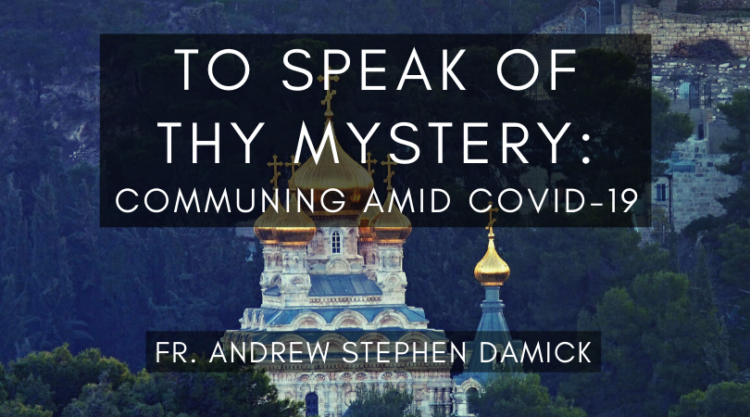 The past couple months have seen a frenzy of articles in Orthodox circles online that all seem to be asking this one question: Can you get a virus by receiving the Eucharist?
I am not going to link to them here (if only because it is now hard to keep track of them all), and I certainly don't mean to add to the cacophony, a cacophony that is demonstrably both confusing and scandalizing many of the faithful and the clergy.
This scandal increased when a handful of bishops began to alter how communion was distributed, with a whole series of accusations being leveled at them from being ruled by fear to lack of faith to outright heresy. People were understandably upset, but I think it is important to note that nearly every Orthodox synod and primate who have ruled on the matter have said that there ought to be no change. And many included a theological rationale that said that the Eucharist is not a vector for disease.
That said, there is some theological commentary happening here that I believe is concerning — not because I believe the Church's teaching can be altered, but because of the damage that bad theology can do to people who are trying to be faithful. That is, those who try to revise Church teaching will not be successful in changing it, but they may well be successful in distorting the faith of some of the faithful or in driving some away. And some are having their faith distorted or damaged by people who are reacting to the revisionists. So there is a pastoral issue here.
What exactly is the Eucharist, anyway?
So the question, for most people asking it, is still this one: Can you get infected by a virus from communion?
Into the heightened anxiety of our moment in history caused by the viral pandemic come many writers, all giving various answers to the question and then supporting them with their theology of the Eucharist.
Some say yes, some say no. Some say it depends. Some say you can't get a disease from the Eucharist itself, but you can from the spoon or from the chalice or from the priest breathing on you or from touching an icon or from a doorknob. Some say that the spiritual reality of the Eucharist cannot harm you, but hey, it's still bread, so we should expect bread to be like bread.
I have seen everything from claims that the act of coming to church affords you protection from all disease — sometimes with the caveat that it happens if you have enough faith — to the claim that, as far as physical disease is concerned, there is zero difference between receiving communion from the common spoon and sharing a peanut butter sandwich with a contagious COVID-19 patient. And there are many gradations of arguments in between.
I have seen arguments that are basically Calvinist Eucharistic theology (spiritual presence according to your faith, but it's still basically bread and wine), as well as arguments that are some form of Lutheranism (the Body and Blood of Christ are truly and locally present, but so are bread and wine; some refer to this as consubstantiation). I have even seen the argument for impanation (the Son of God is now incarnate as bread).
What most of these articles have in common is that, in order to answer whether you can get a virus from the Eucharist, they are addressing this question: How does the Eucharist work? This question has been, until now, mostly associated with Roman Catholic and Protestant Eucharistic theology.
De-Objectifying the Mystery
Now, it is not as though that is not an important question in its own way, but we should take note that, in looking at both the Bible and the Fathers, not to mention the text of the Divine Liturgy itself, that is not really the question being asked. Rather, the question there is: What does the Eucharist do?
The Eucharist is received in the midst of the Divine Liturgy, the service of sacrificial offering of the Orthodox Church. This is the "remembrance" Jesus spoke of, the way in which He told His disciples that they would worship Him:
For I received from the Lord that which I also delivered to you: that the Lord Jesus on the same night in which He was betrayed took bread; and when He had given thanks, He broke it and said, "Take, eat; this is My body which is broken for you; do this in remembrance of Me." In the same manner He also took the cup after supper, saying, "This cup is the new covenant in My blood. This do, as often as you drink it, in remembrance of Me."

For as often as you eat this bread and drink this cup, you proclaim the Lord's death till He comes. (I Corinthians 11:23-26)
Like the Passover of the Exodus in the Old Covenant, the instruction and initial enactment of this worship was given by God before the event to which it connected the people of God, thus showing that it is a ritual participation in a reality not bound by time. When we perform this "remembrance" of Christ, it is not to recall something in the past but rather it is "making remembrance" in the sense of a sacrificial offering to God. That "Do this in remembrance of Me" is better translated "Do this as My remembrance," i.e., as the way we are supposed to worship Christ. That is how the term is understood in many places in the Scripture.
One of the problems with the articles I've seen trying to define how the Eucharist works — that is, what exactly it is and how it gets to be that way — is that the Mystery is thus objectified. And it therefore makes sense that in a number of these objectifications a lot of energy is put on trying to get the Eucharist to people in a context exactly outside the Divine Liturgy.
This is not to say that there are no acceptable circumstances for communing outside being present at the service itself. Rather, what is notable is how much of an emphasis is laid on what should be extraordinary. When you objectify the Eucharist, this is rather easier. (And, as an aside, I would say that this seems to me the origin of some of the Eucharistic piety of the Roman Catholic Church, such as perpetual adoration chapels in which the faithful adore the Eucharist outside the mass and do not commune of it.)
What happens in the Divine Liturgy?
So given the proper context of the Eucharist — the sacrificial offering of the Divine Liturgy — what can we say about this problem of disease and the Eucharist, especially in this time when for many people attending the liturgy is so difficult because of social distancing restrictions?
To answer that question, we have to ask this one: What is happening at the liturgy?
Leitourgia is "public service" (not "the work of the people") done by God for the benefit of His people. ("It is time for the Lord to act," the deacon says to the priest at the beginning of the Liturgy.) The Divine Liturgy is a shared meal, given by God, that binds us to God and to each other. And it also makes us like the God we worship.
This mechanism worked exactly the same way in pagan worship, which is why idolatry is warned against so often in the Scriptures, in both the Old and New Testaments. Sacrifice brings the presence of the deity into the midst of the worshiping people. So the Divine Liturgy brings God into our presence, not because we have trapped Him via an idol (as in paganism), but rather because He gave this worship and Himself draws near. It is in this sense that we are therefore able to say "Christ is in our midst!" (a greeting shared by concelebrating clergy and in some parishes between the laity).
At the Divine Liturgy, God comes into the midst of His people. It is not the only way or time that He is present to us and for us, but it is certainly the central moment. What happens is that, in a way local to us and that moment, the Day of the Lord has come to us. The presence of God on earth means vengeance for the unrepentant and vindication for the fallen.
Yes, you can get sick from the Eucharist
Communing the Body and Blood of Christ brings Christ directly into you. For you at that moment, the Day of the Lord has come. And you might experience healing and transformation and deification, or you might experience wrath and destruction. St. Paul explicitly says that, yes, you can get sick and even die from the Eucharist:
Therefore whoever eats this bread or drinks this cup of the Lord in an unworthy manner will be guilty of the body and blood of the Lord. But let a man examine himself, and so let him eat of the bread and drink of the cup. For he who eats and drinks in an unworthy manner eats and drinks judgment to himself, not discerning the Lord's body. For this reason many are weak and sick among you, and many sleep. For if we would judge ourselves, we would not be judged. But when we are judged, we are chastened by the Lord, that we may not be condemned with the world. (I Corinthians 11:27-32)
Note that the Lord connects communion with judgment. The judgment/justice of God is His presence making things right. That is why it is painful to the wicked but lifts up the oppressed.
No one is ever "worthy" to commune. But we can commune unworthily ("in an unworthy manner"). How do you commune unworthily? You do it by communing unrepentantly. In the case of the Corinthians, that lack of repentance was expressed as irreverence, "not discerning the Lord's body."
St. Paul says that some are sick and some are dead as a result of that irreverence. Now, we might imagine that this means that God supernaturally zapped these people with inexplicable sickness or death, but I would be willing to bet that the illnesses and deaths that people saw might well in our time be looked at as perfectly explicable. In other words, they might be getting hit by a virus or some other "ordinary" ailment.
So can you get a virus by communing? If you commune unrepentantly, yes, a virus might well be the way that God brings justice to you. If He is merciful and His patience with you continues, it will be to give you the opportunity to repent. If His patience has run out, it will be to cut off your wickedness so that you cannot do yourself and others any more harm.
An Un-Secular Theology
One of the assumptions upon which rests a lot of the commentary on communion and the novel coronavirus is this: Spiritually speaking, disease doesn't mean anything.
In other words, diseases are basically accidents of material forces. With this assumption, distorted Eucharistic theology is almost inevitable, in one way or another saying that the immaterial aspect of the Eucharist does not actually change its material aspect.
The assumption here is materialism, that the world is basically a kind of neutral secular space that behaves according to material laws. And sometimes, we Christians expect God to jump in and intervene. This assumption, by the way, is why debates between many Christians and atheists are largely about whether God exists and whether He does miracles. The Christian believes in miracles, but the atheist wants to know why God won't jump in and do miracles in other places.
This assumption manifests itself in this discussion when people ask things like what happens to viruses on the tip of a communion spoon. One might also ask what happens to the viruses inside your body when you get anointed with holy unction. Both those who say that God jumps in and does something to the virus in the chalice and those who say that He doesn't do that are assuming a materialist world. The only question is whether this is one of those special, bracketed cases that Christians can believe in.
But Orthodox Christianity teaches that the divine energies of God are everywhere, permeating everything. God is not a miracle-worker Who bends the rules in special bracketed cases. Rather, everything is in His hands constantly, and He is always weaving things together for our salvation.
It's also clear that materialism is not assumed in the Scriptures or Fathers. We have only to mention the many cases in which people touched the body of Jesus or even only indirectly (e.g., the hem of His garment) and were physically healed. In none of these healings did Jesus say, "You receive my spiritual presence but not my local, physical one." If we believe that the Eucharist is truly Christ's Body and Blood, then any theology which suggests that its material aspect is not affected by its immaterial one is not Orthodox. It seems to me to be Nestorian or gnostic (take your pick).
On the contrary, it is precisely because the immateriality of the Eucharist affects its materiality that both healing and sickness can come. Christ is truly present in us when we commune. It is just like when people touched Him in the Gospels.
Therefore, every calamity that comes, whether to a society or to an individual person, is understood as being not only within the permissive providence of God but actually given by Him for our repentance. My confessor once said this to me: "Everything in your life right now, everything — is God's answer to your prayers for salvation." So if I contract the virus, it is so that I can make use of that opportunity to repent.
Wait, does that mean that everyone who gets sick is being punished by God? No, it does not mean that. God's justice doesn't work like that. Rather, physical ailments are given for our repentance. There were many saints who, even while healing others, suffered physical ailments throughout their lives and even died from them. But they were given by God for their perfection. And of course many martyrs who were superb in their faithfulness were not spared by God from martyrdom. Suffering is not incidental to human life. It is rather the means of our repentance, the means of our salvation.
Spoons, Social Distancing and Hand Sanitizer
So what about all these measures that have been so controversial, such as the use of multiple spoons (sometimes sanitized with ethanol), limiting attendance at church, telling people not to kiss icons or the priest's hand, or hand sanitizer stations everywhere?
I believe that there is room for honest disagreement about these things and that, in most cases, they do not represent a failure of faith. There are religions out there that would say that even vitamins are a sign of lack of faith, but Orthodox Christianity is not one of them. Safeguarding your physical health through material means does not mean that you do not have faith. After all, if taken to its logical extreme, we also should not eat or exercise, etc., just trusting that God will provide all our needs without our having to do anything at all.
There is no contradiction between believing that the Eucharist is truly Christ's Body and Blood, that it is life-giving and the medicine of immortality, and also taking steps to improve and guard your physical health in this life.
As a friend of mine in the priesthood recently said to me, "It was never about the spoon." The spoon that we Orthodox have now been using for around a millennium was devised not for fear of viruses, because of course viruses were not understood to exist when it was adopted. Rather, the spoon was adopted for the sake of reverence — making sure people didn't drop the Body and Blood on the floor or take it home for sorcerous purposes.
But it's not like the shared sacrificial meal is truly "sanitary," however we distribute it to people. (It's therefore no wonder that some governments in Europe have banned communion entirely.) And it's also not like Jesus Christ didn't know about viruses when He said "Do this as My remembrance" or like the Holy Spirit forgot to mention it to the Apostles and Fathers who followed and obeyed that command.
No, really, it's not about the spoon.
So if it's not about the spoon, what exactly is the problem? The problem is the bad theology being used to push for liturgical change. I don't think lasting liturgical change is likely, but I do think that people might be damaged by bad theology, especially in revising our teaching on the Eucharist.
But there is also some bad theology being pushed by some who react against the revisionists. As I mentioned above, some say that there is basically a wall of protection around those who are in church services. But we have received no such promise from the Lord, that you cannot get a virus from other people in church or that (prosperity gospel alert!) that you can only get sick if you don't have enough faith. And, worst of all, I am aware of people being urged to disobey their bishops over these things.
I personally am against using multiple spoons, especially where a rationale is given that essentially accepts a materialist understanding of disease and the Eucharist. I am not, however, going to stand in judgment of clergy who are implementing multiple spoons, etc., especially not those who are obeying their bishops, who will themselves give an answer to God for how they ruled the Church.
How I think we need to change our conversation is summarized here: "For if we live, we live to the Lord; and if we die, we die to the Lord. Therefore, whether we live or die, we are the Lord's" (Romans 14:8).
All comes to us from God and is for our salvation. That does not mean that we, whether passively or cavalierly, should do nothing to help tend to our and others' physical health, saying that God will simply decide whether we live or die and we should not do anything differently in the midst of pandemic.
God has given us doctors and farmers and pharmacists and our own reason to help us do this good work for others and for ourselves. And I do believe that there is a range of acceptable opinion based on our best guesses as to what will work in this regard.
If you look at an icon of St. Panteleimon or other unmercenary healing saints, you often see them holding a medicine box. So like the unmercenary healers of our Orthodox tradition, we both pray and also administer medicine to the sick, seeing all as from the Lord, even sickness itself. Prayer is from the Lord, medicine is from the Lord, and sickness is from the Lord.
God did not create our world for suffering, and He did not bring suffering into the world. But He entered into our suffering so that it might become salvific for us. The dark powers were not expecting Him to do that. Suffering is now the means of repentance, the means of the passage through resurrection into life eternal.
We don't need to rewrite tradition or foment rebellion in order to live the gospel during a viral pandemic. We just need to dive more deeply into the Scriptures and into what our worship actually says about itself and what it does.