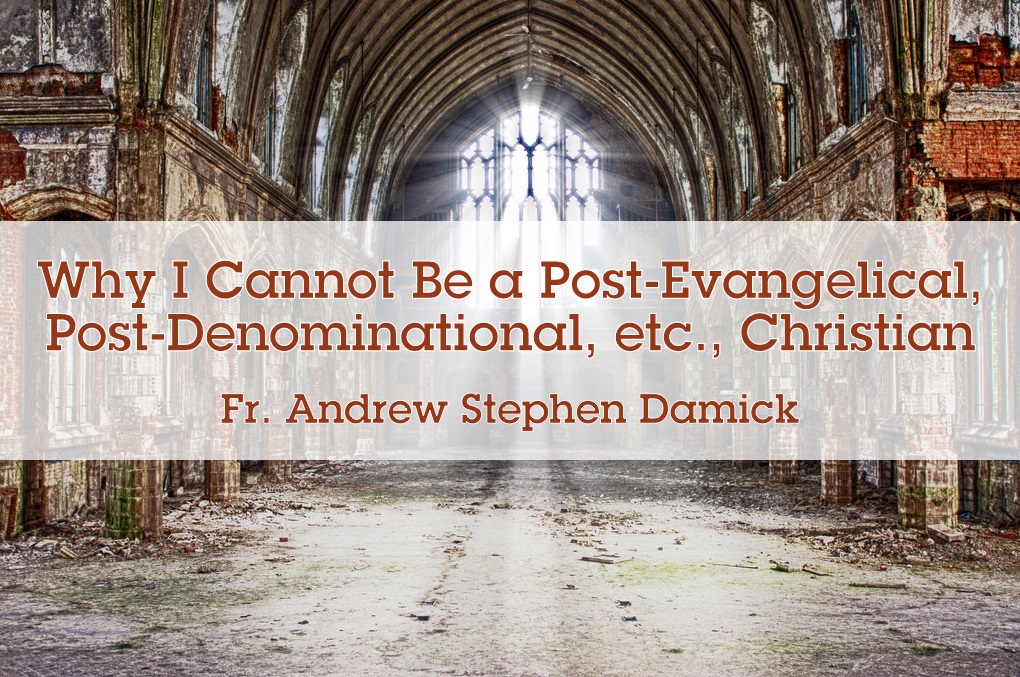 One of the things I've noticed in recent years is the growth of all kinds of "Post-_______" Christianity. By this I mean varieties of Christianity that are all generally within the Evangelical Protestant genre yet explicitly do not embrace any particular tradition.
Typically, what this looks like is something recognizably Evangelical yet with a potpourri of different doctrinal, worship and pastoral emphases and elements. We might see old standard hymns alongside modern pop CCM, yet with bits gleaned from historical Christianity, as well.
This differs from standard Evangelicalism in that it is vocal about how it is not bound. It's comfortable being a hybrid based largely on what an individual Christian or (often) church planter feels speaks especially to him.
It might be an individual choice or even a whole community following what they see as a complicated yet honest path—though perhaps not quite authentic, because, well, how would you know?
It might be someone who finds himself attending a church with a denominational affiliation yet who does not see himself as defined well by it. And it might be a church whose leader struggles to find the way as he reads a Bible that can sometimes be opaque to him. It could well be a collection of ideas and practices that a Christian is into, and perhaps he feels that he is into those things because it's God's will. There's a lot of irony, a lot of confession, a lot of feeling crippled in some way.
And there's probably also a fear that embracing a tradition means rejecting people. And is that what Jesus did?
I'm not talking about this cynically or to mock what might otherwise be dismissed as "cafeteria" Christianity. The difference here is a sense that all the old systems of doctrine and denomination just don't seem to work. But instead of heading in a fully Charismatic direction where experience matters and doctrine doesn't so much, the Post-_______ Christian basically sees himself as doing the best he can with a broken, chaotic, confused Christian world where he probably wonders just what happened to the certainty he used to feel within the Biblical hermeneutic of his upbringing.
A lot of Post-_______ Christians I've met were raised within more clearly defined traditions but became disillusioned by them. Some saw cracks in their denominational doctrine or culture or leadership. Some were exposed to teachings from Christian history or from other traditions and found a truth in them that just wasn't available in their own. And some were simply burned by the bad behavior of fellow church members.
Someone or something failed them. Even if it was just ideas.
But they wanted to remain faithful to Jesus Christ yet also faithful to the truth they found outside their previous tradition. But because they can't trust any label, any denomination, any one tradition, they find themselves picking through the ruins of half-abandoned or half-considered Christianities to find what relics they can or to see some light shining through old windows, however dirty.
I admire the honesty in that, but I cannot be that.
There's a reason why I cannot do that. It's not merely that I have an allegiance to the Orthodox Church. After all, I could disavow that at any time. I don't have to be Orthodox. So my choice not to be a Post-_______ Christian isn't just because it's not Orthodox.
Rather, it's because I want the Church.
I want the Church that is the one Jesus promised the gates of hell would never prevail against. I want the Church that is the fullness of Him Who fills all things. I want the Church that is Jesus' Body and His Bride. I want the Church that is called out from among the nations. I want the Church that receives the glory of God, the glory given by the Father to the Son. I want the Church that is the pillar and ground of truth. I want the Church that invites every last human being into it, the Church where the Father's will that none should perish could actually be obeyed. I want the Church where the saints of old stand next to the saints of today and commune together in the mystery of a healed humanity.
All these things are in the Bible. It's what the Bible says about the Church. But it's very hard to cobble something together—even with the very best of intentions—and be able to say convincingly, authentically that that really is the Church that the Bible says all those things about.
I get that my Post-_______ Christian friends have been burned, feel dejected, feel that a Church like that is really just an idealistic fairy tale or only an eschatological possibility. But if there's something that I would like convey to them—I mean, really communicate—it's this:
It's all true.
All the things the Bible says about the Church really are true, and they're true of the Orthodox Church. I'm not going to argue here about why I believe that that is uniquely the case (I've written in many other places my critiques of other forms of Christianity), but I will plead with them to believe, to believe that there really is a Body of Christ like the Bible says—like Jesus says—where all those crazy idealistic hopes actually are true.
It doesn't mean that you don't run into sinners of all sorts within the Church who will disappoint, disillusion and even try to destroy you. But it does mean that there really is something there.
It's all true. Really. Don't lose hope.