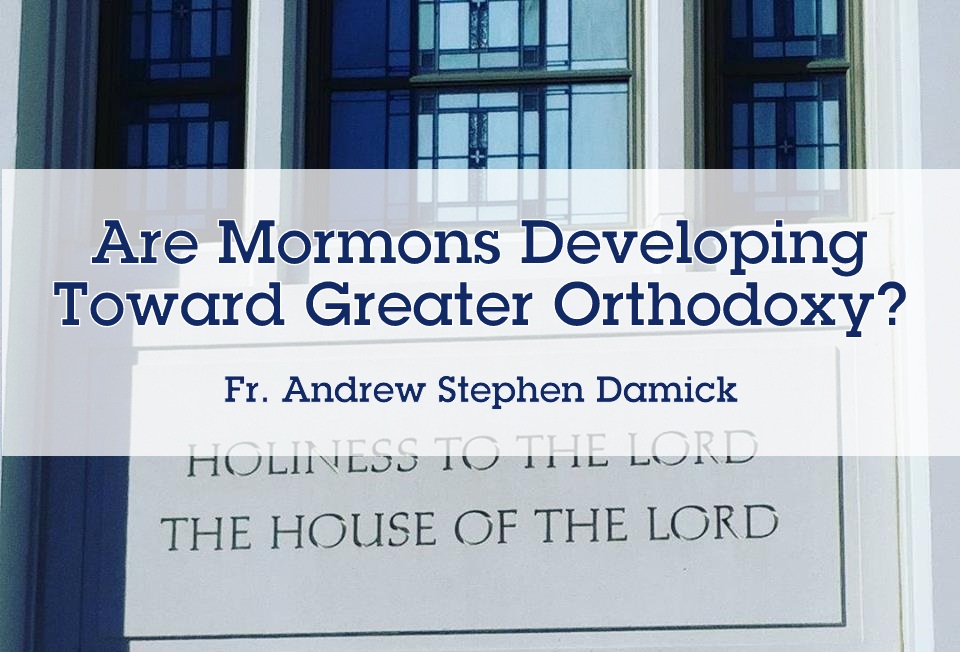 Today I ran across this fascinating piece over at First Things by Richard J. Mouw: "Mormons Approaching Orthodoxy" ("Orthodoxy" here is what we might call "small-O orthodoxy"). In this, Mouw, the former president of Fuller Theological Seminary, makes observations about his relationship with Mormons that resulted from his participation in years of Evangelical-Mormon dialogue, which he uses to interpret statements made by Mormon leadership in recent years. He believes that the Church of Jesus Christ of Latter-day Saints may be moving in a rather surprising theological direction.
The key question revolves around the traditional Mormon doctrine, taught by Mormon founder and prophet Joseph Smith, Jr., that God the Father is an exalted human being and also that we humans can achieve the same thing that the Father has. This is possible because God and man are fundamentally made from the same stuff.
Smith taught against the traditional Jewish and Christian doctrine of creation ex nihilo (out of nothing), saying that all that exists is really just a rearrangement of pre-existing matter, the same matter that makes up what God is. So the difference between God and man is not an eternal ontological gap but rather just a difference in how that eternal material that makes up everything is arranged.
In this, there is a deep similarity to most ancient pagan doctrines of creation, in which a god or gods make the material creation out of matter derived from an existing god, usually a goddess, which is why motherhood and creation are so intimately linked in most pagan religion. The Father Who stands apart from and is entirely different from His creation was unique to the faith of the Jews and then inherited by the Christians. (Pagan monotheist philosophers eventually taught something similar, but their Unmoved Mover was not personal as the Father of the Jews, and creation was not really ex nihilo, either.)
The collapse of the created and uncreated into the same category is the fundamental theological supposition that is at the heart of all of the core Mormon theology. I wrote about this in Orthodoxy and Heterodoxy (and added considerably to my section on Mormonism in the forthcoming revised edition), and the more I've read Mormon theology, especially the words of Joseph Smith himself, the more it became apparent to me that this lack of differentiation between the created and uncreated is the "key" to what can often be a bewildering maze of theology.
Thus, I was fascinated to read Mouw offering his opinion that Mormons were signaling a backing away from this most critical piece of their tradition:
In April of 1997, the late Gordon Hinckley, then the president of the LDS Church, was asked by a reporter from the San Francisco Chronicle whether "Mormons believe that God was once a man." His response:

I wouldn't say that. There was a little couplet coined, "As man is, God once was. As God is, man may become." Now that's more of a couplet than anything else. That gets into some pretty deep ­theology that we don't know very much about.

Q: So you're saying the church is still struggling to understand this?

A: Well, as God is, man may become. We believe in eternal progression. Very strongly. We believe that the glory of God is intelligence and whatever principle of intelligence we attain unto in this life, it will rise with us in the Resurrection. Knowledge, learning, is an eternal thing. And for that reason, we stress education. We're trying to do all we can to make of our people the ablest, best, brightest people that we can.

A few months later, in the August 1997 issue of Time magazine, Hinckley was once again asked about the "God the Father was once a man" teaching. He responded, "I don't know that we teach it. I don't know that we emphasize it. . . . I understand the philosophical background behind it. But I don't know a lot about it and I don't know that others know a lot about it." When Time was later asked about the ellipses in the quoted comment, Richard Ostling, the person who conducted the actual interview, provided a transcript from his notes that included these sentences that were a part of the original response: "I haven't heard it discussed for a long time in public discourse. I don't know. I don't know the circumstances under which that statement was made."
Now, in order to parse this correctly, we have to understand what the position is of the president of the Church of Jesus Christ of Latter-day Saints: he is nothing less than a prophet who speaks on behalf of God. And we also have to understand that mainstream Mormons very much believe that their prophets can develop dogma for them in a way that contradicts earlier doctrine. Perhaps the more famous examples of this development are the repudiation of plural marriage (polygamy) by the main LDS church, as well as the reversal of the longstanding ban on allowing blacks into the Mormon priesthood (i.e., full membership for men). Both doctrines were previously declared to be eternal revelations from God, but both have now been revealed no longer to be in force. (Plural marriage is said to be restored in Heaven. It is still practiced by some splinter Mormon groups.)
Mouw goes on at some length to detail what he sees as indications from the LDS leadership that God the Father's ontological existence is being redefined away from the idea that He was once a man. In other words, perhaps He is God in a way that always was true, and perhaps human beings never can actually achieve that full Godhood that the Father has. He discusses the question of whether Hinckley and others are being deceptive and gives several more pieces of evidence for his belief that Mormons seem to be changing their views on such a central piece of their tradition which was very clearly taught by Joseph Smith.
Obviously there is a lot more to Mormon theology which is objectionable not only to Orthodox Christians but to all Trinitarian Christians of any stripe (really, to all non-Mormons). But this piece of theology is so much at the heart of what Joseph Smith taught that it is hard to imagine a Mormonism that continues in the same way if this affirmation is ultimately discarded.
Mouw ends his piece by saying that Mormons may well piously intend worship of the true God in a way that their theology does not (yet?) express, and he leans toward saying that those who do that, even though they might be damaging others with their doctrine, could well end up among the saved. This leans a little too far toward Pietism for me, though Mouw is at pains to say that doctrine really is important. But one gets the sense that piety for him might be just a bit more important.
There is of course something to what he is saying—one might be innocently mistaken on dogma, and God may well pardon that mistake. But the problem from the historic Christian perspective is that doctrine is not just a matter of getting something right. Rather, as Mouw himself says, doctrine plays itself out in the spiritual life: "Getting theology right is of great importance, for an orthodox theology helps us sustain our orthodox intuitions, expressions, and practices." But he tends more toward suggesting that an accidentally good spiritual life might be salvific, something which undermines his professed allegiance toward doctrine, holding "the conviction that a person's piety is often a better test of his faith in God than are his theological formulations." But for the Orthodox, at least, theological formulations are not just "formulations" but are, in the words of many of our hymns, "saving dogmas," saving not because being "right" is itself salvific but because eternal life is to know God (John 17:3), and you can't know God as well if you believe wrong things about Him.
That said, this is still a very interesting piece, and I recommend reading all of it.
And just as something of a parting comment, I also recommend checking out this 1996 piece from Christianity Today, "From the Fringe to the Fold: How the Worldwide Church of God discovered the plain truth of the gospel," which details the journey of the Worldwide Church of God ("Armstrongism") from being an odd anti-Trinitarian offshoot of Adventism with an obsession with British Israelism, into the mainstream of Evangelicalism. It almost seems like an impossible story, but it's still true. (I also write about Armstrongism in the new O&H.)
I think it would be harder for Mormons to make a similar voyage, but you never know. Weird things happen all the time.