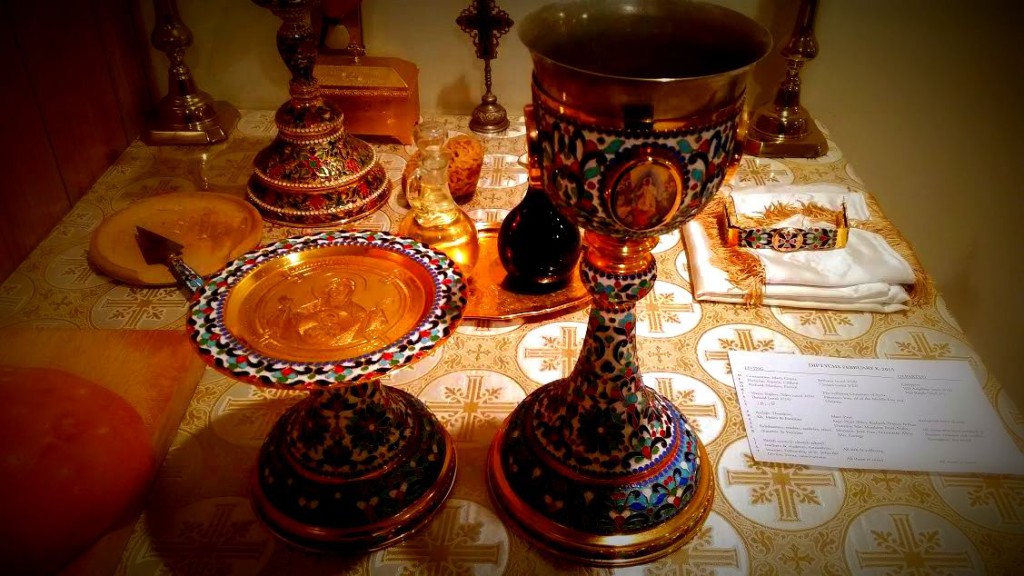 I must admit that it always bugs me a bit when someone tells me what I believe, especially when I do not actually believe it. And so the bug in my bonnet buzzed again a bit when I read Peter Leithart's latest musings on liturgy over at First Things. In this piece, Leithart lets the Orthodox, Roman Catholics and other "high church" types know that our preparatory liturgical rites indicate that we don't actually believe in the potency of sacraments:
The low-church Reformers (all of them, by my definition) stripped away preparatory rites because they believed that the power of sacraments rests on God's word, and that alone. If a minister is ordained to a ministry of word and sacrament, why does he need to go through what looks like re-ordination every time he leads the Eucharist? He doesn't need to wash his hands, because Jesus has already set him apart by the laying on of hands; he was vested at ordination. If Jesus promises to wash us at the font, we don't need to bless the water. We only have to believe him. Jesus promises to give himself to us at his table. We should trust him, take, and eat. To the Reformers, the Latin Mass didn't take God at his word. Surrounding the sacraments with elaborate preparatory rites manifested distrust in God's promise, which means distrust in the potency of sacraments (emphasis in bolding added -ed.).
Earlier today, a contributor wrote a good response to Leithart's piece, but I wanted to add in my few cents, especially focusing on this issue of what, exactly, is the purpose of the liturgical rites in which the sacraments are expressed and administered.
Liturgy and the Hammer of Monergism
It is said that, when the only tool you have is a hammer, every problem begins to look like a nail. My sense is that Leithart's analysis remains deeply informed by the hammer of monergism (which is heretical and presupposes the heretical Christology of monoenergism)—anything that "man" does detracts from the work of God. In this case, it manifests "distrust in God's promise" and in "the potency of the sacraments." Why "add" all that preparatory ritual when God has promised that He will save us? If we really believe that God is the one giving the sacraments their power, doesn't any ritual we do suggest that we don't really believe that?
When applying the hammer of monergism to liturgy, of course you're going to smash things into unrecognizable pieces. Indeed, Leithart's logic really has no business smashing up only the parts of liturgy he identifies as preparatory. If preparatory rites indicate a lack of trust in God's work in the sacraments, why should the rest of the rites be spared, as well? Why utter words of consecration? Why give thanks? Why even commune? Don't you trust that God is already at work? Or why not just reduce the whole thing to communion? This quickly reduces to absurdity if consistently applied. And of course that's the problem with monergism to begin with—if followed consistently, there's actually no point in doing anything at all as a Christian. God's taken care of everything.
Even prayer itself can be seen as an attempt to detract from God's glory. That God commands prayer or whatever doesn't really hold much water if you see all human activity as impinging upon God's glory. Obeying divine commands doesn't do anything. You're just supposed to obey. Why? No reason, really. Yes, I'm being a little facetious here, but it's to illustrate a point—divine commands come as a kind of non sequitur in a monergistic soteriology.
This is where Leithart's definition of liturgy makes it about magic. He seems to believe, because of a supposed "distrust" in God, that "high church" Christians think that the magic won't happen unless we throw in our two mites' worth of ritual. In other words, the Eucharist or the water or whatever won't be really real unless we have our Proskomedia or processions or preparatory rites. But who actually teaches that? It may well be the superstitious belief of some, but that's certainly not the official teaching of any of the historic churches.
Leithart's comments about preparatory rites also betray an ignorance of the details of liturgical history. He would like to discard rites that aren't part of the discrete rite of communion itself, but he doesn't seem to realize that it's not so easy to separate those things out from the rite. The Proskomedia, for instance, now takes place "before" the Divine Liturgy, but its history is as an element within the liturgy which gradually elaborated such that it now takes place traditionally during Matins. But it's not some separate service that you can do without the liturgy, nor can you celebrate the liturgy (most of them, it should be noted) without the Proskomedia. They're part of the same liturgical action. (Some liturgies, such as the Liturgy of St. James, do not have a prior Proskomedia, but that's because they still contain its essential elements within the inner part of the rite.)
But if you don't presuppose monergism and therefore aren't required to see all human activity as a threat to God's sovereignty, then liturgy begins to look very different.
It is sometimes said that liturgy means "the work of the people," but a better translation is really "public service," or perhaps "a work for the people." A leitourgeia in the ancient world was usually something done by a person of public import in behalf of his community. A senator could build a public forum, for instance. Likewise, the Divine Liturgy is a public service performed by God in behalf of the world.
It was mentioned that the liturgy begins with "It is time for the Lord to act." The liturgy is God's action. But how can that be? It certainly looks like human beings doing things like singing and praying. And as also mentioned, "Bread and wine are both the result of a painstaking process of transformation or metamorphosis. Bread does not grow on trees, and there are no lakes of wine. Rather, these elements of the Eucharist are cultivated, worked, and produced by the toil and sweat of human beings. They achieve their telos through effort." Everything visible seems to be the acts of human beings. But the part that is normally visible is not man's work ("the work of the people") but rather man's participation in God's work. In other words, the things that we do in the liturgical life are our way of receiving and being changed by what God is doing.
The Reality of "High Church" and "Low Church" Sacramentality
Probably the weirdest (and I don't use that term lightly) part of Leithart's argument is his claim that "low church" equals "high sacramentality" and "high church" means "low sacramentality." This is just an absurdity when it comes to the actual evidence on the ground regarding what Christians believe about the sacraments. Contrary to Leithart's claim that the more "high church" you go, the less people actually believe in "high sacramentality," the truth is actually the very opposite. Line up the churches which clearly teach the real presence of Christ in the Eucharist, and you'll find a bunch of men swinging censers and wearing funny hats. Line up those who go all-out in their Zwinglianism (i.e., that the sacraments are just signs and symbols with no "there" there), and you'll find business suits and (increasingly) blue jeans. Associating "low church" with "high sacramentality" is really just wishful thinking that is in no way reflected in what's really going on in churches.
Why is that? Why is it that "high sacramentality" actually manifests in "high church"? Most Christians throughout history have held to a "high sacramentality," and most of Church history would also not have known what "low church" was. If one steps outside the monergistic schema for a moment, it's really not difficult to answer why: If you really believe that what is on that little plate and in that cup are really the very Body and Blood of Jesus Christ, the God-man and Saviour of the world, then you will not be putting those things into styrofoam vessels, nor will you be throwing away what's left over after communion. What you treasure most, you give your best to. What is most critical, most potent, most precious is surrounded by the greatest glory you can offer. The golden diskos and the golden chalice do not detract from the glory of what they contain but rather express it and draw attention to it.
This is the same logic that informs God's command to make the Ark of the Covenant out of rather impressive stuff and which made the Temple of Solomon one of the most glorious structures in the world. And it is the same logic that informs the rather elaborate rites—again, commanded by God—that took place in that Temple and in the Tabernacle before it. Building a temple and doing all the things that traditionally surround worshiping in it and going to it in no way express a distrust in what God's presence there does. It's the opposite, really. All those things are done because of the trust in God's presence.
I get what Leithart is trying to say with his contrast of "high" and "low" church and sacramentality, but he should probably have a look at what his fellow "lows" are actually teaching and doing. He won't find a "high sacramentality" there. He'll actually have to look pretty hard even to find people using the word sacrament positively. There's a reason that the altars have been permanently stripped in the low church world. It's because they don't believe there's anything terribly special being offered on them.
The Nature of Preparation
What's at the heart of all this is a failure to understand the nature of preparation when it comes to liturgical life. Leihart wants to remove preparation from liturgy, and we addressed that above, but it's not like it's not a distinctly visible part of Christian ritual. It is. He's not making that up. So let's consider it in its distinctiveness.
So what's the point of preparation? It's certainly not magic. We don't think that preparation is what makes the magic of the sacraments happen. They're not magic at all.
In some cases, the preparation before liturgical services has the purpose of not changing the sacraments or making them happen but rather preparing us to receive them. We know, for instance, that receiving communion unworthily is dangerous. So it makes sense to have pre-communion prayers to help prepare the communicant. Likewise, when entering a church for prayer, it is appropriate to pray while making that entrance, because it helps to prepare the worshiper for what he is about to do.
In most cases, though, such as the Proskomedia of the Byzantine Liturgy, what's happening is mainly practical but with elaboration surrounding it. There is a need to get out bread and cut it into the appropriate shape to fit onto the diskos. There is a need to get out wine and water and pour them into the chalice. These are the "practical" actions of the Proskomedia. Along with these practical actions are a whole series of commemorations of the saints, as well as the living and departed, commemorations which express our ecclesiology in the midst of the Eucharist—the Body of Christ and the Body of Christ. And the actions of cutting the bread and pouring the wine and water into the chalice are all done with quotations from Scripture, particularly the Suffering Servant passages from Isaiah.
We can also make the same observation about the prayers of entrance into the sanctuary (Kairon) and the vesting of the clergy, which Leithart thinks look like another ordination. But as someone who's actually been ordained at a Byzantine liturgical celebration, I don't have any feeling of being "re-ordained" when I pray before entering the sanctuary, put my vestments on and wash my hands before the Proskomedia. No, it's that I need to go into the sanctuary, need to put my vestments on (wearing them everywhere would be awkward) and need to make sure my hands are clean before handling the holy vessels.
To think this looks like a "re-ordination" would require not actually knowing what an ordination looks like. The key element in ordination is kneeling face down at the altar and having the bishop's hand placed on one's head, an element which is decidedly lacking from what I do before the Divine Liturgy. There's no laying on of hands before the Divine Liturgy. Why? Because I've already been ordained.
One could make roughly the same observations about the Western processions into the church and so forth, as well as the Eastern versions of such things, such as the procession with the Gospel into the sanctuary. They are fundamentally practical.
So the question is this: Since we need to do these practical things like walking from one place to another, cutting bread, pouring wine, cleaning our hands, etc., how are we going to do that?
It seems that Peter Leithart would prefer that we do all these things without prayer. In other words, even though it's obvious that we're doing all these practical actions as part of our worship of the incarnate Lord, we should basically pretend that they don't really have any sacred aspect to them. They are not set apart.
But they are set apart. And so we pray as we go. And as the Church prays as it goes over the centuries, it begins to think of ways to encompass more with its prayers. The Church's reflection on prayer and preparation gradually express more ways to consider our participation in the leitourgeia of God.
Ritual Participation is Human
Why is it that Christians have traditionally done all these things and have a tendency to elaborate on them rather than to reduce them? It is because they are human, and human beings are gifted by God with a desire to participate.
To think about this more clearly, I'd like to indulge in a metaphor. It has its limitations, of course, but I think it works.
Consider the participation of sports fans in a football game. They prepare in many ways before they go to the game. They buy their tickets and make plans on the calendar. They purchase jerseys and hats. They may put colorful makeup on their faces. They have a ritual meal before the game ("tailgating"). They eat certain kinds of foods during the game. They shout out chants and cheers. The follow particular players and teams. They keep statistics. They throw footballs around at home. And so on. And no one thinks of these things as detracting from what the players are doing or expressing a distrust in their ability to play the game.
All these things are ways for fans to participate in the game, even though they're not actually on the field. The players are doing the leitourgeia for the fans, and the fans participate in all the ways that they do. And it's perfectly natural and human and normal. Very ritualistic. Very "high church." Very much a way of participating that merely learning the score just cannot convey.
And what would a "low church" football game look like, a la Peter Leithart's Puritan sacramentality?
STEELERS: 42
EAGLES: 23
(Sorry, Eagles fans. You're used to it by now, though.)