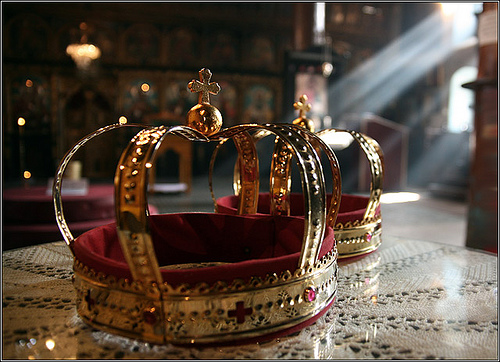 The historical and cultural context of the Eastern Orthodox Church has meant that She has not had to grapple with many of the same questions as Christians in the West.
The instability of the West following the barbarian invasions, together with the role that the papacy played in bringing some measure of religious and political stability following the fall of the Western Roman empire, virtually guaranteed that theologians throughout the West would have to explore an array of political questions — including questions about the appropriate relationship between Church and state.
By contrast, the relative stability of the Eastern Roman empire during the early Middle Ages, and the subsequent isolation of Eastern Christians in lands dominated by Islam, has meant that Orthodox theologians have never been forced to struggle with these same types of questions, at least not to the degree they have in the West.
However, this is changing.
With the widespread immigration of Orthodox Christians to the New World throughout the twentieth-century, and more recently the rise of converts to Orthodoxy from other Christian traditions, the Church is now having to address new issues that were never before on the radar. However, this can be a challenge since there is not a large body of literature to draw upon from within our own tradition. As a result, it is to be expected that there will be some confusion, and that Orthodox Christians will arrive at a variety of different conclusions on contemporary political issues. This is why, as Orthodox Christians, we must face these questions head-on as they arise, asking what wisdom our tradition might be able to provide. It is up to us to draw from the rich teaching of our tradition and apply these principles to the new and unfamiliar territory of the modern world.
The issue of gay marriage is no exception. As Orthodox Christians, there can be no doubt that gay relationships are contrary to the created order, and to marriage as a sacrament/mystery as understood by the  Holy Fathers. However, it is less clear how we should respond to the political questions being raised by gay "marriage." Since we are not called to use the state to impose Christianity on the world, is it even legitimate for Orthodox Christians to oppose same-sex "marriage?"
In order to answer such questions — and to help Orthodox Christians think coherently about these and related questions — I have written a number of articles on the subject. In these articles I have been interacting with Christian thinkers (both Orthodox and non-Orthodox) who embody a number of perspectives on gay marriage. I wanted to make these resources available to Orthodoxy and Heterodoxy readers, as one small step in the process of our collective journey towards a genuinely Orthodox mind on contemporary political issues.
The first article is one that I wrote for Christian Voice titled, Why Gay 'Marriage' is a Public Threat (part 1). In this article, I interacted with Frederica Mathewes-Green, who has raised some legitimate questions about whether or not Christians should be involved in anti-gay activism. I suggest that although our calling as Christians is not to force everyone to act in ways consistent with Christian morality, the move to legalize gay "marriage" represents a public threat that, in the name of Christian charity, should be resisted.
Drawing from the experience of nations that have already legalized same-sex "marriage," my article shows that any government legalizing same-sex "marriage" is saying something about the relationship of government to every marriage and family. Gay marriage is thus a public concern, because it affects not only homosexuals but also the rest of the population.
In the follow-up article on the same topic, I continue my response to Frederica Mathewes-Green by demonstrating that Christians will directly suffer once gay marriage is introduced. Just as we should be concerned if a president instructs his army to burn down monasteries — and just as we should do everything possible to prevent such a tragedy — so we ought to be concerned with laws that will remove our freedom to practice Christianity in the way embodied by our Orthodox faith. It is true that many people do not realize how same-sex "marriage" will lead to the persecution of Christians, but in the article Why Gay 'Marriage' is a Public Threat (part 2), I have demonstrated why this is not an empty concern.
Even so, some Orthodox figures have questioned whether opposition to same-sex "marriage" is legitimate, given the necessary separation of Church and state that our tradition seems to affirm. Just as Tertullian asked what Athens and Jerusalem have in common, so many Christians are now asking: "What does sacramental marriage of the Church have to do with the civil marriage regulated by the state?"
On the surface, this argument is compelling. After all, if marriage is one of the Church's sacraments — so the argument goes — then marriage outside the Church is not sacramental and therefore not really marriage at all. But if so — the argument continues — then we shouldn't really be concerned about governments debasing the meaning of marriage, as civil marriages have nothing to do with religious ones. This is an attractive line of reasoning  because it promises to make the Church immune to the artifices of secular government, suggesting that religious marriage and civil marriage occupy what we might call "Non-overlapping magisteria."
In my article Can Ecclesiastical Marriage Be Separate From Civil Marriage?, I have tried to demonstrate that this position is not only false, but also un-Orthodox. Building on the excellent article that Fr. John Whiteford has already contributed to O&H, I argue that although it is possible for there to be a complete separation between civil marriage and sacramental, this is a scenario that, as Orthodox Christians, we should not welcome.
Still — some may wonder — is there really a lot that Orthodox Christians can say about gay "marriage" that will be persuasive to  those who do not hold our theocentric worldview? The impasse of communication that persists in the gay marriage debate has left some Christians suspecting that genuine dialogue with unbelievers about the meaning of marriage is futile. The thinking tends to run: If someone doesn't share our Christian worldview, there isn't much we can appeal to when defending traditional marriage. Moreover, why would it make sense for the other side to listen to us, given that they don't share the worldview that gives rise to our understanding of marriage in the first place?
This seems to be the position towards which Peter Leithart and other writers at First Things are leaning. I have attempted to articulate the problem with this position in my Colson Center article Gay Marriage and Creational Realism. In this article, I argue that underlying Dr. Leithart's approach is a radically nominalist view of creation. The spectre of Nominalism is never far from even the best Protestant theology, and is particularly potent in the reformed tradition to which Leithart generally belongs. In the case of gay marriage, an implicit nominalism is seen in the turn from teleology towards a type of divine constructionism, in which ethics are reduced to a competition in creation between the wills of both God and man. In Gay Marriage and Creational Realism, I have tried to demonstrate that once a nominalist framework is operational (even on an implicit level), all we can do is retreat from the public conversation, or else make a nuisance of ourselves by trying to enter the public conversation armed only with handfuls of Scripture references.
But what might a realist (i.e., a non-nominalist) approach to the gay marriage issue look like? This is a question I have tried to answer in my three-fold series on the meaning of marriage that I wrote for the Colson Center earlier this year (2013). Because my argument is dense (so I have been told), I will not attempt to summarize, but will simply include links to the articles:
Finally, I have attempted to bring the discussion up to date in my recent assessment of the winners and losers of the Supreme Court's recent ruling on gay marriage.
One thing is certain: this issue is not going to go away. All the more reason why it is crucial for Orthodox Christians to develop a prayerful and thoroughly Orthodox approach to these important questions.