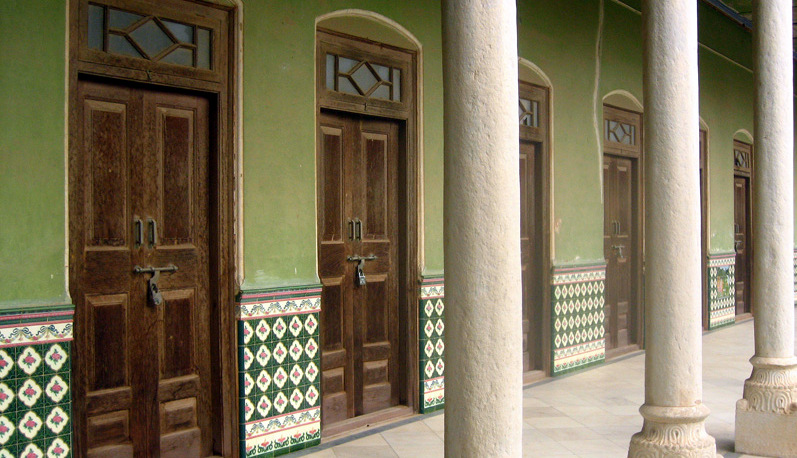 C. S. Lewis once famously remarked that "mere" Christianity, as he conceived of it,
…is… like a hall out of which doors open into several rooms…[and] it is in the rooms, not in the hall, that there are fires and chairs and meals. The hall is a place to wait in, a place from which to try the various doors, not a place to live in. For that purpose the worst of the rooms (whichever that may be) is, I think, preferable. It is true that some people may find they have to wait in the hall for a considerable time, while others feel certain almost at once which door they must knock at. I do not know why there is this difference, but I am sure God keeps no one waiting unless He sees that it is good for him to wait. When you do get into your room you will find that the long wait has done you some kind of good which you would not have had otherwise. But you must regard it as waiting, not as camping. You must keep on praying for light: and, of course, even in the hall, you must begin trying to obey the rules which are common to the whole house. And above all you must be asking which door is the true one; not which pleases you best by its paint and panelling. In plain language, the question should never be: 'Do I like that kind of service?' but 'Are these doctrines true: Is holiness here? Does my conscience move me towards this? Is my reluctance to knock at this door due to my pride, or my mere taste, or my personal dislike of this particular doorkeeper?'
By contrast, a Reformed friend of mine (no lover of C. S. Lewis, I should note) opined thus recently:
"Postmodernism, the school of 'thought' that proclaimed 'There are no truths, only interpretations' has largely played itself out in absurdity, but it has left behind a generation of academics in the humanities disabled by their distrust of the very idea of truth and their disrespect for evidence, settling for 'conversations' in which nobody is wrong and nothing can be confirmed, only asserted with whatever style you can muster" (Dennett). Christians[, therefore], should beware those who constantly talk of "narratives," "conversations," "discourse," "viewpoints," and "faith traditions," lest they find themselves speaking as postmoderns and not as Christians.
And then there is the recent series of comments on this recent O&H post, which includes examples such this:
In order to know what "Church" tradition teaches, one must (as you pointed out in the OP) first determine *what is the Church* and subsequently *which is the Church*. Or said another way, in order for your solution to be "located ecclesiologically", it would seem that you would first need to have a principled means of locating the ecclesia. If one cannot make those identifications in a principled, non-circular way (avoiding, for example Q1: "who is the ecclesia" A1: "All those validly ordained clergy who adhere to Orthodox teaching", followed by Q2: "Where does one go to learn Orthodox teaching" A2: "The ecclesia"); then how can one identify the locus and scope of authoritative "tradition" with respect to proper interpretation of Scripture? […] [T]he problem of "who's the final arbiter of Orthodoxy?" seems to present a significant ecclesial (and therefore interpretive) problem. If those who identify as Orthodox Christians cannot offer a coherent account of how they, themselves, identify who or what counts as "the Church" for purposes of establishing the scope of authoritative "Church" tradition, then "Orthodoxy's" solution would indeed seem to be yet another riff on solo scriptura – just "bumped up a level"… [H]ow [can] an Orthodox Christian… avoid the charge that "They still just get to decide for themselves what they will listen to and what they won't" because they ultimately decide the limits of who or what counts as constituting "the Church" for purposes of locating authoritative "tradition"?
And this, from O&H's own Eric Jobe:
I have never quite been able to escape the irony that, in seeking to be under the authority of the Church, I nevertheless chose which church I was to subject myself to. I "chose" Orthodoxy for a variety of reasons, some theological and historical, and some aesthetic, but It was all a bit like falling in love. I no more "chose" Orthodoxy than I choose what women I am going to be attracted to or the one I will eventually fall in love with and marry. So then, our best attempts at epistemological certainty based upon reason or some such is often overridden by the simple attraction we feel toward this or that church and how we "get along" with that church during the initial period of courtship.

At some point, however… I find that the search for the "true Church" is wrong-headed altogether, for the search for the "true Church" is not a problem that confronted most Christians throughout history, to whom the choice was never presented. To convert to Orthodox solely because one comes to reason that it is the true Church may carry with it certain pathologies that we are all familiar with. That estimation is easily changed once new data are presented.

I suggest, then, that one convert to the Gospel, and that one "choose" a church where the Gospel is preached and the presence of Christ is found. I want to remain Orthodox because I perceive that in it the fullness of the Gospel is found and I know the presence of Christ within it.
The problem that Christianity in general has, not just the Eastern Orthodox Churches, is choice within the context of a pluralistic society. Religious authority, being something you have to "opt-in" for, is really no authority that is binding unless you want it to be. Christian pluralism means that being a Christian is something you choose, and even choosing to be a Christian means you can then tailor whatever version of Christianity you find compelling to what you believe are your own needs. You can dress it up however you want; magisterial authority, scriptural authority, authority of tradition, authority of the Church — your assent to that authority is entirely a matter of individual choice, and any argument for the validity of that authority is made entirely on individual, that is to say, subjective, and ultimately circular. I believe the Bible/the Pope/the Church is the locus of authority; I know this because the Bible/the Pope/the Church tells me that, I believe them because they are the locus of authority, and — here's the kicker — I have changed my mind about what I find authoritative because of this claim.
Lewis wants to get around this problem of pluralism with "mansion theory", which sort of amounts to a version of branch theory; these are all rooms in the same house, and we're all guests anyway, so we have to get along as such. There's still a problem of the individual having to decide which room is "the true one", where the individual finds holiness, where the individual is being driven by conscience. My Reformed friend uses an atheist philosopher, ironically enough, to argue that, no, there's no pluralism to "solve"; that's a lie of Satan. There are only two categories, Christian truth and the deceit of sin, so there are no branches, no rooms, no "getting along"; you either Get the Right Answer and can show your work as to how you got it, or not, and I'll know if you Got the Right Answer because if you did, you'll be at my church. My friend and colleague Eric effectively works his way back to Lewis, although with a careful factoring out of Lewis' criterion of "truth" as being irrelevant; he sort of re-articulates Lewis' idea of "conscience" as "falling in love" — in any event, in both cases it comes down to a gut feeling that one cannot rationalize. There remains, then, the rational problem of my being able to "fall in love" with a different church than somebody else. He also winds up with a bit of "Orthodoxy is where we know the Church is; we don't know where it isn't" at the end.
It doesn't stop there, though. For cradles of whatever stripe, then there is the advantage of pointing to something external to belief as the reason for identifying as one thing or the other, a force that is bigger than the self. Then, however, the problem is this — how do "we" (whoever "we" are and whatever the reason is "we" may have a right to ask) know that such people actually "are" (whatever that means) what they identify as, or if they're "just" nominally going along with it for reasons of family or culture? Ironically, the existence of something outside of self-directed will that provides a reason to be Orthodox or Catholic or Lutheran or whatever or another diminishes the authority that communion is perceived as having; you're just part of the "tribe at prayer". If you're a convert, then you went church shopping, and what you brought home isn't any cooler than I what brought home. If you're a cradle, then you're not a "believer" in the same way, so I don't care.
The thing is, all of these various solutions have something to them. Lewis is right that your questions about a church must go beyond ones of aesthetic preference and address issues of truth (although I have an emergent-ish friend who is adamant that, for purposes of our day, Lewis is absolutely wrong; the only intellectually honest and Christian choice, he maintains, is to stay in the hallway and not make yourself comfortable in one of the rooms). My Reformed interlocutor is right that the effect of treating religions as they are on a level playing ground is that too often it seems that we're reduced to the language of folklore (which is really the language of safe distance at best and Orientalism at worst; "Oh, how cute/dangerous! That's what they do in their tradition! They even think traditions still mean something!") and advertising ("Come to the church where you'll find no better religion!"). It is ironic nonetheless that my Reformed friend must look to Dennett, one of the so-called "Four Horsemen of New Atheism", for help on this point. And Eric is right that, to a certain extent, our questions are answered when we find our reason overridden by a sense of the truth of the Gospel and the presence of Christ, although he doesn't really define what either of those things mean.
It really is a lot easier when the emperor and patriarch can just work in symphonia, isn't it?
So what is the solution? How are the truth claims of Orthodox Christianity any different from the truth claims of sola Scriptura? Is there a way to prove Orthodoxy's truth claims logically without an appeal to self-willed subjectivity?
I'll go ahead and say it: no. There isn't. I'm a historian, and I think there's a historical argument, which is why I'm Orthodox. Nonetheless, every historical argument has its contingencies and assumptions, and so I have to acknowledge that reasonable and faithful people can come to different conclusions about the history in intellectually and spiritually honest ways. If I take it upon myself to contend with them about it, it isn't going to bring them any closer to Christ, necessarily.
So, what are we left with? The experience of the saints? Well, sure, but even there the categories are fuzzy. We Orthodox love St. Isaac the Syrian, ostensibly Nestorian, but quickly claim agnosis when it comes to Latins like Francis of Assisi.
Within all of this concession, I might suggest a way that Orthodox Christianity's truth claims are different from sola Scriptura, however. Orthodox Christianity's claims, if true, do not bring you into a relationship with a book; the Truth in Orthodox Christianity, properly understood, is not a book, but in a Person, Jesus Christ. The Scriptures are true for no other reason than they point to Christ for the benefit of His Church, His living worshipping community; Christ is not the Truth because of the witness of the Scriptures. Orthodox Christianity is not a rational assent to the contents of a text, in other words; it is a relationship, rather, in the context of community, with the Divine Person who is the Truth. The community is important, even if we don't understand this in 2014 American life. Unus Christianus, nullus Christianus, as is attributed to Tertullian; no Christian is a single Christian. Sola Scriptura would seem to preach a very different idea. Orthodox Christianity's truth claims point to the Body of Christ (in multiple senses); sola Scriptura has Scripture pointing to itself. Even the demons know Scripture and shudder.
This is still unpersuasive, however. It's a fair point, maybe, but how is that any different from the claims any other communion might make? Great, Christianity requires a church, but why does it have to be the Orthodox Church? People have argued about that for centuries, and I'm not going to solve it here. So, instead, let me conclude with a joke:
A Protestant missionary visits a village in the Middle East, and starts talking to a local about the Good News. "Well, thanks," the man says, "but a missionary already came, and this village is Christian."
"Is that right?" the missionary says, excited. "Who was it?"
"I'm not sure," the man says. "Let me go ask one of our elders."
The local goes off for a few minutes. He reappears and tells the missionary, "Well, according to him, it was Paul."
Ha ha. The point is, ecclesial truth claims, particularly in an American context, can become an exercise in soothing anxiety about the lack of historical roots that are present in the humblest village churches in places like Greece and Syria. "Stop asking if saints like Basil, Chrysostom, and Nicholas are in your church, and ask if you're in theirs!" is a way this gets expressed. It's not that there's nothing to that, but for Americans, the disembodiment of the church is, I think, fundamentally tied to the fact that the world in which we live has no ties to the culture and historical epoch that produced those saints. The pious idea that St. Brendan went to North America is one way some people try to solve that; Mormonism bypasses the saints problem entirely by claiming that Jesus himself came here. It's not a new problem, really; Constantinople had to deal with it, too. Byzantium was an upstart city in an established network of major cities that became the imperial capital by fiat but with no real political, cultural, or ecclesial capital otherwise (see what I did there?), and the legend that St. Andrew provided the apostolic foundation for the Church of Constantinople was nothing short of lame. Ultimately the Virgin Mary turned out to be a better, more interested patron than St. Andrew, but the Theotokos' physical intervention in a battle probably isn't going to be how Orthodox Christians in America shore up our truth claims.
So, my suggestion is this. America is America. It is not an Orthodox country. It's not even really a Christian country, although it is culturally Protestant. The Orthodox renaissance that Anglophone Orthodox would like to see happen in this country, if it is to happen at all (and I am dubious of that), is not going to happen because of our arguments. In my experience, you're not going to convince anybody of anything that they aren't already inclined to believe in some way, or without God's intervention. Therefore, stop trying to convince people with arguments. To go back to Tertullian again, consider what he said about what made truth claims not just authoritative for the world in his day, but self-evident:
But it is mainly the deeds of a love so noble that lead many to put a brand upon us. See, they say, how [Christians] love one another, for they themselves are animated by mutual hatred; how [Christians] are ready even to die for one another, for they themselves will sooner put to death. (The Apology 39.7)
If we Orthodox want to make an authoritative truth claim, if we want to say that we're part of the church that Paul (or Nicholas, or Chrysostom, or Basil, or Tertullian for that matter) established we have to back it up with that level of love and self-sacrifice. If we're not willing to do that, airtight rational arguments aren't going to get very far.
Make your choice about Orthodox Christianity. Do so out of love for Christ, do so because you believe it is true, do so because you could make no other choice. However, having made that choice, remember that the Church is incarnational — She is the body of Christ on earth, in a very literal sense, and as one of Her members, your actions mean something in terms of witness to the world; you don't need to look to externals to see Christ's action, because you are part of His body. Shoring up your manner of disputation is an easy way out of that; acting accordingly out of love and self-sacrifice is much harder, but it is what will be more authoritative than trying to establish that your arguments are less circular than sola Scriptura.