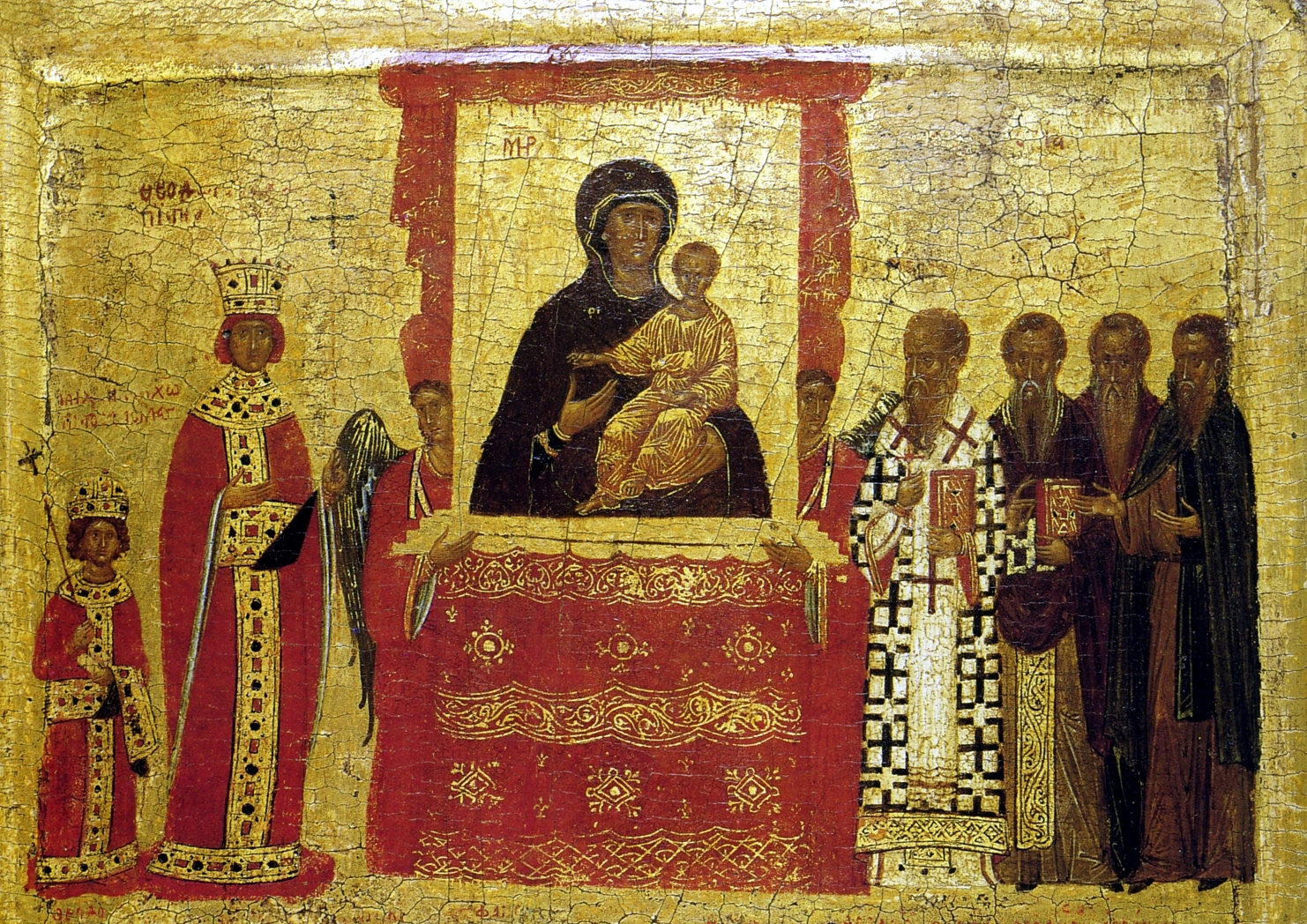 It is no secret that icons are an important part of Orthodox faith and worship, covering the walls and ceilings and iconostases of our parishes, and most Orthodox Christians have at least a few icons at home. It also is no secret that the Orthodox Church practices blessings throughout the Church year—we start with the blessing of the waters at Theophany, and then we take that water and bless all sorts of other things, like our homes, each other, fruit, and even our cars.
In the past few centuries, it has become increasingly common to have icons blessed by a priest or bishop, either having them sprinkled with holy water or anointing them with Holy Chrism. Some pious believers will even refuse to display an icon in their homes until it is blessed, and I have even seen Russian icons come in the packaging "pre-blessed"! I've been told by a few Greek and Antiochian friends that icons may be taken behind the iconostasis and kept there for 40 days to bless them. For so many people, this is a special event, and a comfort.
It is as if the icon goes from profane to holy through the act of blessing. Last year, Fr. Steven Bigham addressed this issue head-on in the Orthodox Arts Journal, and I've seen the article making its rounds the past few weeks. Titled "Does the Blessing of Icons Agree with or Contradict the Tradition of the Orthodox Church?," Fr. Steven's article addresses the issue clearly and fully, sweeping history for a clear and definitive answer. The article begins with this paragraph:
Orthodox Christians routinely have their icons blessed by a priest or bishop. Bishops often anoint them with Holy Chrism. There are even special services for blessing different kinds of icons: of Christ, of the Mother of God, of feasts, etc. Most people would never imagine putting an unblessed icon in their houses; it would be a kind of sacrilege, but once the icon is blessed — whatever its subject, taste, canonicity, etc. — many think that what was a simple picture before the blessing becomes an icon after, because of the blessing. It becomes at least a "better" icon. Being only a "profane" image before, it becomes "holy" after, because it has been blessed. Very few Orthodox would question this practice which they feel is legitimate, traditional, and totally in agreement with Church Tradition. I hope to show that despite the widespread habit of blessing icons, this practice is not in agreement with Church Tradition, and that it is in fact contrary to it and based on a theology of the icons that is foreign to Orthodoxy.
The strongest argument seems to be the historical evidence. Put simply, Fr. Steven argues, there is no written evidence of icon blessings in the Orthodox Church until the 17th century. It does not exist.
Bolstering his case, Fr. Steven quotes a long section of the Second Council of Nicea. At one point, Nicea II explicitly argues that blessing icons is unnecessary:
[M]any of the sacred things which we have at our disposal do not need a prayer of sanctification, since their name itself says that they are all-sacred and full of grace…. When we signify an icon with a name, we transfer the honor to the prototype; by embracing it and offering to it the veneration of honor, we share in the sanctification.
He also addresses St. Nikodemos the Hagiorite, who commented, "The holy icons do not need any special prayer or any application of myron (or chrism)," going on to strongly claim that introducing icon blessing into the Orthodox Church was due to Roman Catholic influence. "Do you see that the prayer which is read over holy pictures is a Papal affair, and not Orthodox: and that it is a modern affair, and not an ancient one?"
The skinny: icons are blessed already because of the figures depicted, and confirmed by the name of the saints on the images. Once an image is distorted or abolished, it returns to its former state of being simply wood and paint, and we dispose of them by reverently burning them. At the end of his article, rather than create another issue for people to argue about or fuss with their bishop or priest over, he suggests a workable solution to this innovative practice would be to replace the icon blessing with an icon dedication ceremony.
Read the whole thing here.