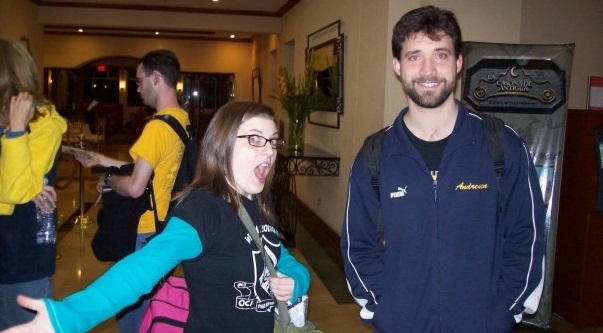 This is not a blog exclusively for single girls or even young women specifically. However, I've noticed an area of life that we don't write much about in the Orthodox world is dating and relationships. And I may have promised some young ladies in my world that eventually we'd talk about those things here. So today's the first post in a short series on just that topic. Married ladies, I hope you comment below and fill in the gaps I'm missing and maybe get the conversation started with your own daughters.
I've noticed there are lots of articles out there intended for young women about what you should be looking for in a spouse and lots of opinions about what makes for a good relationship or marriage. And I know lots of you have your "list" of what you think you might want in a spouse. I've written some general advice about dating and being single before on the OCF blog, and I encourage you to read those posts if you haven't, but today I thought I'd make a list–a list of things I think you should be looking for in a relationship if your desire is to one day have an Orthodox home and family life. So here goes.
Find someone who loves the life of the Church.
It's amazing to live in a home where the rhythm of your family life matches the rhythm of the Church's life. And this truly takes the commitment of both husband and wife. My husband was told by his priest when he was single, "Find a girl who goes to Vespers." In other words, look for someone who delights in attending the services, who can voluntarily be found at church at times other than Sunday morning. Find someone for whom a regular life of fasting, confession, and service are a given, someone who can be found spending their time singing in the choir, teaching Sunday School, working with the youth of the parish, or serving at the soup kitchen. Even if the reality of being married and possibly having children changes the way in which you are involved in these activities, you will together have an expectation that family life is Church life.
Find someone who turns to prayer.
Having a real inner life is not easy. We all struggle at times with our lack of desire to pray or our belief that we can get by on our own without really trusting God. But the reality is that life requires faithfulness on our part, it requires us to call out to God for ourselves and for each other and to give thanks for every aspect of life, the good and the bad. Find someone who will pray with you, who knows the saints, whose friends ask for his prayers. When I met my husband, he had been already praying to St. Ksenia of St. Petersburg about his life, while we dated (long-distance), we often said evening prayers together over the phone, and when he proposed (in the chapel at Holy Cross), the first thing we did was sit in front of the icon of Christ and pray together. Let me tell you, those little sign posts that showed me how he approached daily life have proven foundational to our marriage. I know that he prays for me, and together we have weathered difficulties and joys with our eyes on Christ.
Find someone who makes you freer.
It's really, really easy, especially for women, to confuse self-sacrificial love with unhealthy relationship dynamics or even emotional abuse. Yes, we are called to love one another sacrificially, to not not insist on our own way (1 Cor 13:5). But self-sacrificial love should still be freeing–it is not love if you feel trapped, bound, or controlled. God loves us as we are and wants us to become fully ourselves in Him, and the love in our marriage should reflect that same kind of dynamic. Yes, you may not get your way and you certainly will not have all of your desires fulfilled (that would be hell), but when you are truly loved, you will also slowly become more yourself, not less.
Find someone who is earnest.
Ladies, no games. Dating in this day and age with the multiple layers of communication and their intricate meanings (If he only talks to me on Facebook messenger, what does that mean? How long before he should text me back? Ugh.) is already overly-complicated. I'm not saying that relationships won't sometimes take time to reach a level of closeness for a guy to be completely open about how he feels, but in my experience, the relationships that end up being the right ones are not full of wondering and guessing about where you stand. Someone who is ready for a serious relationship and wants one with you is going to tell you. And this is not just a quality one should desire for the beginning of a relationship. Most men do not love sharing their emotions (or having emotions at all sometimes), but being able to be earnest and vulnerable, honest about who he really is, is an important quality for a healthy marriage and spiritual life.
Find someone who inspires you to be a better woman.
I remember when my mom asked me why I wanted to marry my husband that I told her something like, "He makes the things I thought were impossible for me to do easy." We are not the same person, and each of us has our particular struggles. Occasionally, our struggles are the same (though they seem almost never to pop up at the same time), but more often, I struggle in ways that he does not, and his example is inspiring to me. For example, he is the most forgiving person I know–it's quite hard for him to actually believe someone has a malicious intent. I, on the other hand, struggle very much with forgiveness and am much more apt to assume the worst about a situation. Maybe not every struggle has a perfect opposite in the person you choose, but generally, you should feel as though he is someone to admire, to imitate, and for whom you can be thankful.
Find someone who actually, really, truly believes marriage is a journey toward salvation.
In "Marriage: The Great Sacrament" (aka the best thing ever written about marriage ever), Elder Aimilianos of Simonopetra says,
Whenever two people are married in the name of Christ, they become a sign which contains and expresses Christ Himself. When you see a couple who are conscious of this, it is as if you are seeing Christ. Together, they are a theophany.
People get married for all sorts of reasons, not all of which are bad, but truly this is the highest calling and deepest meaning of marriage: to walk through life with a companion who shares your desire for union with Christ, who knows that the journey will not be easy but will be worth every step and any suffering, and who is seeking the Kingdom of God, proclaiming His good news, and becoming a light to the world. Find someone with this desire, dear ones. Life is inevitably full of joys and trials; marry a man who sees each happening through the lens of Christ, and together, you will reach heaven.
P.S. That photo at the top is, I think, the first picture of my husband and me when we met. Things that were not on my list: poofy hair, a wardrobe entirely purchased by his grandmother, and a love for video games. I'm sure he wasn't counting on a loud Greek who loves to over-extend herself and only makes weird faces in pictures. Oh, and we do not like the same movies or music pretty much ever. Thank God, our relationship is founded on something deeper. 🙂
photo by Lincoln James Barnard