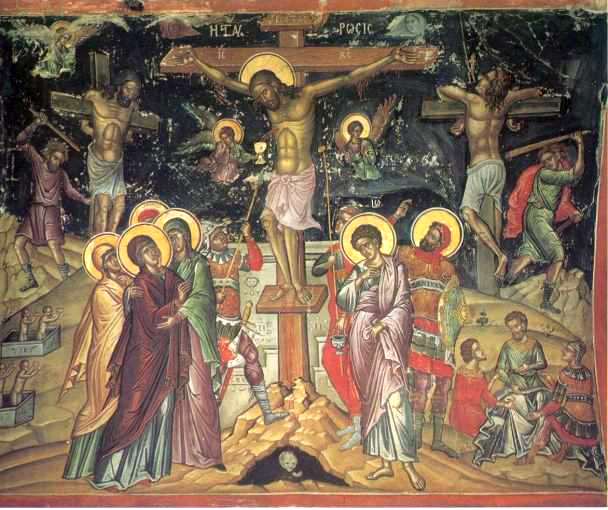 Well, hello, Lent.
Our journey to the resurrection has begun. We've asked for the doors of repentance to open to us and are once again intensifying our focus on trusting in the Lord and not on our own strength. It's not easy work, dear ones. Especially if you're like me, and you tend to run on your own steam and effort a lot of the time.
In fact, our Lenten disciplines can be especially tempting in this regard, as if we sacrifice our comfort and our full bellies and our time for the sake of proving ourselves to God, to show Him what we can do. Well, perhaps this would be the case if our God wanted us to earn His affection and attention by doing stuff. But somehow, after just one day of reading Isaiah, I don't think that's the case.
'What to me is the multitude of your sacrifices?' says the Lord -Isaiah 1:11
The Lord doesn't ask that we impress Him with our good deeds or our fasting. Indeed, any goodness we manage is in and through Him anyway. "No one is good but God alone," He tells us (Lk 18:19), and if there is any good, "every good and perfect gift is from above, coming down from the Father of lights" (Jm 1:17).
Lent is not a time of doing stuff, and the stuff we do serves only one purpose–to bare our true, deep, broken selves before God.
Here's the thing. Jesus is not our moral companion who walks beside us decent people. It's not at all like that "Footprints in the Sand" poem you once read, no matter how nice it sounded. There was never a time you were walking beside Jesus on your own merits: either He was always carrying you or else you were probably walking in the opposite direction.
And here's where Lent comes in. The disciplines and practices and prayers of Lent are there to reorient us, to make sure we're walking in the right direction and to help us realize just how broken we are. Jesus is asking not for your merits, but for your wounds, and Lent is here to reveal them.
Now, I don't like this plan any more than you probably do. I sort of like the idea that I'm pretty decent and put together and independent. I sort of like the idea that Jesus is my traveling companion through life, there to reassure me when I'm doing good and carry me when I'm not. Unfortunately, I know from experience that this is just not true.
I'm not that great. I mostly mess up. And it's only when I'm willing to lay myself out broken and beaten, admitting defeat, that I somehow realize how near the Lord is, not as simply a comforting companion, but as my Co-suffering Redeemer.
In our deepest, most painful wounds, the ones that nail us to our cross to the point of death, there He is. It's when we fall the farthest, when we are persecuted by our enemies most fervently, when we simply cannot do any more, that our wounds are opened up and His grace begins to work in us. It's then that perhaps we realize we actually need Him. Of course, we can go on deluding ourselves into thinking that we're pretty ok, that our goodness is our own, that our wounds need hiding not healing. But we'll probably never meet the Lord that way.
The Lenten journey is there to lead us to the resurrection, yes, but not before taking us through the cross. Dear ones, do not fear this cross, do not hide your wounds. Let this Lent open them up so that the Healer of All can come to you and make you whole.
I am the thief on the cross, deservingly receiving the lot given to me. And there beside me, I see the blameless Lamb suffering as I suffer, wounded in precisely the manner I have been wounded, offering His own Life to me as it pours from His side.

Lord, remember me in Your kingdom.