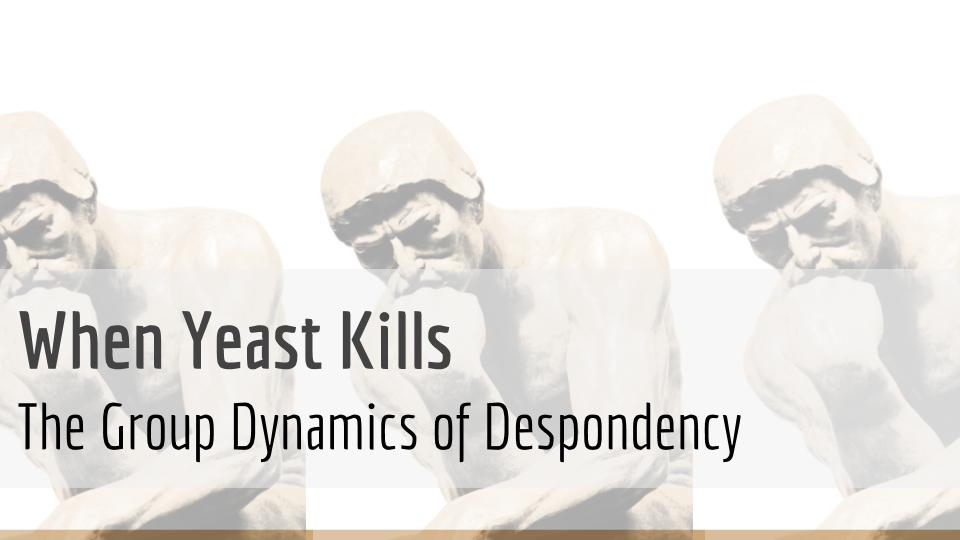 A blessed Feast of the Ascension to all reading this in realtime!
This weekend, I have the opportunity to speak at the 29th-Biennial National Assembly for the Ladies' Philoptochos Organization in Canada. (For anyone who read that and thought "Philo-… what?," the Philoptochos is basically the Greek Orthodox equivalent of a deaconness society or sisterhood; most parishes have a chapter and there is usually a national executive as well. "Philoptochos" means in Greek to love or be a friend of the poor.)
When I was asked months ago to give the talk, the president of the organization gave me some ideas she had. She thought it could be useful to talk about how the spiritual sickness of despondency can affect entire organizations or groups within the Church, and how we can guard against despondent group dynamics. I was fascinated. Although I've done a lot of writing and thinking on despondency, it has mainly been from the standpoint of individual spiritual health. After all, despondency is a spiritual sickness–an ailment of the soul–and while groups may have "dynamics," they don't possess souls or a distinct personhood in the way that each individual of that group does.
Still, as I began to look back on my research through the lens of organizations and societies, I began to realize there is something to be said for the outworking of spiritual conditions at the group level. In Orthodoxy, we understand sin to be something of a condition, an illness. And illnesses, at least many of them, are contagious. Can we as individuals spread despondency to others? Let's just say this: anecdotal evidence suggests the answer is a resounding yes. I've watched it happen in my home, like when I've had a rough day and fail to keep my glum in check. I expect other people to bring me up until, before I know it, I've dragged everyone else down with me.
A little yeast…
Both Jesus and St Paul used the analogy of yeast to illustrate how small things can influence the larger whole. Jesus used the analogy in a positive light, likening the kingdom of heaven to "leaven, which a woman took and hid in three measures of meal till it was all leavened" (Mt 13:33).
St Paul, on the other hand, used yeast in a more negative way–multiple times, yeast surfaces in his epistles as an example of how little things, like bragging, eventually poison the larger whole (c.f. 1 Cor 5:6; Gal 5:9).
This negative analogy can seem a bit bewildering for us Christians who have long seen something of the resurrection in the rising abilities of yeast. Normally, we think of yeast as a good thing–it makes freshly baked bread light and fragrant and Christologically charged. But I'm guessing that at least in some contexts, yeast was regarded negatively or at least cautiously in first-century Christianity. How could it not? Many of these Christians, particularly in the area around Jerusalem, would have grown up following a strict seven-day fast from leavened bread during Passover. They would have spent at least part of their lives heeding the commands in Exodus to not just rid their cuisine of leavening but their entire house.
Today, most of us (if we bake) buy yeast in tame little packets at the grocery store. This makes it seem like yeast is something we can control, something we can dissolve in a bit of water and pour into our pizza dough if that's what we feel like making one Friday night. It's easy to forget that yeast is actually wild, that it is a living thing growing in all sorts of places: in the air, on the surfaces of certain fruits and vegetables, even in our bodies. Just a little bit of it hanging out in your kitchen will cause dough to start rising if you leave it out long enough.
Maybe that's why followers of Moses were supposed to clean their homes of leavening before Passover–because once a little yeast gets into the mix, we just may end up with bread that is light and fluffy and fragrant (I mean, yummy, but not what the Hebrews were aiming for).
I think that is how despondency can work sometimes, just as any other spiritual passion. We imagine it's just our "personal problem." We assume we can keep our leavening to ourselves, sealed up in little, unopened packets we shove into the dark corners of our pantries.  Hint: we can't. It gets out into the air, it settles on those around us, it gets into their kitchens and maybe their friends' kitchens too.
It happened to the Corinthians, it could be happening to us.
"Your bragging is not good. Do you not know that a little leaven leavens the whole lump?" (1 Cor 5:6).
It's easy to see how anger or bragging or pride can leaven the whole loaf of the Church–in the vast panoply of spiritual illnesses, these passions are what I like to think of as "uppers" or stimlants. They have a way of animating things, stirring things up, and thereby tend to make themselves more visible. Despondency, on the other hand, is a spiritual "downer" or sedative. Silent but deadly. It consists of a lack of something (care, energy, effort/ askesis). It pulls us, drags us, weighs us down–gradually, invisibly, effortlessly. Because of this, we don't see it souring group dynamics sometimes until the damage has been done.  Until we've been pulled into a larger-than-us current of despondency and can't seem to unstick ourselves or those around us.
I've been thinking about all of this a lot this week. About the ways I leaven the Church with my own despondency. It's been challenging, in a good way, to put this talk together. I'm seeing my sinful patterns more clearly through the lens of "How does this hurt the whole, visibly and invisibly?" rather than just "How does this hurt me?"
Which yeast will you be?
These are just a few of the symptoms we can look for if we suspect our group, parish, family, or organization might be having a despondent time of it:
Dejection: Losing touch with deeper, harder questions of vocation or mission as an organization; despair; boredom; ennui; chronic dissatisfaction with other members.
Distraction: Becoming overly focused on minutiae, repetitive conversations, and needlessly divisive topics; distraction; power struggles.
Status Quo: fear of change, innovation, new ideas; frustration with members who are older, younger, different than us; relating to Christ not a Person but as an abstract entity.
These are dangerous but easy patterns for any group of humans to adopt if we are not vigilant and prayerful. And lest the very nature of despondency cause anyone to despond, remember this: you have a choice. And so do I. Even if I find myself in the middle of a group, family, parish that seems extremely despondent, healing begins with me. In Orthodoxy, corporate resurrection happens not when we correctly diagnose others, but when we recognize our own ailment and repent and turn to Christ to be healed.
It's worth asking ourselves (as individuals) about the way(s) we spread despondency to others, particularly within the Body of Christ. Like it or not, we are all leavening agents to those around us. Will our leaven be like the kingdom of heaven or like poison? Will we be agents of goodness, mercy, and love, or agents of dissatisfied slothfulness and despondency?