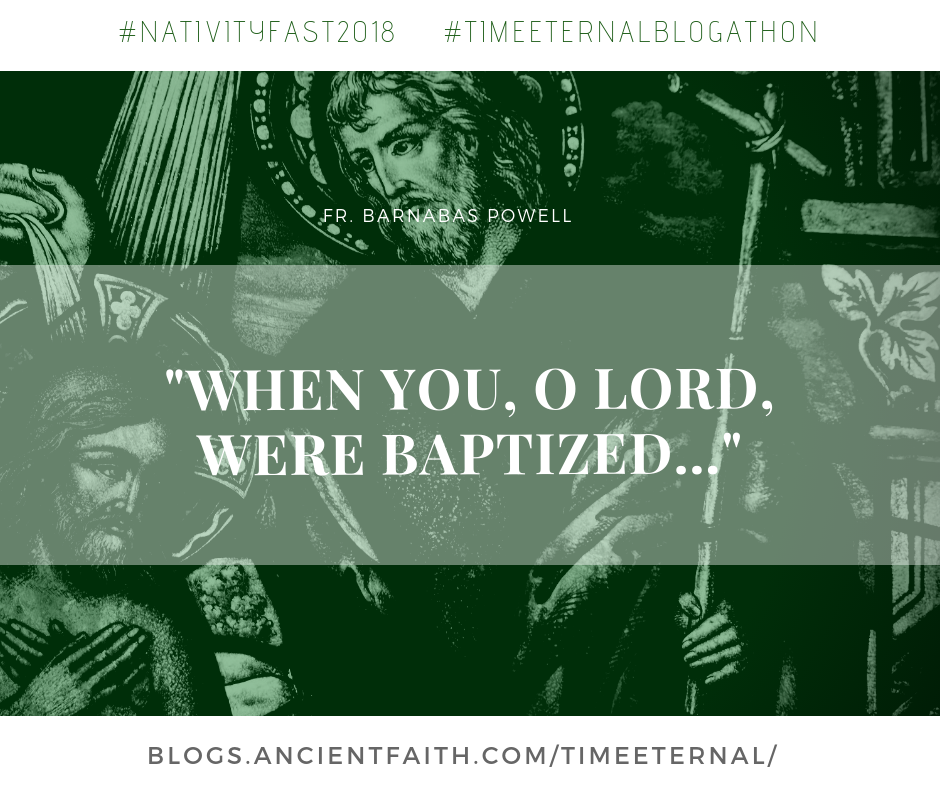 Christ is (almost) baptized! The new year is always an exciting time, temporally speaking, all the more so as we approach the Feast of Theophany. The Time Eternal Blogathon has more or less come to a close. Before we conclude, however, I'm sharing a guest post from one of the most loveable (and teasable) priests I know, Fr. Barnabas Powell. Fr. Barnabas and I had met a few times since I became active with Ancient Faith Ministries, but we really got to know each other this past summer in Crete, when we both spoke at the Second International Conference for Digital Media and Orthodox Pastoral Care. I came to appreciate both the humor and wisdom Fr. Barnabas brought to everyday situations, and am thrilled he agreed to write for Time Eternal.
~*~
As I sit here looking at the blinking cursor of this screen and contemplate how best to communicate to you what's swirling in my head about Theophany, I am struck by the power of this moment in time when the Lord of creation steps into His world to be baptised in water by St. John the Forerunner.
Imagine that, God going into the Jordan to be baptized!
John gets our human reaction right! He tells his cousin, the Lord Jesus, that this situation needs to be reversed. It's Jesus who should be baptizing John!
But John, that's what's happening, dear brother! But not just you, the whole of creation is being baptized by the Lord submitting to baptism!
I know, I know, that's a bit of a stretch, but stick with me here. Jesus tells John that this moment in time is an eternal moment meant to "fulfill ALL righteousness." "ALL" righteousness? Yes, "ALL" righteousness.
You see, by the Uncreated God stepping into His creation, He makes this moment fulfill ALL moments where righteousness is needed to return His fallen creation to its true purpose. Jesus enters the water for the water's sake, not His own. And by doing that heals water and returns water to its original purpose: to truly refresh and truly quench humanity's deepest thirst for communion with God.
The whole of Christ's ministry was selfless. Truth be told all of creation was a selfless act of a loving, humble, and generous Creator. God needs nothing. He is complete within Himself. I can do nothing to "help" God become more complete since He is complete before He "does" anything. So His very creation is a completely selfless act meant solely for us and our benefit. As I told a person the other day "God created you because He loves you, and He created the universe so you'd have a place to stand after He made you!"

This egoless God loves His creation and enters it in a moment to baptize all moments in Himself SO THAT you can be restored to your original purpose of sharing in His divine nature by grace.
Standing as an observer of this event in time, I imagine a crowd of people waiting to participate in John's baptism of repentance, and then He comes. All of heaven looks down on an unimaginable scene: The Uncreated God, robed in the flesh given to Him by one of our race, stands in front of this last Old Testament Prophet and submits to baptism.
The ripples of water flowing around His sacred and life-giving flesh are icons of the ripples through creation felt by the angels and demons as the Creator baptizes His creation in a moment changing everything and restoring us through His loving expedition to redeem the world!
Heaven and Hell witness what can only be called a continuation of the miracle of the incarnation and the first shiver of fear by the evil one when that Baby took His first breath in a manger on the night that marked the beginning of the end of the tyranny of mortality over humanity. And now the Conqueror continues His march on the kingdom of darkness by scattering the enemy forces hiding in the depths of the waters of life. His campaign of liberation will culminate in a cry from a cross as death is defeated by death and an empty tomb. Then the King will forever show the worth of your physical body and the power of this moment by taking that resurrected Body of His into the midmost mystery of the life of the Holy Trinity at His Ascension.
What an auspicious moment this moment in time is when the Lord descends into water for our sake! No wonder "as many as have been baptized into Christ have put on Christ." Makes me want to hold to my baptismal grace for the rest of my life!
Christ is baptized! And the world will never be the same again!
~*~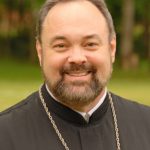 Fr. Barnabas Powell is the Founder of Faith Encouraged Ministries founded in 2014 to share the timeless wisdom of the Orthodox Christian Faith with the average American. As a convert to the Orthodox Faith, Fr. Barnabas has found a dynamic and disciplined lifestyle of faith centered on the miracle of God becoming flesh so that man might become "like Christ." This journey to theosis cannot be accomplished without a purposeful and intentional practice of the healing disciplines of the Orthodox faith. Faith Encouraged Ministries exists to share the healing wisdom of Orthodoxy with modern man. Through Daily Devotionals and weekly homilies on Faith Encouraged TV on YouTube, Fr. Barnabas is working to share this timeless faith with as many people as possible. You can learn more at FaithEncouraged.org