(Note: Some links below may be affiliate links. More info here.) 
Not infrequently, Time and Despondency  readers inquire what I recommend they read next. It's a question I receive more often the closer Great Lent gets and folks start scoping out reading material to complement the themes of the Fast.
With that in mind, I'm posting three books that I think are similar to Time and Despondency in style, approach, or theme. If you liked that book, you'll probably like these. (I sure do!) None of them are mentioned or cited in the book, so hopefully these are new material for most of you!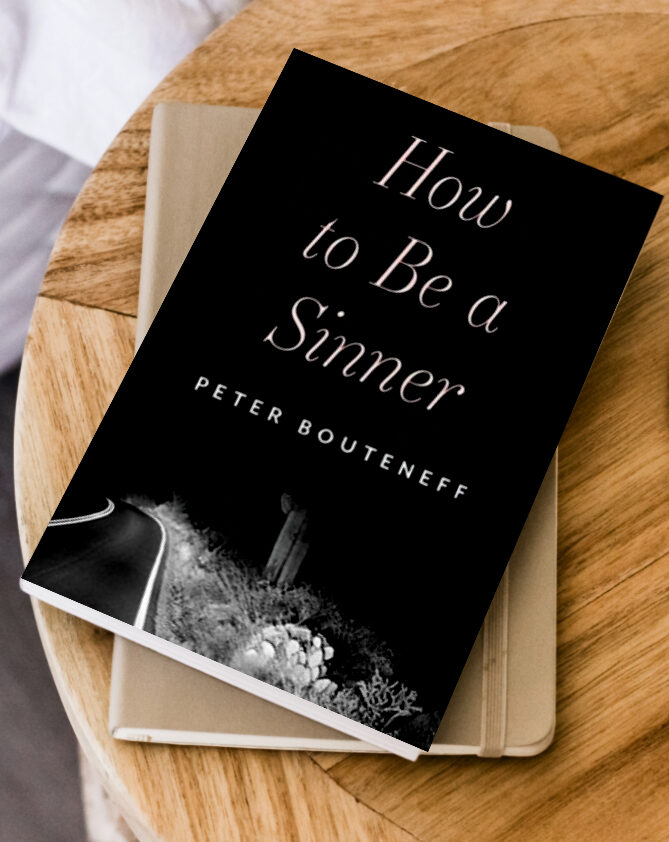 "Self-identifying as 'a sinner' is tricky to get right," Peter Bouteneff rightly observes in the introduction to this excellent work of practical theology.
Over-focusing on the "sinner identity" can become an exercise in masochism, stagnant shame, self-hatred, or reverse pride. ("God," Bouteneff cautions, "did not make us in his image so that we could spend our lives deploring ourselves, or feeling guilty for not feeling guilty enough.") On the other hand, avoiding ourselves-as-sinners altogether – particularly in a society focused on self-affirmation at all costs – blinds us to the reality of our existential situation (and the availability of God's grace).
How to Be a Sinner unfolds a middle path between these two extremes, toward a realistic, useful, and healthy way to understand ourselves within the dynamics of sin.
This is among the better works of practical theology I have read recently, and I was even more pleased to notice it was written in such a way that will speak to Christians of many backgrounds, and contains theological appendices that explore trickier theological concepts in a way that is accessible and helpful.
While the book is not explicitly intended for Lenten reading, it makes a particularly good selection for the season of fasting and repentance that awaits us. It contains numerous examples from Orthodox Lenten services and in some cases dispells experiential misconceptions that can easily creep in during the heavier themes and services we encounter each Lent (like why is the Canon of Repentance, which compares our own sins to those of virtually every major biblical sinner in endless metaphorical detail, SO long – what should we be thinking about that whole time?).
Most of us need no help being a sinner – we've got enough transgressions on our plate as it is. But we often would benefit from guidance in learning to stand as sinners before God – not so that we may satisfy Him or His wrath (Bouteneff does not advocate a strictly transactional view of sin and salvation), but so that we may open ourselves to the balm of forgiveness.
One of the things folks have appreciated about Time and Despondency is that it's real–it doesn't gloss over the more difficult aspects of the sickness of sin in our lives. People feel they can be themselves with that book. Yet neither does it leave the reader bereft of hope or a foward-moving path towards healing. Readers will find the same kind of approach in How to Be a Sinner.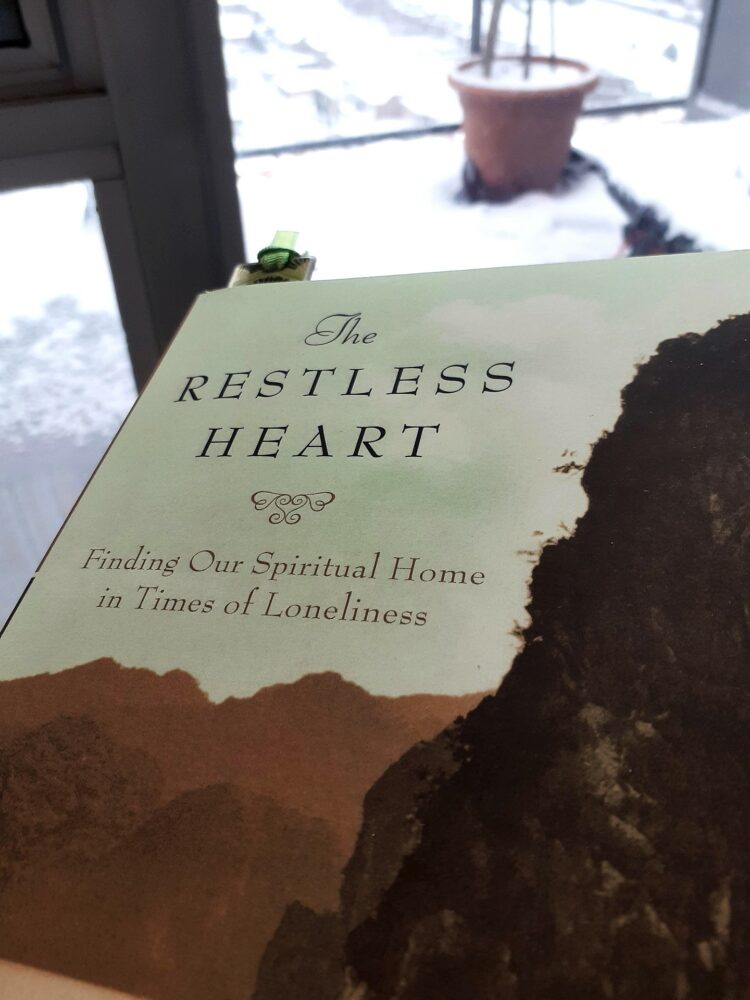 Have you ever cracked open a book, perused the first few lines, and known immediately that reading the rest of the pages would change you on some seismic level?
That's how I felt after these opening paragraphs of The Restless Heart by Catholic theologian Ronald Rolheiser:
"No person has ever walked our earth and been free from the pains of loneliness. Rich and poor, wise and ignorant, faith-filled and agnostic, healthy and unhealthy have all alike had to face and struggle with its potentially paralyzing grip. It has granted no immunities. To be human is to be lonely.

"To be human, however, is also to respond. The human person has always responded to this pain. The response has varied greatly. Sometimes loneliness has led us to new heights of creativity, and sometimes it has led us to drugs, alcohol, and emotional paralysis; sometimes it has led us to the true encounter of love and authentic sexuality, sometimes it has led us into dehumanizing relationships and destructive sexuality; sometimes it has moved us to greater depth of openness toward God and others, to fuller life, and sometimes it has led us to jump off bridges, to end life; sometimes it has given us a glimpse of hell; sometimes it has made the human spirit, sometimes it has broken it; always it has affected it. For loneliness is one of the deepest, most universal, and most profound experiences that we have." (Ronald Rohlheiser)
These words reverberate with the same choice that lay at the heart of Time and Despondency: will we re-spond or de-spond to the struggles of the heart we encounter in this life?
This book does not romanticize loneliness as sort of spiritual-medicinal "solitude." Neither is it a self-help book to conquer the gripping, tormenting sense of isolation that lies at the heart of the human condition. It is, instead, a travel guide, a starmap of the constellations of loneliness within ourselves and how they connect us to a deeper and more real experience of life and God.
For many of us, loneliness is the most aching and under-acknowledged source of despondency and despair. Indeed, countless situations in life which we deem "struggles" are difficult largely because they intensify feelings of alienation and estrangement: from others, from God, from ourselves, from the world, from hope. The secret shame of grief, joblessness, aging, chronic illness. The suspicion that not only are we walking through the tragedy of our suffering, we are doing so alone. Secretively.
It's a lot to take in–these words, this book. I'm having to wind my way slowly and thoughtfully through its penetrating pages. And I was right, it is changing me, and will continue to change me. It is opening me, I think, to the extent of my own loneliness–an existential alone-ness we all share in as human beings. But it is also opening me to the hope that is to be found in this place, the longing that finds meaning only in the journeys from the Cross to the Resurrection of Christ, from the head to the heart, from isolation to re-integration.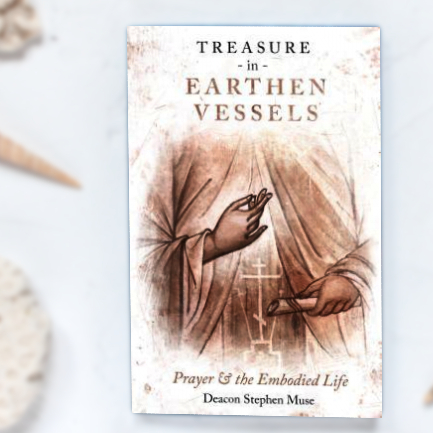 I recently got to meet Dcn. Stephen Muse in person. When I introduced myself, he pointed in recognition and said, "I've read your book! I like how it applies ascetical ideas to modern realities. We need more writing like that!"
This is, ironically, one of the things I greatly appreciate about Muse's own work, particularly Treasure in Earthen Vessels.
In one of my favorite passages, in which Muse describes the neptic Fathers' understanding of the physicality of prayer (through kneeling, bowing, breathing for example), he highlights our need to learn "repentance in the real presence-in-the-moment" of our lives, even (and especially) lives mired in the filaments of twenty-first-century existence.
He writes:
For us who are beginners, the proper foundation for prayer is one of simplicity and faith and love that begins in sobriety, humbly, close to the earth without illusions. Even this is not so easy for a generation glued to iPhones, computer screens, and televisions who find it difficult to go a minute without craving the stimulation of more information and content and who want instant gratification. In this way, we are continually drawn bac intou our dianoia, our discursive reasoning, and out through our senses in search of the world as an object of stimulation, rather than by drawing the nous into the body and creating a space where we can stop and be poised at the altar, let go of the world, offier it up for blessing and receive it back with thanksgiving as a bearer of Grace. Lord, let me be loved by You through my spouse and through the apple I eat, through the sand I walk on, and the sound of birds I hear. . . .

"At the heart of it all we search for Christ and the question before us at any moment has to do with which of the two paths we choose. If we seek Christ, the world becomes itself as God intended in all His joy and love. If I only want Creation without the Creator, and make the voluptuous choice without reference to God, I am opening the door to hell." (77-81)
If you liked Time and Despondency, you'll find a similar approach in Muse's own writing: the occasional and well-played personal anecdote, the digging deep into the well of the human condition, the awareness of mental and emotional struggle, the wrapping of abstract spiritual praxis around a tangible, even universally experienced, fulcrum (for T&D it was despondency, for Treasure in Earthen Vessels it's bodily existence).