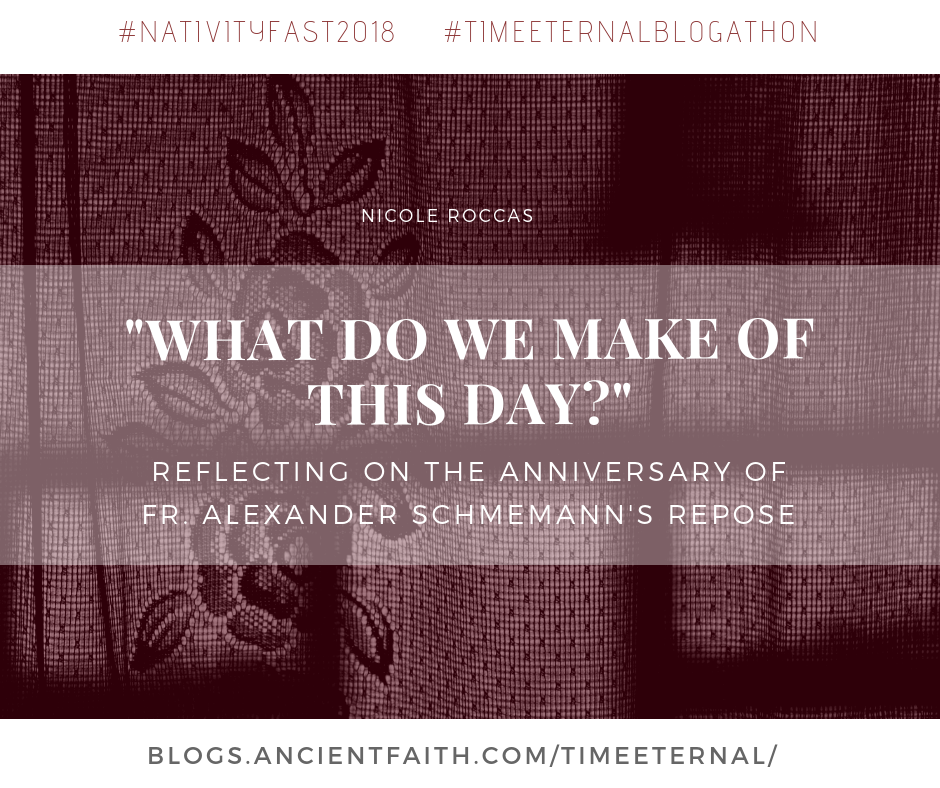 Yesterday marked the 35th anniversary of the falling asleep of Fr. Alexander Schmemann.
I would like to follow up on this occasion with some poignant thoughts from one of his lesser-known works, The Liturgy of Death, a compilation of four talks Schmemann gave in 1979 at a summer institute at SVOTS. In these talks, Schmemann traced the historical development of Orthodox funeral rites and the challenges modern culture (and modern Orthodoxy) pose for a meaningful Christian response to death. The book formed a vital supplement to other readings in the course I helped teach this past semester on Death in Orthodox Tradition (at the Orthodox School of Theology in Toronto).
Towards the end of the final talk/chapter of the book, Schmemann offers a reflection that, now more than three decades since his departure from this life, rings perhaps even clearer than when he first spoke these words:
The moment we think seriously about Christianity, it is immediately a cross: "In this world, you shall have tribulation." Knowing that I sin, I understand that even after living in this world for fifty-eight years, I have not taken one step closer to God. … What do we make of this day that is given to us, June 28, 1979? If we regard it as one irreplaceable day on the way to the kingdom of God, then everything that we do today becomes important, and life acquires meaning. (Alexander Schmemann, Liturgy of Death, 175)
In its mundanity, June 28, 1979–a date whose particularities no one is likely to remember (I wasn't even born yet)–is a proxy for any ordinary day in our lives. We could easily ask ourselves the same question of today, or yesterday, or any other uneventful day of our lives. And behind our respective answers to this question lie vast worlds of meaning. If we regard today–and consequently every day, every moment–as an "irreplaceable" stepping stone on the path to the Kingdom, then all things take on meaning, significance, opportunity.
It is telling, to me at least, that Schmemann's reflection is part of his response to what he perceives to be a loss of Christian eschatology (on the part of both Church and society). In Schmemann's lecture, eschatology could be candidly defined as the understanding that the "Kingdom of heaven is at hand"–that God's will and purpose for this world are imminent rather than distant, real rather than doubtful, meaningful rather than meaningless. As a result of this belief, we come to understand that creation culminates and is culminating in the End, "when God will be all things, 'all in all.' … Ultimately, the glory of God . . . will triumph, and the world will become truly the temple of God and of eternal life" (Schmemann, 173-4).
To begin to see this Kingdom-centered orientation of creation as the basis of all reality indelibly changes our perception of existence. The flattened worldview of secular consumerism (itself the byproduct of the Church's neglect of the eschatological vision) recedes, the love of God and the beauty of repentance comes into sharper focus. "That," Schmemann explained, "was the faith, why the martyrs died happy" (174).
For Schmemann, the "liturgy of death" is not about the dead so much as it's about proclaiming life, or what life is supposed to be, in Christ.
It is easy to read theologians on the level of abstraction–to surmise their thoughts and explanations as wise but disconnected sound-bites. We forget, often, that these are real people, situated in their own place in time, historically and personally. They, like us, were breathing creatures who ostensibly said what they had to say because it truly mattered to them, and because they themselves were just human beings trying to learn to live (and die) for Christ.
As a result, I think, it is easy to dismiss much of theology. Of course we don't intend to dismiss it, but we allow it to reside only in our intellectual faculties rather than our experiential awareness. "Those are nice words," we think to ourselves, neglecting to incorporate them into the lived, flesh-and-blood, moment-by-moment fabric of existence.
What I love about this passage from Schmemann is that it reminds rather jarringly us that he is not just a talking head, he was a real person. Alongside some of the loftiest eschatology and theological critique, we glimpse the earthly particularity of the moment in time in which he spoke. The juxtaposition is haunting. "What do we make of this day that is given to us, June 28, 1979?" 
In virtually the only academic book review to ever bring tears to my eyes, liturgical theologian David Fagerberg picks up on this memorable juncture of Schmemann's talk:
Schmemann identifies himself as 58 in June 1979; he will be diagnosed with cancer three years and three months later, in September 1982; he will be dead one year and onemonth  later in December 1983. He did not know the date of his mortality at the time he gave his lectures, but he did know the state of his mortality. And he knew to Whom he must turn in order to find a lasting beatitude, the one Who restores both the meaning of life and the meaning of death. (David Fagerberg, Review of Liturgy of Death in Antiphon 22(2017): 190-91)
What will we make of this day, December 14, 2018? And what will come of the time we have left on this earth?
May we begin to recognize this day, and every day, as irreplaceable; and may our lives never cease to acquire their meaning from the Kingdom of Heaven.
+Memory Eternal+