Hi friends! Just wanted to pop in and let you all know that my next book, Under the Laurel Tree: Grieving Infertility with Saints Joachim and Anna, will be released TOMORROW October 29, 2019!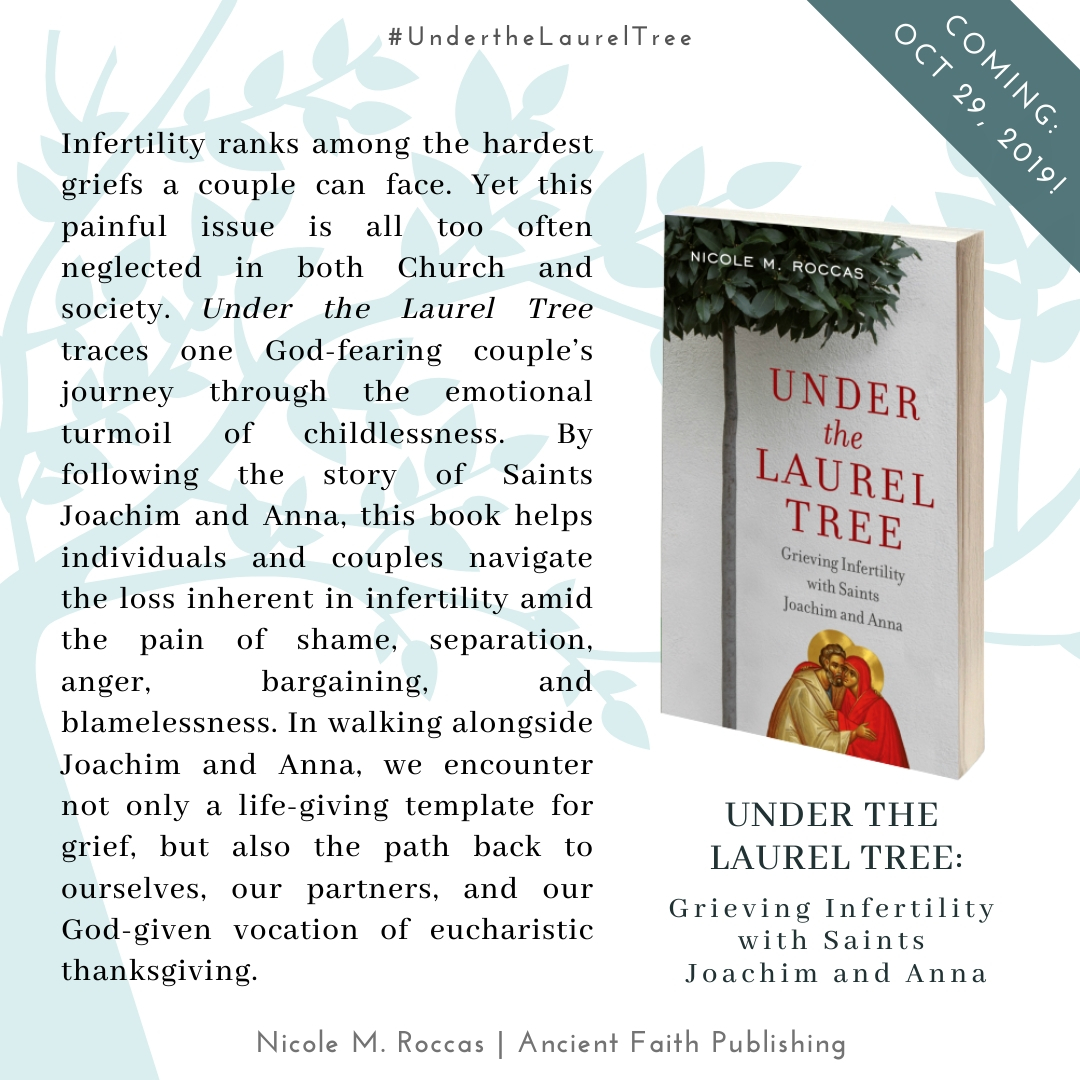 To be part of the launch week festivities, I encourage you to subscribe to my personal blog, where I'll share links, guest posts, and giveaways. There will also be fun stuff on my Facebook page and Instagram.
Who this book is for:
Couples (including men) who are dealing with or have dealt with infertility, including secondary infertility, multiple miscarriages, etc.
Singles who, along with desiring a partner, also grieve the absence of children in their lives

Friends, loved ones, clergy members, and others who wish to better support couples with infertility they know

Physicians and mental health professionals looking for resources to recommend to Christian patients/clients dealing with infertility, and

Anyone who wants to read a book about how to grieve well when life doesn't go as planned, particularly in a marriage.
How You Can Help
As you can imagine, this was not an easy book to write and I'm putting my trust in readers and listeners to help get it out in the world–infertility is still in many ways a taboo topic. You can help by:
Following my page on Facebook and sharing posts related to this book with your networks
Reading the book even if you do not struggle with infertility–it is also intended for others in the Church so that we can be more supportive of folks in this predicament
Recommending the book to your priest or deacon–there are special resources and insights for clergy in the book
Requesting your parish carry the book in its library or book store. As one clergy member recently put it, "This is a book every parish should have a copy of."
Asking your local library to place an order for this book (the Library of Congress control number is 2019950189)
Following me on Goodreads and adding the book to your "want to read" category
Rating and reviewing the book on Amazon.com if you do happen to read it–this helps more people find the book
But perhaps the biggest way you can help is simply by listening and remaning present to the burdens of others. We all carry hidden grief with us, whether due to infertility or some other tragedy in life. In infertility, as in these other griefs, we demonstrate Christian love not by offering advice or trying to "fix" other people's crosses, but by offering a compassionate, quiet, prayerful presence. Let's continue to do all we can to make the Church a place where people can find hope in the midst of grief.