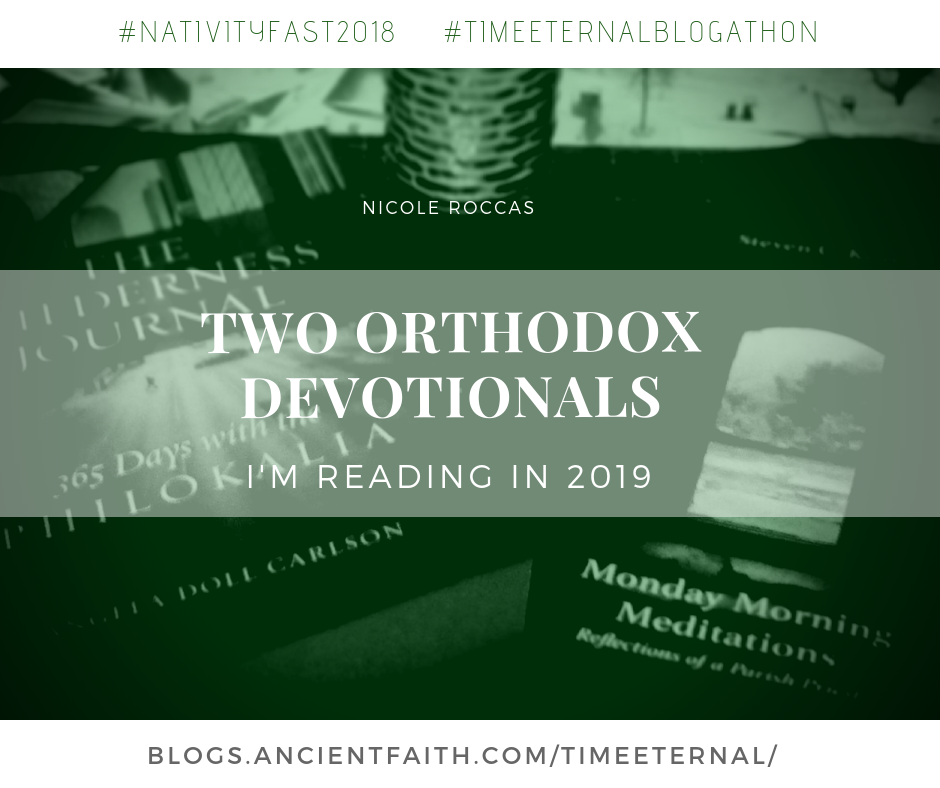 How are we holding up, Time Eternalites? It's kind of an interesting point in the Nativity Fast–the messy middle is slowly starting to give way to something else. The light at the end of the tunnel can be seen–for better, for worse. The "crunch time" of holiday deadlines is becoming real, but so too is the immanence of what we've been waiting for, the birth of Christ.
This is about the time I start nailing down concrete ideas for the beginning of the year. Will I have resolutions? What calendar will I use? What books will I read?
I'll write a bit more in the coming weeks about some of the things I'm going to try in early 2019, but today I wanted to introduce you to the two year-long devotionals I'll be journeying through:
Once we step into the New Year, I'll begin featuring periodic blog posts and updates on my trek. I hope you'll join in by reading one or both of these books with me!

Monday Morning Meditations
Fr. Steven is my father confessor and the priest who catechized me (readers of Time and Despondency will recall several references I made to him in the book). As Fr. Steven notes in the introduction of his book, he has been sending "Monday Morning Meditations" to members of his parish almost since email became a thing (later these would come to be featured on the parish blog, and subsequently crossposted on the OCA website as well).
His intention was to help people bridge the liturgical, Eucharistic existence of Sunday mornings with the rest of the week. Monday mornings are symbolic of the journey we all take as we "depart in peace," (which, Fr. Steven reminds us, "does not mean: 'we're done, let's go home.' It is a directive to embody what we have received, through our worship as a community and in the Eucharist, and bear witness to it, through words and actions, in the more mundane quarters of our daily life.")
For years, many of us who know Fr. Steven had been encouraging him to curate these meditations and publish them as a book. As you can imagine, this is not an easy task for the only priest of a thriving parish. So about two years ago, I began working with Fr. Steven to gather the best of his meditations and edit them for book form (consider this the disclosure I'm legally obligated to make whenever "reviewing" books I've also helped edit; I do not benefit from sales of this book). I mention this not just because I have to, but also to illustrate how much time, effort, and intention went into this book. It is the culmination of years of writing and reflection on Fr. Steven's part (himself a gifted writer and wise priest), and still another year of running every meditation through the sieve of my own neurotic perfectionism. I'm now looking forward to "sitting back" and reading this book as a reader, a parishioner.
Monday Morning Meditations functions as a weekly devotional intended to be read (gasp!) on Monday Mornings–each reading is about a 10-15 minutes time commitment. The book itself begins with the first Monday of September, in accordance with the Church year, but it can be started at any time.  Readers of Time Eternal will appreciate its redemptive vision of time–Fr. Steven and I share a mutual sense of time's importance in the spiritual life, and there are several meditations that focus exclusively on the theme of time.  Here's a quotation from the meditation for the fifth Monday in December:
I believe time is our most precious commodity. Time is life, because we live our lives within time. When, for us, there is no more time, there is consequently no more life, in the earthly sense . . . Why do we so often speak of "wasting time," or worse: "killing time"? . . . What is it we are really wasting or killing–is it not life itself? (Fr. Steven Kostoff)
While it generally follows the themes of the liturgical year, Monday Morning Meditations also features reflections on such diverse topics as despondency (acedia), infant burial, nature, and–in an epic plot twist–Superbowl Sunday. It's a meaningful and life-giving way to start your week.
The Wilderness Journal
I've been watching and waiting for this book for ages–not only do I love the Philokalia, I also have a soft spot for daily devotionals. Angela is a friend and colleague of mine, so I was extra excited about this.
She composed The Wilderness Journal by reading and journaling through the first volume of the Philokalia every day for a year, so the devotional has a memoiristic, almost phenomenological flavor at times. You sense that Angela is not preaching or instructing from on high, but in the tough trenches of the everyday, trying to bring the bring the peace that wisdom affords into the fabric of each lived moment:
What about the now? I think to myself. I've been running the list in my head–things to do, things to fix, to say, to avoid. … Get out of your head, out of the dark past, out of the murky future. Sit. Be quiet. Drink some water. Taste and see.  (Angela Doll Carlson, "Moment by Moment," in The Wilderness Journal, p. 238)
Time Eternalites will appreciate the "dailyness" of this devotional–the way the seemingly unattainable gems from the Philokalia are woven into real time and real thoughts. And if you've read Time and Despondency, this work affords another connection to the fourth-century monastic, Evagrius, whose writings form the basis of the devotions from early January to March of The Wilderness Journal (full disclosure: I wrote the intro to the "Evagrius" section of this book–check out January 9; once again, I am not being compensated by sales of this book).
As you can see, these books are both "timely" and time-ful ways to enter into the gift of the new year that awaits us. I'm excited to dig in and start reading!
What devotional works will you be reading this year?