Today I'm happy to share some thoughts from Charlotte Riggle! She's written a wonderful guest post that gives a kind of time-oriented behind-the-scenes glimpse into her children's book, Catherine's Pascha. With Pascha just around the corner, I'm delighted to welcome her to the Time Eternal blog. 
 * * *
Writing a picture book requires a huge leap of faith. You can only tell part of the story with words. The rest of the story is told through the illustrations. And so you have to trust that your illustrator will understand what you want to say, and will be able to add their voice to yours in telling the story.
In the best of all worlds, your illustrator understands what you're saying even better than you do. And with Catherine's Pascha, I had the best of all worlds. I had R.J. Hughes – then my illustrator and publisher, now my friend, Becky.
I gave Becky a manuscript, and she gave me back a book that literally brought me to tears. It was as though I'd given her leaves of base metal, and she handed back gold. Or as though I'd handed her a caterpillar, and she gave back a butterfly.
When I wrote Catherine's Pascha, the first thing I wanted was to tell the story of Pascha from the point of view of a child. I wanted a book that celebrates the things about Pascha that give children joy.
But I wanted more than that. I wanted the book to celebrate the universality of Pascha. No matter where we celebrate it, or when, no matter what our local traditions are, on Pascha, we are all celebrating together in the eternal now. We're bound by time and space, of course. But we also step outside of time and space and join in the universal, timeless, eternal celebration of the Resurrection.
That's heady stuff for a picture book.
Becky and I spent a lot of time talking about how those ideas would fit into a picture book. The first and most obvious thing was that Catherine's parish should be multi-ethnic.
That was important to Becky. She had been moved by Dietrich Bonhoeffer's Santorum Communio, his writing about the Church. When Bonhoeffer was only 18 years old, he was in Rome on Palm Sunday. He saw the festal mass celebrated by people of every race and nationality. Not just the crowds attending the mass, but the clergy at the altar represented the entire world. That experience moved Bonhoeffer. He knew that the Church was something more than a local congregation, or a regional or national group of congregations. It was universal.
That thought changed the course of his life. And Becky wanted to incorporate that thought into the illustrations. I couldn't have been more thrilled.
But how? How can you fit ideas that take volumes of theology, and squeeze them into the narrow confines of a picture book?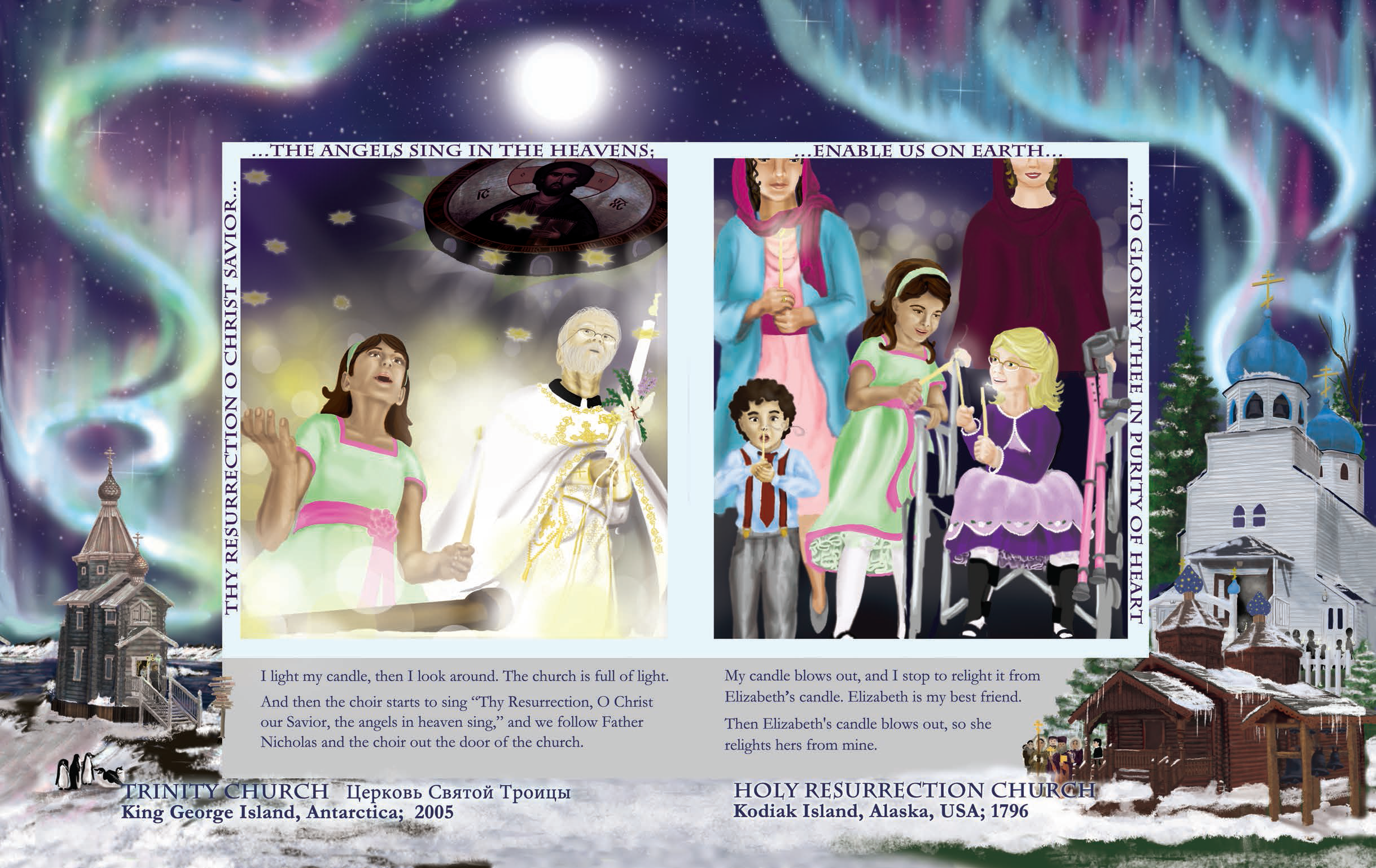 How does an alchemist turn lead into gold?
Becky decided to border the pages with images of Orthodox churches from all over the world. Literally, every continent is represented – even Antarctica! She wanted churches that were beautiful and important, whether because of their architecture or their history. So she began researching Orthodox churches, making lists, expanding her reach, then narrowing it.
And in that way, she showed the universality of Pascha. The celebration of the Resurrection of our Lord transcends nation and state. It belongs to all of us, everywhere.
But that wasn't enough. She also wanted to show the timelessness of the Paschal mystery.
And if you look closely at the illustrations, you'll see that, wherever in the world the Church on the page is, it is at precisely the same place in the Paschal celebration that Catherine's church is. The celebrations are all happening at the same time-outside-of-time.
And she chose two illustrations in particular to drive that point home. The page with Holy Resurrection Cathedral in Kodiak Alaska shows two churches – a small log church, and a larger white clapboard church with blue domes. The log church was the original one. The white church is the current one. But they are together on the page, with their Pascha liturgies occurring at the same time-outside-of-time.
And then there is Hagia Sophia. The people of Hagia Sophia are processing around their church, as Catherine is processing around her church. There are no minarets. And on the baptistry, you can see a peacock, a symbol of immortality. The illustration shows us, without words, that we celebrate Pascha with all our brothers and sisters in the faith, all together in the time-outside-of-time.
* * *
Catch more of Charlotte's work at her website, where she shares "faith, hope, and picture books with Orthodox Christian families and parents of kids with special needs."