Christ is risen!
**Written on Holy Saturday 2020, in the midst of the COVID-19 pandemic, intended as a friendly follow-up to Fr. Andrew Stephen Damick's recent blog post This Holy Week is Not Okay. ***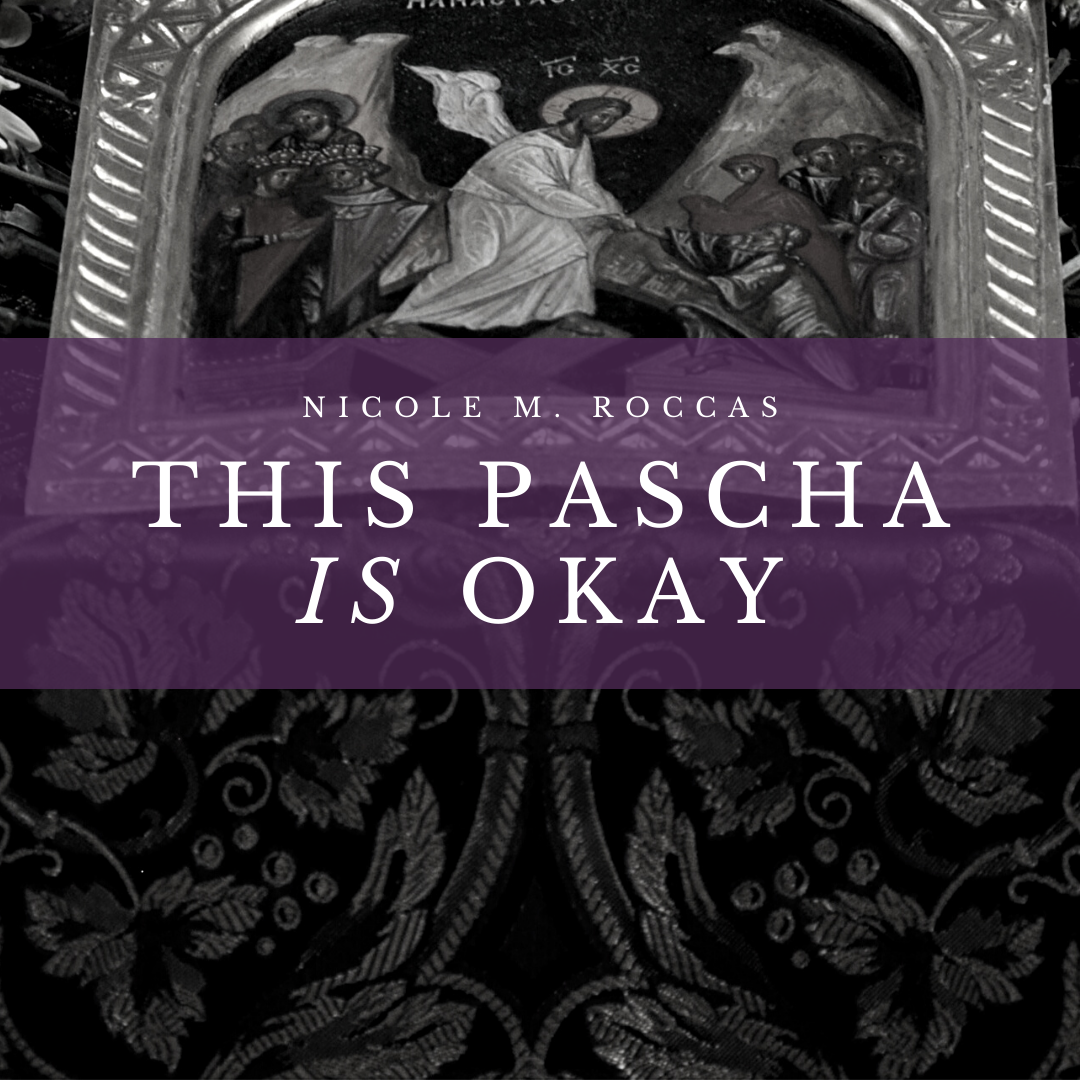 In any other year, I would most likely not be writing a blog post on Holy Saturday morning.
I would be either sleeping late in preparation for a long day, night, and early morning in church, or scrambling like the crazy cat lady to make food for tomorrow/tonight, beautify our Pascha baskets, go grocery shopping (why is it I can never manage to do the big Pascha grocery haul before Holy Saturday?)… All so we can be ready for the vesperal Liturgy on the Eve of Pascha–"little Pascha" because in it are the first, jubilant hints of the Resurrection. And later, for the midnight office, matins, and Liturgy of Pascha itself, which collectively take us into the wee hours of Sunday morning.
In any other year, it would seem like an abomination to pause from these important preparations to write something so banal as a blog post on the very day our Lord is harrowing Hades.
This year, though… Is different. It's not merely that there's less to do (or at least less social pressure to be exacting over every detail). It's not merely that I'm more lonely than usual, more intentional about staying connected to others.
It's that this domesticated Holy Week has changed me, profoundly. It has altered (deepened?) my entire perception of reality, of Christ's presence in (and love for) creation, of–in short–everything.
And you know what I can say now that I couldn't say even just a week ago?
It's okay. And it's going to be okay.
As Fr. Andrew Stephen Damick rightly points out in his post This Holy Week is Not Okay, there is a time to grieve, a time to lament–the sickness of sin, our brokenness, our isolation, our emptiness apart from Christ, apart from the Eucharist:
"God Himself in the flesh gave us this Mystery, and while it is good to console someone who cannot receive it but desires to earnestly, do not console them with saying that their desire is essentially optional. This is a time to lament, to mourn, to repent. Do not make arguments that short-circuit this moment of grieving. Do not try to make it okay. It's not okay. Stop saying that it's okay."
I do not wish to minimize this very real, and very important grief.
But if there is a time to grieve, there is also a time to dance. And I think, as Holy Week presses into Pascha, now is that time.
In short: this Pascha is not okay–it really isn't. But it also is okay. Bright sadness, that is the character of our worship.
And it's okay for so many reasons…
It's okay because Christ was willing to do the ultimate not-okay thing–dying on the Cross. Suffering for our sake. Forgiving those who betrayed Him. In doing so He made things okay again, better than okay, salvific.
It's okay because God works all things together for the good of those who love Him. No matter how dire our situation seems from the outside, He is using it for our salvation. Speaking for myself, He is healing places in me I didn't even know needed healing, that perhaps could not have been healed through any trial other than this one; He is correcting limiting beliefs I didn't even know I had about Him, soothing edges of pride I didn't know were there until now, enflaming embers of love within me I didn't even realize had grown cold.
It's okay because, while I do my best to actively participate in live-streamed services, once I fell asleep in the middle of the Canon of St. Andrew and awoke to words and music that lulled me back into the way repentance, and now sometimes when my eyes open in the morning, I hear those words again and think "this was where I was when the call for repentance brought me out of sleep." It's okay because once I had to switch a load of laundry while our reader was chanting Psalm 50/51, and now when I approach the washing machine I sometimes hear those same words in my ears ("Wash away all my iniquity and cleanse me of my sin"), and I remember every moment is made for repentance and for love. It's okay because yesterday morning I was on the verge of a panic attack and had to walk around outside to get my breath back, calling in by phone to our church's Royal Hours service, and as I walked past the sad old Chinese man I constantly see around the neighborhood walking his lunatic dog that lunges at me every day like I'm holding his master at gunpoint, the reader proclaimed these words: "Brethren, when we were still without strength, in due time Christ died for the ungodly. For scarcely for a righteous man will one die; yet perhaps for a good man someone would even dare to die. But God demonstrates His own love toward us, in that while we were still sinners, Christ died for us," and I remembered–maybe for the first time–how much (how unutterably much!) God loves that man and his lunatic dog, and the man's love for that lunatic dog, and our whole neighborhood, and our whole world.
It's okay because we get to see the tiny ways we've relegated our sacramental vision of reality to particular places (churches) and particular times (Sunday mornings). We are learning that God is (truly) with us–not just on Sunday mornings, the sun shining through stained glass windows and plumes of incense to enlighten the face of our favorite icon in church like a divine beacon, but also in our homes, our apartments, in our broken prayers, in our clean laundry folded with love, our dirty laundry we need God's help to tackle, our threadbare patience, our vicious impatience in need of healing, in whispers of hopes, in panic attacks and despair that impel us to reach out to God like children awaking from a bad dream. God is in this place. God is in all places.
It's okay because even as we grieve, and as holy as that grief may be, we do not grieve as those who have no hope. Even as we lament our scatteredness on the day of the Lord's resurrection, our inability to gather together in person, we freely rejoice that there is a resurrection to celebrate.  As we grieve being unable to receive the Mysteries, we give thanks all the times we have been able to, and the mystery of how those gifts continue to heal and sustain us as we journey through this desert.
It's okay because we are learning to stand back in humility and let God fight for us. Like a father, like a lover, like a friend, like a Savior. On this day when Christ is busy for our sakes in the depths of death, we are learning to stay still and just let Him save us. And to love Him for never ceasing to do this on our behalf.
It is okay because we can see brightness and sadness at once, the Cross and the Resurrection, because having to be at home will help us hold the tragedy of the Cross within us even as we shout "Christ is risen!" and not take the Resurrection for granted.
It's okay because there is peace in sitting in the privacy of our homes, as the meager and empty-in-ourselves creatures we are, and watching as the translucent layers of everything we thought we were or needed to offer Him fall away to reveal the gift of His love underneath. Maybe we would never have been able to see ourselves this way, to see the Resurrection in ourselves this way, every year packing into church like sardines, all of us arrayed in our Pascha finest, pretending we're all fine.
It's okay because we are learning, on the one hand, He doesn't need anything from us. He really doesn't. He doesn't need us to show up with Easter baskets or enviably dyed eggs or talk-of-the-town kulich or even a candle, or even anything at all, to save us. He just needs us, in all our smallness, all our existential nakedness.
It's okay, too, because on the other hand, He does want us to respond. His gift doesn't depend on it, His love, His dignity, His self-sufficiency aren't contingent. He does not need us but He desires us: our affection, our hearts, our homes (disorganized and dye-splattered though they may be), our appetites, our hopes, our fears.
But most of all it's okay because God will stop at nothing (nothing!) to save us; because His love is a "reckless, raging fury," as Richard Mullins once put it, that cannot be stopped; because nothing, "neither death, nor life, nor angels, nor rulers, nor things present, nor things to come, nor powers, nor height, nor depth, nor anything else in all creation, will be able to separate us from the love of God in Christ Jesus our Lord" (Rom 8:38, 39).
For all these reasons and more, this Pascha is okay. Indeed, more than okay. Wonderful. It is a dreadful, marvelous gift. To consider it anything less, simply on account of being unable to leave our homes or celebrate in the way we are accustomed to, would be to limit the awesome mystery of Christ crucified and resurrected, as though it is too small or fragile to reach us even now.
It is okay to grieve. But it is also okay to rejoice.
May we receive the gift of the resurrection with joy, this year as ever.
Christ is risen!