Today on the Time Eternal blog, I'm featuring a guest post by Dr. Nic Hartmann, an Orthodox blogger and museum education director from Cedar Rapids, Iowa. He recently visited what sounds like an interesting and poignant exhibit that celebrated all things slow. Here, Nic reflects on the connections between slow culture and Orthodox practice. In my mind, this has implications for how we experience time. Part of slowing down means stepping outside of the frenetic pace of our lives and thoughts. I was excited to learn about Nic's thoughts on slow religion… 
~*~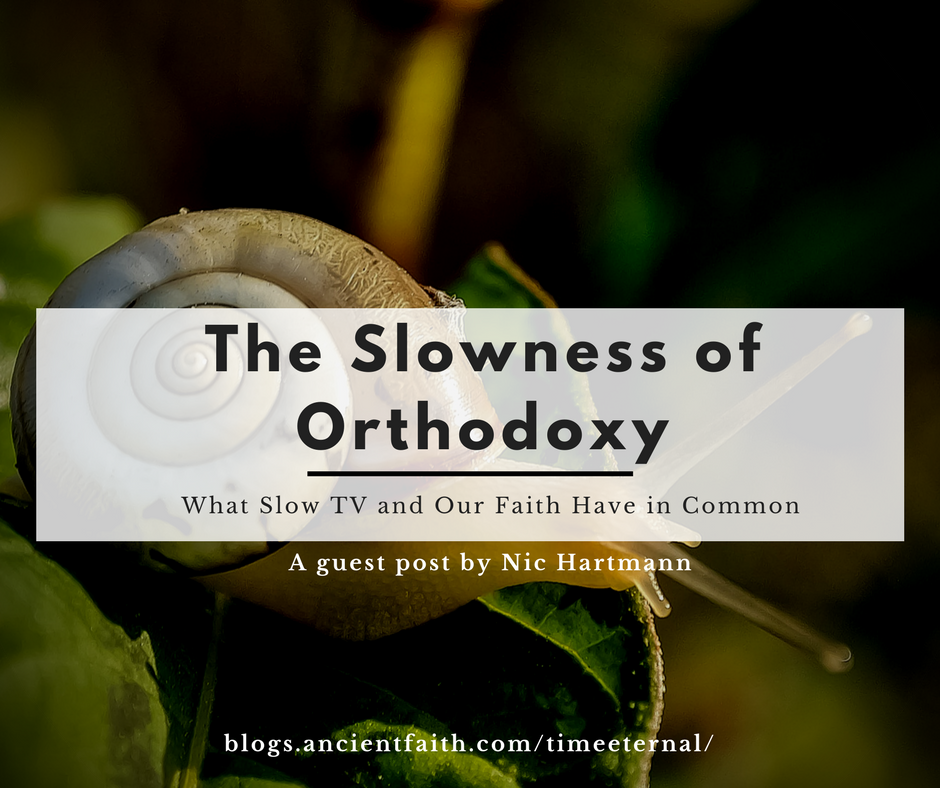 Not long ago, I traveled with my work colleagues to Decorah, Iowa to visit the Vesterheim Norwegian-American Museum. While there, I viewed a temporary exhibit called Koselig (a similar concept to the Danish concept of hygge). According to the exhibit, koselig is "a very deep feeling of warmth and contentment; a sense of intimacy and comfort. It's a candlelit dinner party with your close friends and family. A wool sweater, a cup of hot cocoa, and a comfy couch with the latest Nordic crime drama on TV…"
 The exhibit was set up like a living room, with places to sit, board games to play, and even a pile of knitting for visitors to stitch a few rows. Within the exhibit, there was a "Slow TV" broadcast of a rail journey from Bergen to Oslo (you can watch the 7+ hour version here on Youtube). Originally aired in 2009, an estimated 20% of Norway's 5 million people tuned in, with 176,000 people watching the entire trip. Since then, Slow TV shows about topics like ferry journeys, salmon fishing, and a speed-knitting contest have aired; there is even a 60-hour video of various choirs singing the Church of Norway's hymnal from beginning to end. The phenomenon has caught on around the world, with Sigur Rós (one of my favorite bands from Iceland) broadcasting a 24-hour driving journey around Iceland's Route 1, and Czech television airing footage of birds at a bird feeder.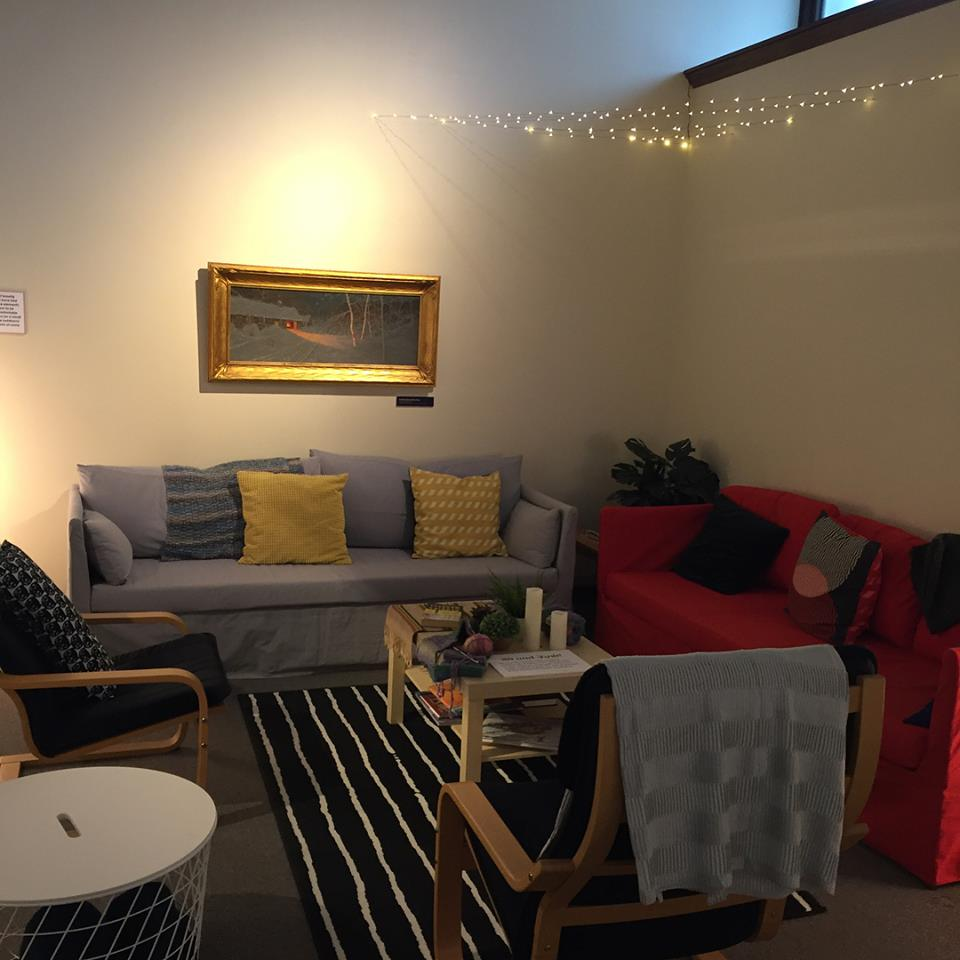 Slow TV is part of a greater movement called "slow culture." Starting with a 1986 Italian protest against the opening of a McDonald's, the first product—slow food—focused on local food, traditional gastronomy, and historic means of food production. There is a large sense of tradition within the slow movement, but it does not eschew technological advancement. A variety of cultural phenomena, including cinema, fashion, and scholarship, now have "slow" counterparts with similar ideals.
In a recent discussion I initiated on social media about slow culture, the idea of "slow religion" came up.  The thought is for believers to defy the trend of commercial, consumer-oriented religion for the sake of something slower and more intentional. One of the people to post on the query, Memphis resident Marissa Kizer, told me about how "slow church" helped her become Orthodox:
"…it's about making church more about the process than superficial measures of progressive. Being slow and steady and committed for the long haul rather than trying to be flashy or impressive. This was a total contrast to my Baptist evangelical church experience where everything was flashy, showy, and driven by urgency, intensity, and numbers. We had to be urgent with evangelism because people were dying and going to hell, we had to make commitments to witness to a certain number of people each week and go on a certain number of mission trips each year. Personal growth and healing weren't as important as "reaching the lost" and changing the world for Jesus. When I found Orthodoxy, everything slowed to a snail's pace. Not only was I totally confused about my faith, but no one was pressuring me to evangelize, no one was going door-to-door, there weren't constant pleas to invite friends to church. Even though those kind of things made me feel pressured as an evangelical, they gave me a sense of purpose and without that I felt like the Orthodox Church was apathetic, lazy, boring, blind to the needs of the world, etc. so when I started learning about slow church, it gave me a framework for understanding why everyone in the Orthodox Church isn't in this mad rush to convert the masses. I started seeing the value in simplicity, faithfulness, and the lifelong process of cultivating virtue. It's helped me see the value in not having instant gratification spiritually."
Slowness and Orthodox praxis go hand in hand. Most Orthodox liturgies last anywhere from 90 minutes to well over 3 hours, and for monastics—whose lives revolve around worship and prayer—the services extend far beyond that time. Special times of year in the Church are even slower in their nature, or serve as a reminder of our need for slowness; as Nicole Roccas has written elsewhere on this blog, our salvation is not an express process, but is slow, and intentionally connected to the material world:
"the whole Judeo-Christian story of God is one in which He uses particular objects in reality—water, in this instance, but other stories celebrate oil, bread, flour, seeds, rocks, trees—to manifest His goodness, to slowly bring about salvation for the whole human race."
The world around us is utilized by God to gradually bring people towards Him, yet we are often moving so fast that we are unable to see the connections.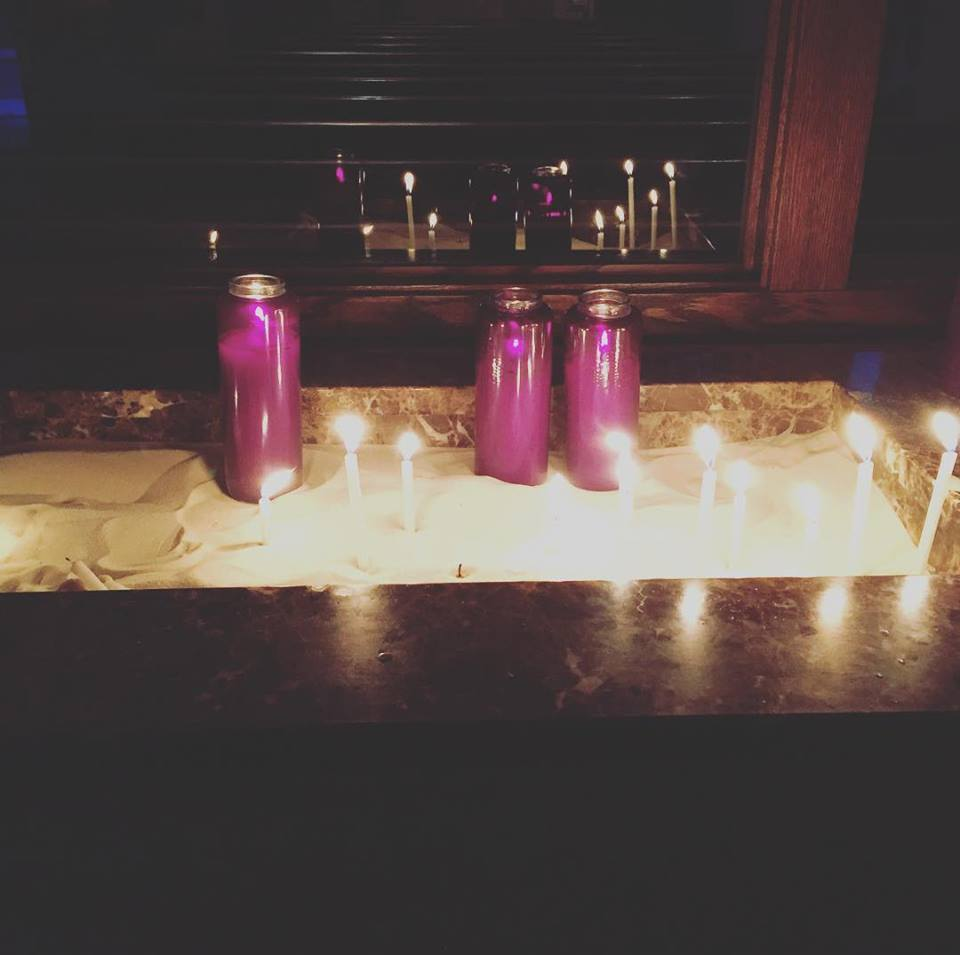 So how does this come back to an exhibit on koselig, with its sweaters, skis, and IKEA sofas? On the label for the Slow TV display, there was a quote from Thomas Hellum, one of the producers of Slow TV for NRK:
"Everything is there, and the viewer himself must find out what is interesting and what is boring."
Slowness is an antidote to a society that frequently pushes its members to run themselves into the ground, mentally and physically. Our speed limits increase over time, and often in open spaces (if you drive through Texas or Arizona, you will certainly see this), but just because we can go faster, does not mean that we will have enough energy to get to where we need to be. Slow TV, in the case, reminded me to engage with the fullness of the processes of train travel, knitting, and salmon fishing, and embrace the thoughts and conversations that come with it. And in our slow Orthodox faith, we are given many opportunities to engage with the processes of prayer, liturgy, fasting, and almsgiving. And just like the television program, we give attention to the rituals and processes that make it what it is.
~*~
Dr. Nic Hartmann is a folklorist, museum education director, and blogger who maintains the blog website Thoughts of a Metanoia Bum. Seeing Orthodoxy for the first time during study abroad in Estonia, his folklore studies led him to join the Orthodox Church while in graduate school. A native of Indiana, Nic lives in Cedar Rapids, Iowa, with his wife Jen, and their two daughters. You can follow him on his blog or on Instagram (@metanoiabum).