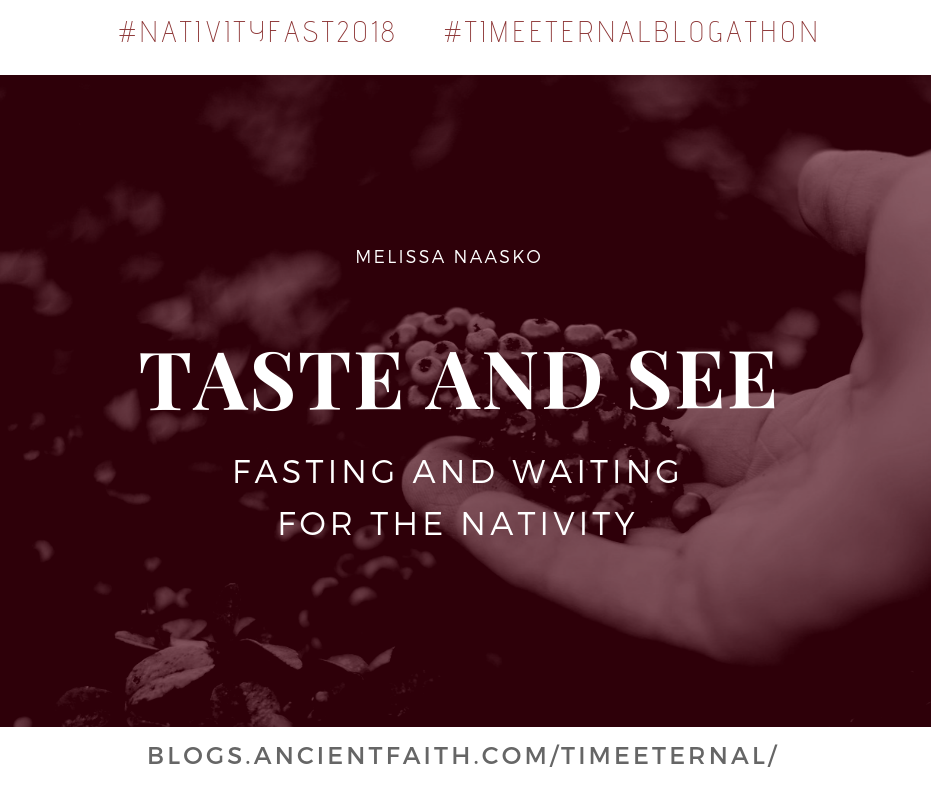 Today's guest post is from my friend and chef extraordinaire, Melissa Naasko. Cool story: Melissa planned the menu for the recent Ancient Faith Women's retreat (Nov 15-18), which means I got to spend the first few days of the fast eating her Lenten handiwork. Some of the best fasting "conference food" I've ever had! Today Melissa is reflecting on the connections between fasting, faith, and time. 
~*~
Time is simple, as all creatures in their proper order are. When we get out of our own way, we can become more of what we are created to be, that is a reflection of the simple, perfect order of God in the Holy Trinity. God is simple. We are complex. We spend so much effort and mental energy trying to understand the complexities of the world around us. We are like so many frenetic bees buzzing around a hive. We can learn a great deal from Time which was created for our benefit. The slow and steady progression of time and the movement of the stars and moon in the skies which mark it creates the order for our lives and teaches us about the order of our God.
Time and the universe give us day and night, it gives us seasons with evolving weather, it gives us the solstices and equinoxes, and it all points to the Creator. When we celebrate the feast of the Nativity of John the Baptist, the days are long but beginning to pull back, to shorten. When the days have finally faded to the shortest we see each year, we have the Nativity of Christ. After this point, the days begin to stretch and grow, to increase. In the words of John the Baptist, "He must increase, but I must decrease" (John 3:30 KJV). All things in this world point to the greater glory of Christ.
We do not move through time and space so smoothly, so easily. We stumble over obstacles that we put in our own way with all those frenetic movements. This is one of the great benefits of the cycles of the Church, of the feasts and the fasts. They move us into the order of the universe that naturally and effortlessly turns towards God. Time tells us what to eat, it tells us when to eat it, and it even tells us how. By stepping into this rhythm, we can learn to become more of what we were always meant to be from the moment of our creation. We turn more and more to God.
One of the great challenges of modern man is that we have to push back against the opulence and luxury of the world which tends to obscure God. It is more difficult to hear His voice when there are so many competing distractions. There is no time more difficult than the weeks leading up to Christmas, the Nativity of our Lord and Savior. There is an enormous amount of commercialism attached to this celebration and this period of preparation. This is not to say that Christmas is not worth celebrating, because it undoubtedly is, but to say that it is easy to make the festivities the end itself. Stepping into the order that God has given us can restore our internal order and put what it is primary in its proper place. This is the particular joy of the Nativity Fast.
Joy may sound like a strange word to associate with the Nativity Fast or any Fast, really, but there is a real joy to be found there. Fasting during this season restores to us a childlike innocence. Childhood is marked annually by the long wait for Christmas. Children look fondly on the gifts piled under the tree and the stockings hung out and wait, trusting that Christmas will come and they will open those gifts. No party or fancy dish or elaborate decorations could fool children into believing that Christmas has come before it has. They know in their hearts what Christmas is and when it is and it is not Christmas until the gifts are opened.
Can you remember the pure joy of that moment? This moment stretched into the days that followed as we reveled in the joy of opening those gifts. It was an imperfect joy because it was rooted in material goods and not in the Glory of God but there is a lesson there, there is a real joy to be found. This joy is an imperfect reflection of true Joy that comes from the Love of God but this moment is good because it teaches us to recognize joy when we see it.
Fasting teaches us both to wait for Christmas and to know Christ and joy in Him when we find it. When we fast, food is not verboten but sacrificed. It is willingly given up in forward-looking repentance so it can be taken up again in joy later. Fasting teaches us to wait for Christmas and to revel in it when it comes. When we set aside cheese and bacon it is not without some bit of sorrow because we know the longing that will come. In the moments of longing, we need to remember that the moment of joy is also coming. At Christmas, we will then carry forward that joy and revel in it as we enjoy those things which we set aside for that moment.
The more we step into and live within Time and the Fast, the more we will step into Time and the Feast on the other side. We will be able to experience more fully the joy of the feast in every bite. Christmas has a flavor, a taste, all its own. Tasting Christmas teaches us what joy is and it points to God and learning to love Him more. Our trust that Christmas would come is rewarded. Now we can see and touch and feel it with our physical bodies and our hearts are filled with joy. In the end, we fast so that we can learn how to eat. "O taste and see that the Lord is good: blessed is the man that trusteth in Him." Psalm 34:8 KJV.
~*~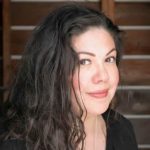 Melissa Elizabeth Naasko is a deacon's wife and the mother of eleven. She lives on her husband's family's heritage homestead where she knits, cooks, and writes. She is the author of Fasting as a Family from Ancient Faith Publishing and is currently writing a farm memoir for Waystone Press.