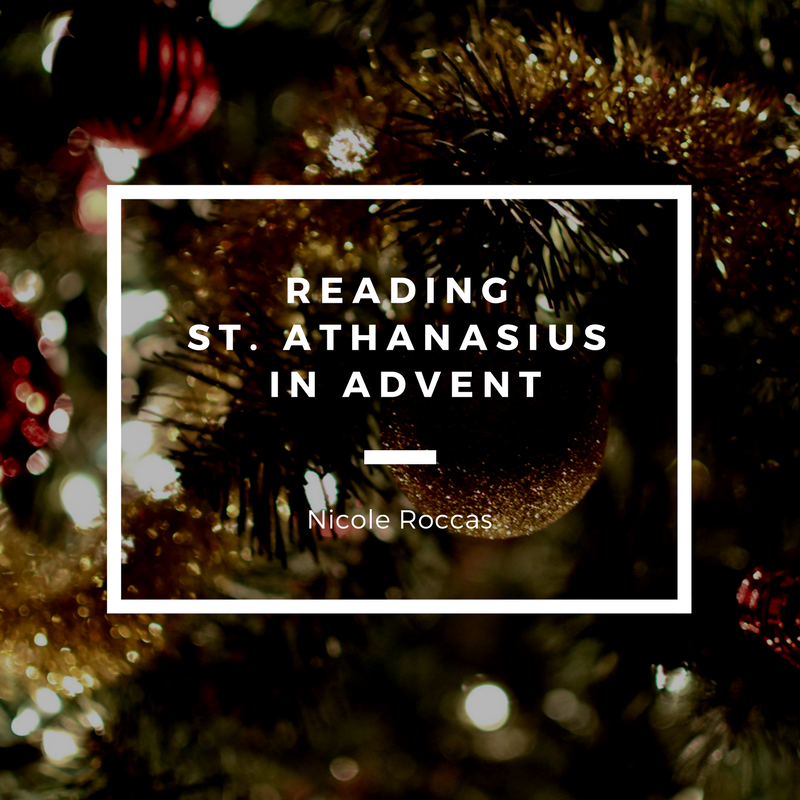 Some people get into the "Christmas spirit"–however hokey that phrase is–by decorating, others by buying gifts or making cutout cookies or visiting or knitting.
I dabble in all of the above, but what most ushers me into the unique and solemn joy of these short weeks before Christ's birth is reading–or rather, rereading.
Along with all the other rituals of the season, I have an almost liturgical progression of works I reread during the Nativity fast. It's the same eclectic set books year after year. Like a patchwork of rags, they have been gathered into an unlikely but life-giving community of words and pages that signals me to slow down and wait and re-open my heart to the coming of Christ.    
Rather superficially, I'm afraid, the three main criteria of books in this humble assemblage is as follows: They must be a) Christmasy (broadly defined); b) cozy; c) pathetic (by which I mean that they must, as my father confessor once blandly described a good film, evoke "a bit of pathos. Tears may come out of my eyes, I don't know.")   
First on this list is Louisa May Alcott's

Little Women,

which since middle school I've reread in full or in part after US Thanksgiving.

Second on the list is

God is in the Manger,

an Advent anthology of Dietrich Bonhoeffer's writing that has been structured into daily devotionals to commence on December 1 (last year, I wrote about reading Bonhoeffer during Christmas time

here

).

Third on the list is something by Dickens–usually

The Christmas Carol,

but this year I may switch it out for

Great Expectations.
(By the way, if you're wondering how I get all this "fun" reading done as a normal adult with normal life obligations: I'm an audiobook junkie. If I'm not working or talking to someone or sleeping, I basically can't last more than 7 or 8 seconds without turning something on to listen to. "I could stop at any time, though," she assures herself on a fairly regular basis.)
Anyway. This year, I'm adding a new reading ritual to the mix: St. Athanasius' On the Incarnation, one of the most significant (albeit unsung) theological treatises in all of Church history. I've been toying with the idea of involving this work in my annual reading repertoire for a while, and Christmas–the very searon of the Incarnation–seems as good a time as any.
Still, I approached the idea rather begrudgingly. It doesn't quite "meld" with my other Christmas reading favorites–there's nothing warm or fuzzy or remotely Dickensian about On the Incarnation. And while there's definitely some pathos going on in the treatise–whose sundry chapters focus on the fall of man and the dilemma of God in responding to our sin (out of His eternal foreknowledge, of course)–it's not the kind that triggers my indulgent Hallmark emotions.   
I can't help but notice, however, that the lack of yuletide cozies in St. Athanasius' treatise is typical of Orthodoxy this time of year. In this realm of Christianity, there is something of a dearth when it comes to the quaint, pull-up-chair-to-the-hearth-and-bring-me-some-figgy-pudding dimension of Christmas. Instead, it's all about the theology of the matter. The incarnation. The en-flesh-ment of God's Son. And just to dispel any confusion as to what Christmas is truly about, our hymns do not speak of jingle bells, snowmen, or wassailing little drummer boys–nor even of soft-edged stable scenes–but of dark caves and awkward bodies and some rather unsavory physicalities: an unscorched womb, a despondent Joseph, a bodily (yet intact…) birth, an actual baby suckling an actual breast… The purpose of all these details is not to be graphic, but to get it through our thick, uncomprehending skulls what has actually happened–what is actually happening–in the Incarnation.    
And so, as the Nativity Fast has begun, I've added On the Incarnation to the list–sandwiched right there in between Little Women and Great Expectations. I'm sure Louisa May and good old Charles are a bit confused; I daresay they'll get over it.
For a week, now, I've been listening to it in slow chunks (tip: it's free to download on Librivox). When I've read this work in the past, it's always been in a fairly academic, sit-down-at-a-desk-and-take-notes kind of way. But this time around, I'm listening to it as I do with all the other Christmas books on my list: against the backdrop of necessary life tasks like cooking and cleaning… and knitting… 
The process has been refreshingly surreal. While washing dishes and making dinner, I've been letting St. Athansius remind me of the miraculous ordinariness of Christ's own human existence: "From such ordinary acts as being born and taking food, He was recognized as being actually present in the body." While knitting up a slew of WWII-era beanies as Christmas presents for the men in my life, I've been reflecting how Christ Himself was knit together in His mother's womb, his two natures joined in hypostatic union. 
For all its lack of yuletide cozies, I could get used to On the Incarnation.
In the coming days and weeks before Christmas, I'll be jotting down some of the thoughts and juxtapositions that occur to me as I embark on this first Advent of Incarnation reading.
(And hey, if you want to join me, download your own copy of On the Incarnation and follow along! I'd love to hear your own impressions–it can be like in Little Women, when all the sisters read Pilgrim's Progress for Christmas!)
Relatedly: if you live near Toronto, mark your calendars for this Saturday, 9 December. Fr. John Behr will be here speaking in conjunction with two other speakers about St. Athanasius and On the Incarnation.
***
Don't forget to "like" Time Eternal on Facebook to stay up to date with all manner of timely thoughts and reflections.