Hi Time Eternalites! Just popping on here to let you know about this online Lenten retreat I'm co-leading with Fr. Geoffrey Ready through Holy Myrrhbearers Orthodox Mission in Toronto!
Register here.
April 11 4-6 PM (With option to attend an Orthodox vigil service from 7-9)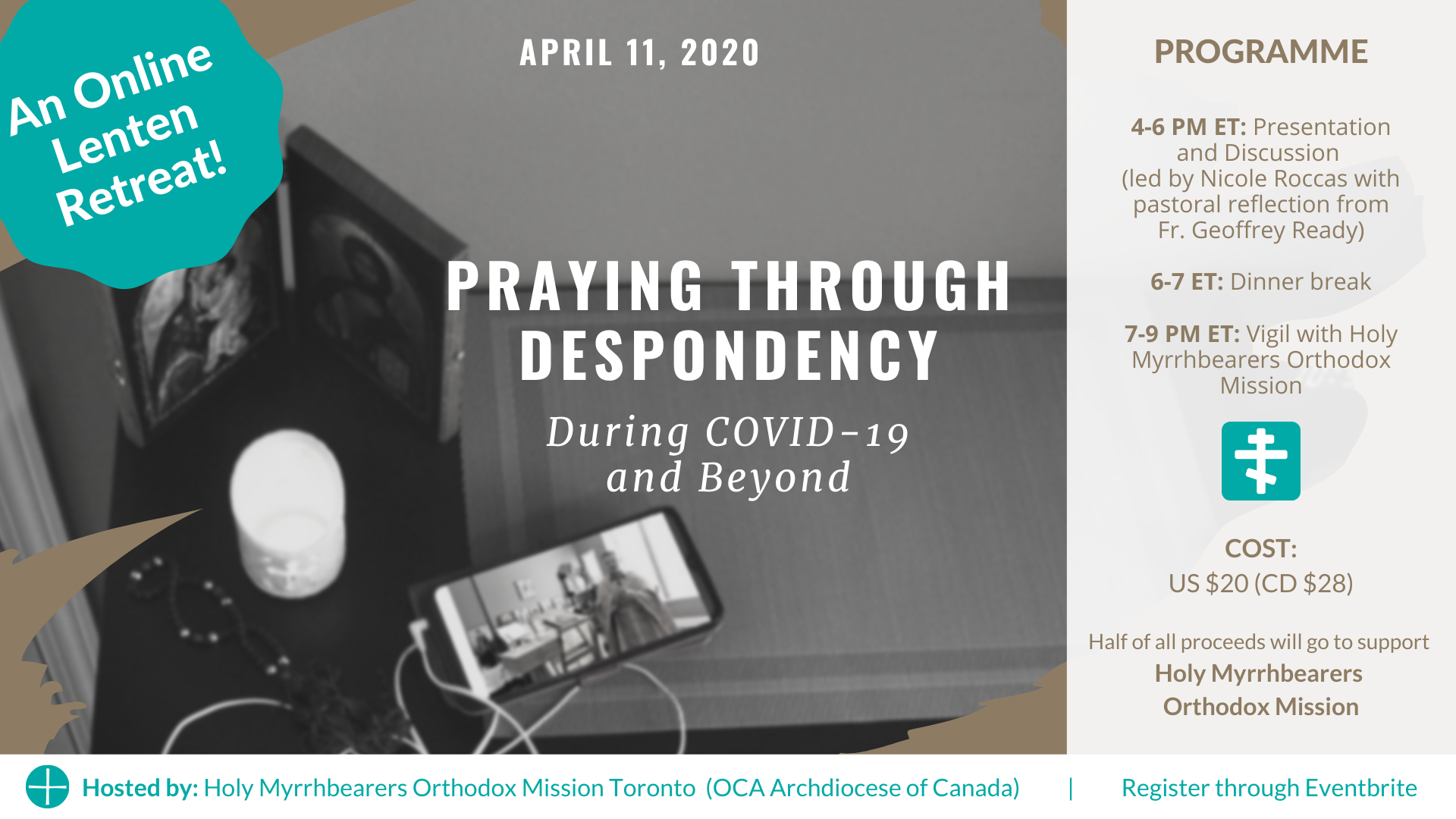 The Psalmist once asked, "How shall we sing the songs of the Lord while we are in a foreign land?" As David found himself displaced in Babylon, so we find ourselves exiled to the shores of social distancing, suspended church services, and uncertain times. The COVID-19 pandemic has hurled us into a profound culture shock, with new rules, new words, new habits. How can we sing the songs of the Lord while we are in this foreign land of loneliness and anxiety?
The Praying through Despondency retreat delves into this question, exploring both practical strategies and theological depth that are relevant not only to times of illness and quarantine but also to other seasons when it is difficult to turn to God from the alienated shores of deep struggle.
Schedule of events:
4-6 PM: Presentation and Discussion (this will be a combo of spoken presentation and interactive discussion)

(led by Nicole Roccas with pastoral reflection from Fr. Geoffrey Ready)

6-7: Dinner break (option to share a meal via Zoom, or just take a break)

7-9 PM: Vigil with Holy Myrrhbearers Orthodox Mission
FAQs:
What if I have a scheduling conflict? Those who register will have access to the video for 30 days after the retreat if they are not able to participate in real time. They will also receive any files or materials distributed during the retreat.
I want to attend this with other members of my household. Do I need to purchase separate registrations for each person? Each registration can be used for all members of your household.
What if I'm not an Orthodox Christian? We're all in this pandemic together! While hosted by an Orthodox parish, this retreat will be nourishing for Christians of all traditions.
Make sure to register on the Eventbrite page for this event!