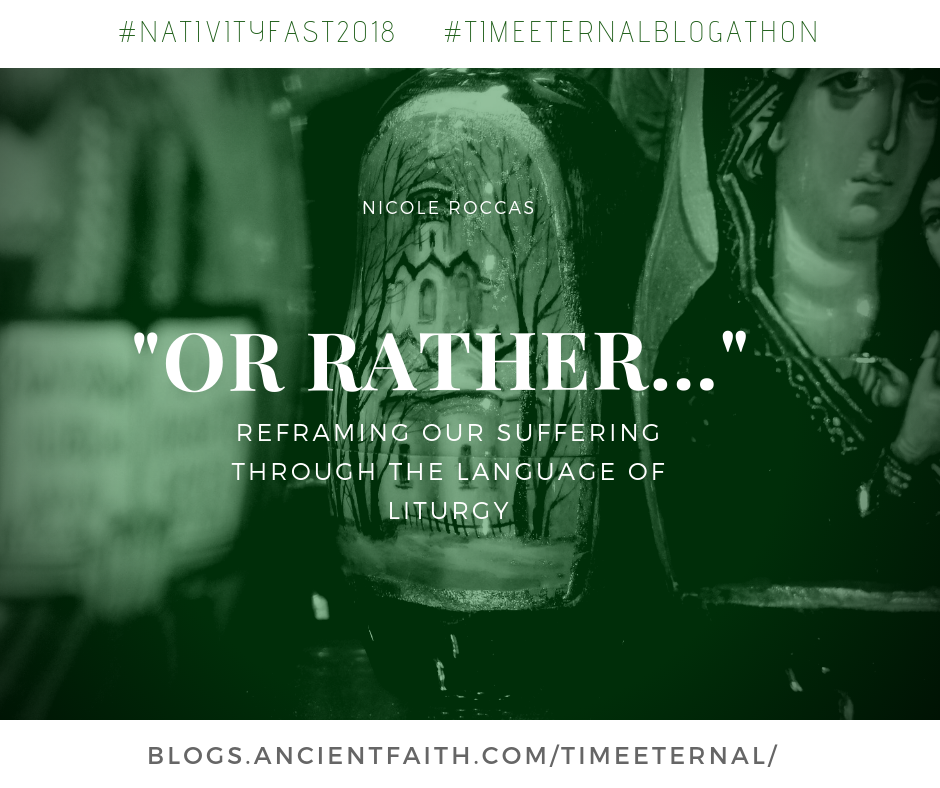 Yesterday morning, the third Sunday before the Feast of the Nativity, a phrase I've heard on countless occasions rang in my ears as though for the first time:
"… or rather…"
It's a tiny but profound phrase that occurs in a sentence sandwiched in the middle of the Eucharistic canon:
In the night in which [Christ] was given up—or rather gave Himself up for the life of the world—He took bread in His holy, pure and blameless hands; and when He had given thanks and blessed it, and hallowed it and broken it, He gave it to his holy disciples and apostles…
I've always loved this phrase, as much for its apparent awkwardness as its mysterious profundity. Yesterday, though, it dawned on me that it could also be helpful in learning to reframe the stories we tell ourselves about our own suffering.
Before we get to that, however, what is the theological significance of this phrase?
"Or Rather": Where Theology Begins
You have to admit, this is a funny phrase, particularly if you are new to Orthodoxy. It sounds a little like the authors of the Liturgy made a mistake in the first clause (when Christ "was given up"), and attempted to correct it in the second ("or rather gave Himself up"). Surely such an error would have been phased out over time?
But it's not a mistake, and to understand why, we have to remember the different ways "or rather" functions, at least in English.
In oral conversation, "or rather" can be used to elegantly correct a point we've just made, since we can't go back in time and actually edit our words. In this context, it is a  tidy shorthand for "oops! What I meant to say was…"
In written text, however, you can go back and edit words. You wouldn't use "or rather" to correct a mistake (unless you were lazy), you would just rewrite the sentence. And so, in written contexts, this "or rather" has a subtler and more intentional purpose. It's a way of lending credence to two competing realities–or two nuances of the same reality–simultaneously. It sets up a kind of intentional ambiguity, a rhetorical space in which previously unseen distinctions can become evident at once and lend meaning to one another. In psychological terms, it creates cognitive dissonance, that uncomfortable tension we feel when faced with two seemingly contradictory beliefs.
For the Fathers, this "or rather" conveyed two congruent yet seemingly opposed aspects of Christ's sacrifice, namely that His death was both ordained by the Father AND voluntarily taken on by the Son.
St. Gregory of Nazianzen writes:
It is written both that He [Christ] was betrayed, and also that He gave Himself up, and that He was raised up by the Father… And on the other hand that He raised Himself up… The former statement refers to the good pleasure of the Father, the latter to His own power. (Oration XXXVII, On the Theophany or Birthday of Christ)
From an earthly or an external perspective, Christ's death appears to have been foisted upon Him in ways He could not ("or rather" did not seek to) control. Numerous forces and actors colluded to bring about His death–the Jews, Judas, Caiaphas, to name a few. And behind the stage of earthly events was the inscrutable will of the Father, to whom Christ prayed in His final hours: "If you are willing, remove this cup from me; yet, not my will but yours be done" (Luke 22:42, NRSV).
Yet Christ's death was not just a "top down" decision from the Father, it was also a "bottom up" cooperation from the Son. There was a synergy between the Father's will and Christ's. In the end, Christ bore His Cross and later willingly "gave up his spirit" (Jn 19:30).
This rhetorical "or rather," then, bears witness to the two-sided, synergistic nature of Christ's sacrifice. And as Daniel Galadza points out, it marks a pivotal point in the Liturgy, when a historical recapitulation of the events of Christ's death shifts into something new. Echoing the words of Fr. John Behr, this is where "theology begins proper" (Galadza, Liturgy and Byzantinization in Jerusalem, 25).
"Or Rather" And Us
The "or rather" clause is not just significant for the Liturgy, but also for us personally. Even as the phrase turns the Liturgy toward the Eucharist, it pivots us toward the new manner of being we are called to in Christ, one that beckons us toward and into–rather than away from–God-ordained suffering of life. It forces us to do a kind of double take in our estimation of earthly existence, and in that second glance calls our attention to the transfigured and transfiguring dimension of suffering we often overlook.
Most of all, we are reminded that although we may not get to chose the nature of the crosses we bear in this life, we may choose whether and how to bear them–in cooperation with or avoidance of God.
When we avoid our crosses, we come to see life through the lens of fatalism, powerlessness, and helplessness. We come to see ourselves as passive victims and everyone/thing else (including, perhaps, God) as the problem.
This is a tendency in both the hardest and the most mundane forms of suffering we encounter. If we're late for an appointment, it's because of that idiot who cut us off in traffic, or that other idiot driving 45 mph in a 65 zone–or the city planners who made this place so difficult to navigate by car. (I could go on and on, so many traffic-related idiots out there!) When it comes to the deeper struggles of life–terminal illnesses, mental health problems, unexpected tragedies–we feel even more powerless and may find ourselves stepping up our blame game. Anger, after all, is one of the stages of grief.
Over time, if we are not careful, the story we begin to tell ourselves about life and our predicament becomes distorted. Others ask how we are doing and we become unable to stop complaining about all the ways life is messed up, all the ways we are sinking under the weight of what we've been forced to deal with. We ruminate endlessly about the injustice of it all or how to excise this cross from our lives, yet no answers appear.
It's not that we want this to be the broken record of our lives, we just have no other words. The script of blame and victimhood is the one that comes most naturally to us.
And then we remember: "or rather." Or rather! It's the turning point we so often need but can't find words for.
We were late because of the idiot in traffic, or rather because we left home 15 minutes later than we should have. Or rather we stopped for a coffee because we were in the neighborhood.
The possibilities are endless, here… Or rather it is we who can also surrender ourselves. It is we who may freely choose to stop avoiding our cross–yes, the same burden God did not ask our permission to put on our backs in the first place. It is we who now must make the same choice as Christ–to turn our faces toward Jerusalem, to drink from the cup God has seen fit to give us.
That moment becomes an invitation to reframe our story. And when we travel just a few steps down that path, we often encounter a new breath of freedom and assurance–even in our pain–that was not there before, or rather was there all along.
What situations in your life need an "or rather" moment this Christmas?