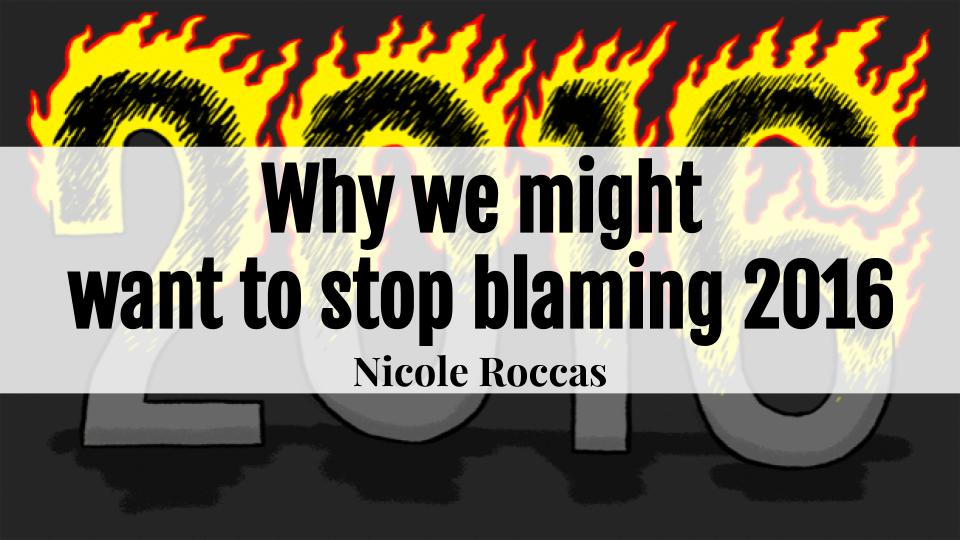 I don't know when it started, maybe all the way back last January when Alan Rickman and David Bowie died. Personally, it didn't hit my news feeds until sometime this summer, when the election cycle was spinning off into utter absurdity (not that it had been particularly sanity-inducing before that).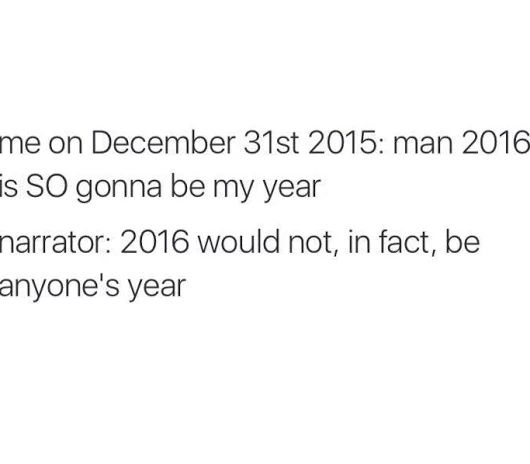 Whatever the case, at some point it became this fully acceptable thing to blame 2016 for all the bad stuff.
Interestingly, at least in my tiny corner of the Facebook universe, I've only seen these types of comments from friends who profess to be Christians.
I've really been struggling to make sense of that.
I'm not here to point fingers, nor am I here to minimize the difficult things that have happened this year–especially not the loss of human life (celebrity or otherwise). But I'm confused. What are we Christians really saying when we so flippantly blame everything on 2016, or casually lament the "curse" of 2016? Joking or not, such comments imply that God was somehow less present and active in this year than He usually is.
On the one hand, I get it. It's human nature to try to make sense of tragedy. By linking deaths to a larger temporal framework, they do not seem as random and senseless: "Oh, THAT'S why [Insert random celebrity's name] died–it's 2016!"
Also, it's easy to blame a year because it's not a person. We feel less guilty shoveling all our grief or rage onto something that has no animate existence. And maybe at first it was a little bit funny–at first.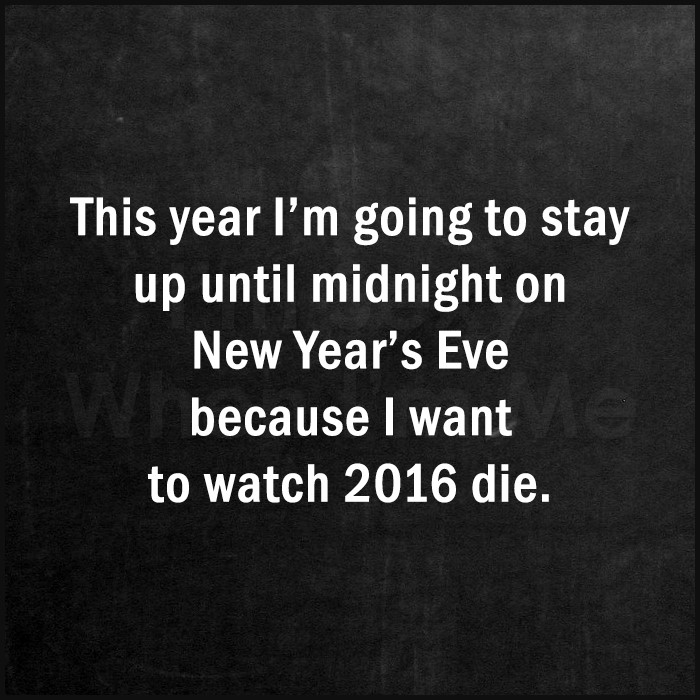 But even when we're joking, the more dread-invoking comments we read or make skews our perceptions. We will gradually forsake reality–which is always a synergy of good and bad, cross and resurrection–in favor of total negativity towards the cursed-ness of reality.
In some ways, I think that negativity is just as tragic as the actual tragedies we blame 2016 for; it's a slippery slope that leads to darkness.
Some of my favorite passages in the New Testament are when St. Paul admonishes us to redeem the time. He makes this plea a few times, like this instance in Ephesians:
"

Look carefully then how you walk, not as unwise men but as wise,

making the most of the time, because the days are evil" (Ephesians 5:15-16). 
At first glance, this verse almost supports the denigration of 2016. After all, the days ARE evil, aren't they?
But how exactly does time become evil? As I understand the passages surrounding this verse, I'd say it happens when we participate in unfruitful deeds: impurity, drunkenness, empty talk, covetousness, and lack of thanksgiving to name a few.
In other words, what makes time evil is NOT what's out there (in case you can't see, I'm pointing at today's inevitably tragic newspaper headline) but what's in here (pointing at myself, now). A year doesn't become evil because there are a statistically higher-than-average number of celebrities who die, but when we decide to stop bearing fruit and instead participate in darkness.
I can't help but wonder whether this cynical 2016-blame-game echoes the dark manner of living St. Paul cautions against. "Be filled," Paul says "

with the Spirit,  

addressing one another in psalms and hymns and spiritual songs, singing and making melody to the Lord with all your heart,

always and for everything giving thanks in the name of our Lord Jesus Christ to God the Father." Redeeming (or making the most of) time hinges on thanksgiving and bringing light back into the world. Constantly lamenting even the existence of a certain year leaves little room for cultivating either.
I guess we have to ask ourselves whether the blame 2016 rhetoric diminishes our capacity to see the light or give thanks for what we have been given. Maybe the answer will be different for each of us, but one thing is worth remembering:
This year was not our birthright. It was not something any of us were entitled to. It was given to us by God as a blessing. Any extra time we have on this earth to learn how to be human and love our neighbor and repent is a gift.
Again, I'm not pointing fingers or suggesting that a few jokes here and there totally negates all the good things going on in one's soul. But how much can we malign a gift God gave us and still manage to give thanks for it or put it to good use?
My final concern is for how all of this cynicism affects people around us. Elsewhere when Paul talks about redeeming time, it's in the context of how we relate to so-called "outsiders"–those who do not share our hope in the resurrection (Col 4:5).
We are at a point when our fellow man is desperate for hope. Maybe it's funny to pretend we're under the curse of 2016, but there are people all around us who honestly feel that way–like humanity is under some dark cloud that is much bigger and darker than just the year 2016. There is a sense of collective hopelessness that is so profound right now people can't even bring themselves to talk about it–doing so would make it too real. The blame 2016 talk has been one small, sardonic outlet for this deep hopelessness, one that allows people to not have to be emotionally vulnerable.
Now more than ever, we should be people of the light–people who can speak to the hope of the resurrection, or at the very least refrain from perpetuating the same sense of doom preached on endless memes and click-bait updates on the 2016 death count.
This is hard advice, because sometimes we may number ourselves among the hopeless. Faith in the resurrection does not always "feel" very "real" when we are confronted by tangible, immediate disappointments in the here and now.
But I once read something really beautiful in a memoir by Kate Braestrup, who works as a chaplain for the Maine Warden Service. Braestrup has seen and dealt with the aftermath of countless tragedies. In her books, she reminds people that when they are faced with bad news or some disappointing event to always look for the good people. On the sidelines of every tragedy–no matter how heinous or earth shattering–there are people who take it upon themselves to quietly help and serve, people who are wise, loving, forgiving, and selfless in their own small ways. Find those people and focus on what they are doing–they will give you back your hope. I've used this approach on a broader scale when I encounter bad news in the newspaper: find the good. Grieve the loss, yes, but find the good like your life depended on it. Just like a Where's Waldo book, the good is always there–small, unassuming, and hidden in some corner you wouldn't think to look. And when you find it, testify to it. When a person dies, testify to the good that was in their life.
Every moment, again and again, we always have this one amazing choice: to be people who

redeem

 rather than

blame

 time. Who keep engaging in the hard, ongoing battle within ourselves to recover thanksgiving and learn to speak fruitfully.
It doesn't mean we can't verbalize our grief and grievances–there is a time for all things, after all. But it does mean we can expect and remember goodness in the midst of darkness–more than that, it means we can BE goodness (or at least try to be).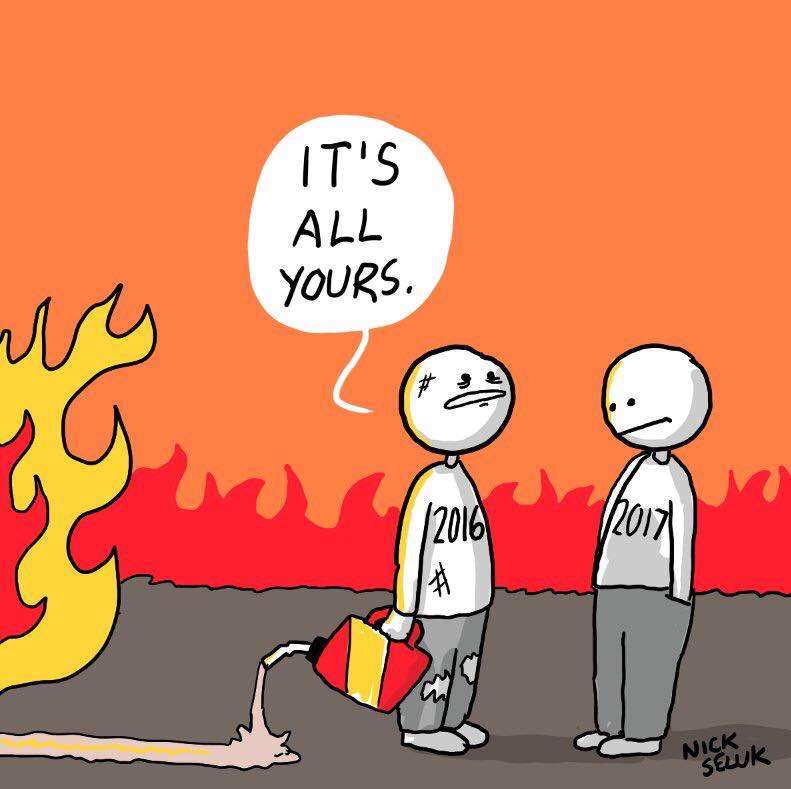 New Year's and 2017 will be upon us in just a few days. What will we blame when the first celebrity death of the year inevitably happens? When the next political disappointment happens?
Let's be ready to fashion a new narrative, one that reaches past the darkness of gloom to the light of the resurrection–to Christ, who IS everywhere (and at all times, in all years) present. Let's be ready to help each other give thanks–for the souls that have touched us, for the goodness we often overlook, and for the mystery of life and death.
Author's note: secret shout out to my friend, who gathered some memes for me when I first told her about this post. You know who you are! 🙂