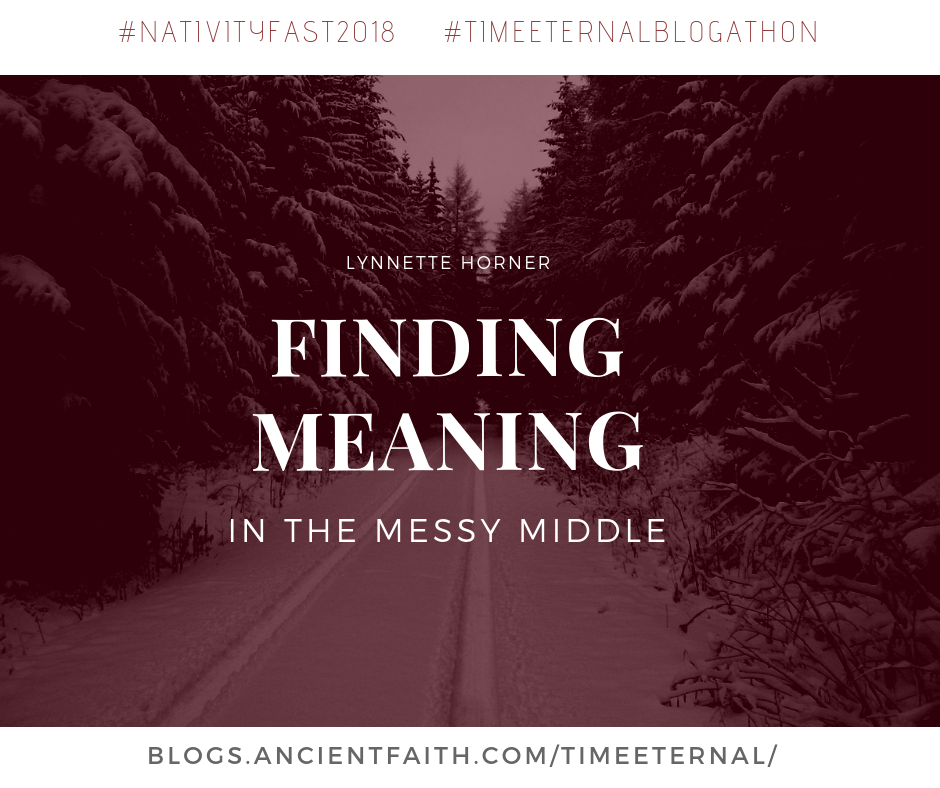 This morning, I'm glad to welcome Lynnette Horner, host of one of the newer blogs on Ancient Faith (Walking an Ancient Path) to Time Eternal. I appreciate Lynette's writing and her ability to communicate the gems of Orthodoxy to a broader Christian audience. Today, her thoughts on the temptation to "click through" fasting seasons, and the "messy middles" of life in general, are worth pondering as we head into the second half of the Fast. 
~*~
We're now about halfway through the Nativity Fast, and as in all Lenten seasons, at this point the novelty has worn off along with any remaining shreds of propulsive willpower. Now we live in the humdrum midst of the slog, the seemingly slow passage of time on our way to a much-desired event: Christmas.
Can we just skip ahead? I want the inspiring Christmas Eve service, the feast (hmm… roast or ham?), the gift exchange, and the family gathering. But that's almost three weeks away.
Bah humbug.
My grumpy attitude reminds me of the 2006 movie Click, starring comedian Adam Sandler. Sandler's work is not exactly known for spiritual content, but this little gem features a deep lesson about the importance of all the messy times in our lives.
In the film Sandler plays a workaholic architect who acquires a universal remote (at the "beyooooooond" section of Bed Bath & Beyond) that allows him to fast-forward through the unpleasant and dull parts of his life.
Marital spat? Click. It's over.
Rebellious children? Click. Back to peace and quiet.
After years of skipping the conflicts and messy middles, he learns that the seemingly bad times contained meaningful family interactions and life lessons that deepen the joyous moments. By missing out on them, he has settled for a life of shallow relationships and selfish wish fulfillment. (I haven't seen it since it came out, so I don't remember the level of profanity or raunchy humor. Consider this a cautious recommendation.)
The movie resonated with viewers—maybe a bit uncomfortably. In our eagerness to fast-forward to the "good" stuff, we lose meaningful relationships in the here and now. As Nicole wrote in a one of the earlier posts in this Nativity series, "Life as it actually is": "In forsaking the present, we cut ourselves off from Christ and from one another, since it is the only realm of time in which we can really encounter and engage with others."
I need this reminder. I find myself wanting to "click" forward to the Feast of the Nativity, check off those boxes of spiritual deeds done (X hours of prayer, X days of success at avoiding meat and dairy, X amount of dollars given to charity), and move on to the next thing.
What I don't want is this murky middle. It's hard. It's boring. And I've already messed up in every area. Patience and perseverance are required when all I want is to move on already.
And yet, spiritually speaking, the good stuff is right here, right now, if I'm willing to embrace it and live in it.
Am I having a hard time saying No to the cream in my coffee? Terrific! My demanding appetite reveals my limitations and the depth of my need for God's grace.
Lord Jesus Christ, have mercy on me.
Has my plan for more time in prayer and contemplation fallen apart under a growing pile of obligations? Awesome! I am being confronted with my lack of discipline, my failure to prioritize, and also my lack of understanding of God's lovingkindness in the midst of unavoidable interruptions.
Lord Jesus Christ, Son of God, have mercy on me.
As for almsgiving… Well, my hubby and I weren't able to give as much as we'd hoped this season. And I've been lax at budgeting. Great! Everything we have belongs to God anyway, and I'd forgotten that.
Lord have mercy, Lord have mercy, Lord have mercy.
There is joy in consuming those delicious butter cookies when Christmas arrives. But there is also joy in the time spent baking those cookies with my daughter and her friend, listening to their struggles and heartaches while together we mix the butter and sugar and roll out the dough.
The meaning of the Feast of the Nativity is found in the preparation, in the now living, as much as in the day itself. It's found in our failures, which remind us both of our weaknesses and of God's abundant mercy toward us.
At this midpoint, I am forced to relearn the lesson—yet again—that I treat spiritual effort as an item on my to-do list rather than a relationship with God to be nurtured. It's that reality of abiding in Him, of stumbling and falling and getting up and seeking Him again, that really matters—even if the best I can do today is to pray and listen to a hymn on the way to the dentist's office.
I can't click my way past disappointments, frustrations, and failures. But I can seek Christ in the midst of them.
Metropolitan Isaiah of the (GOA) Metropolis of Denver is fond of saying, "The attempt is equal to the accomplishment." In other words, in God's eyes, our attempts to deny ourselves and seek His Kingdom bring Him as much delight as our actual successes.
I'm holding on to that.
May God grant good strength to all of us for the remainder of the fast!
~*~
Lynnette Horner is an Orthodox Christian, writer, freelance copy and developmental editor, wife, and mother of four adult children. She is also a novelist working toward publication and author of the Walking an Ancient Path blogon the Ancient Faith Ministries website. She lives in the Denver, Colorado, area with her husband and dog in an empty nest that refills on Sundays with her strategic offer of free, home-cooked meals.