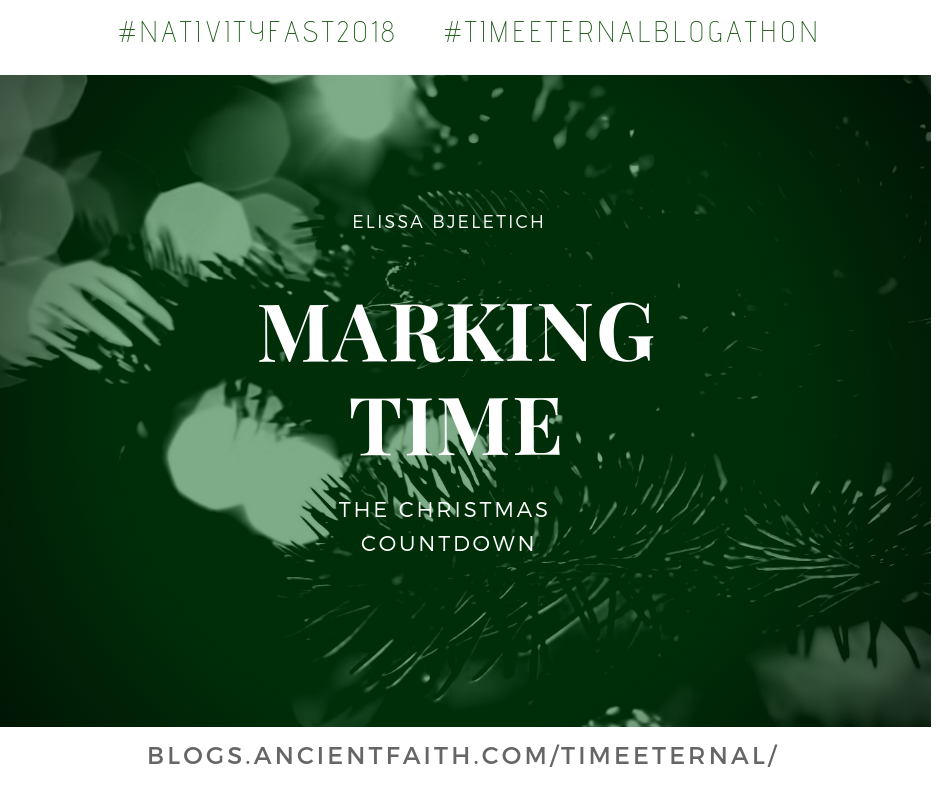 When I was growing up, our holidays were very secular. We didn't belong to a church, and we didn't experience liturgical seasons like the Orthodox do. My mom was Danish, and because Denmark happens to be a Lutheran nation, there are some secular Danish traditions that grow out of the Lutheran experience.  In particular, the Danes love to count down the days of Advent with a special calendar. In our house, the kids always received Advent calendars at the beginning of December. I loved my Advent calendar, and not just for the daily bit of milk chocolate inside; counting down the days really brought alive our anticipation of a beautiful Christmas to come.
Developing little physical or visual means of counting down to Christmas is much beloved, both in the secular world and in Orthodox families. Many people create paper chains with a ring for every day until Christmas, or they'll include a countdown calendar in the family's Christmas decorations. I think it adds to the expectancy of the holiday, and marking those days emphasizes the importance of the Big Day at the end of that countdown.
Of course, in the Orthodox Church, the Nativity Lent is not just intended to build anticipation, but also to prepare ourselves spiritually so that we can receive Christ as He comes into the world in the Nativity.
It's a countdown, but it's a lot more than that.
At this time of year, I am always struck by the contrast between how unbearably busy our lives can become (having returned from summer's relaxation to fall's back-to-business attitude, only to layer on holiday preparations as November begins to fade into December) and how quiet and still the Nativity Lent calls us to be.
In order to properly fast, we'll have to restrict our diets, but we'll also have to take a good look at how we are spending our time. As we prune back other passions and habits, we'll have to prune back the many attachments that demand our precious minutes.
I think that many of us adults find that time moves too quickly in this modern world, that we've filled every moment with so much activity and input that the moments themselves seem to disappear from view. There is so much to get done that the limited moments we have become a source of anxiety — there never seem to be enough of them to hold all of the activity we've dreamt up for them. Even when a free moment opens up, rather than simply breathing and taking it in, we tend to fill it with email-checking and notification-responding. Do we use the moments found waiting in line for peace and prayer, or for a quick glance at our phones?
The Church knows this about us. Our spiritual hospital anticipates the illnesses to which we'll hand ourselves over and offers us a healing option: seasons built into the hectic liturgical year for stillness and quiet. Yes, we've driven ourselves mad with too many commitments and not enough peace, but when the fast comes, we are called to slow back down again. We quiet those commitments, shut down the schedule a little. We reclaim time. We take some of it back for spiritual reflection and study, and we force all of it to submit to our great project of spiritual improvement, rather than letting our schedule drive us forever.
So as the Nativity Lent begins, I'll be making an effort to quiet down the hectic pace of our household. We'll make more room for stillness — reading, study, peace and quiet.
Forty days can be hard for kids to wrap their minds around, so we should make an effort in families to have a countdown device for them. I love the concept of Advent calendars and have used many 40-day variations with my own little Orthodox family. For the past few years, we've been using a Jesse Tree, which has forty spaces for forty ornaments; we hang one every day as we count down to Christmas! (For more information on how to do this, see the end of the post.)
We want to build anticipation and even more — we want to use the time given us by the Nativity Lent to prepare our hearts to receive Christ. The Jesse Tree offers one story from the Bible every day, tracing the prophecies and the events that God used to prepare His people for the birth of the Messiah.
We'll be cutting down on the noise, and increasing the quiet — and then marking each day while feeding our souls on the Word of God. We'll count the days, and we'll count the incredible ways that God reached out to show us that He was coming to conquer death by death.
_________________________
For the do-it-yourselfer, the Antiochian Church has written up a nice description of the Jesse Tree and has created a list of 40 recommended readings for you and your family. http://ww1.antiochian.org/christianeducation/tree-jesse
If you prefer a more ready-to-go package, I've written a book of 40 daily Bible readings with discussion questions, and the beautiful illustrations coordinate with 40 ornaments to count down the days until Christ is born!  For more information and links to order the set, see https://blogs.ancientfaith.com/raisingsaints/how-will-the-nativity-fast-come-alive-in-your-home/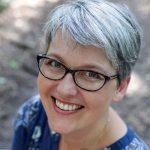 Elissa Bjeletich writes and speaks on topics of Orthodox life, parenting and religious education, and has published several books including Blueprints for the Little Church: Creating an Orthodox Home, In God's Hands: A mother's journey through her infant's critical illness, and Welcoming the Christ Child: Family Readings for the Nativity Lent. A wife and the mother of five daughters, Elissa works in the Sunday School and Youth Ministries at Transfiguration Greek Orthodox Church in Austin, Texas.
Her AFP publications include: In God's Hands: A Mother's Journey through Her Infant's Critical Illness and Blueprints for the Little Church: Creating an Orthodox Home.