Honestly, I'm kind of bracing myself for the annual Christmas wars. Any day now, people will start populating their newsfeeds with the frantic mantra to "Keep Christ in Christmas!"
It's not that I wish to minimize the importance of Christmas or that I'm unconcerned about religious liberty.
In this case, though, I wonder if we actually recognize what we're really calling for. As the well-worn saying goes: be careful what you wish (or pray, or lobby, or litigate) for. Is it really Christ we want in all of this, or just a nostalgic manger scene to remind us of the good old days? And are we honestly ready for what He's signaling to us in His Incarnation? What He's asking of us in taking on our mortal flesh?
I have my doubts whether we are ready for all that. Well, okay, at least one person is–a Catholic nun I follow on Twitter. Sr. Theresa Aletheia is SOOOOOOOOOOOO ready for Christ to come–the real Christ, though, not the Hallmark manger Christ: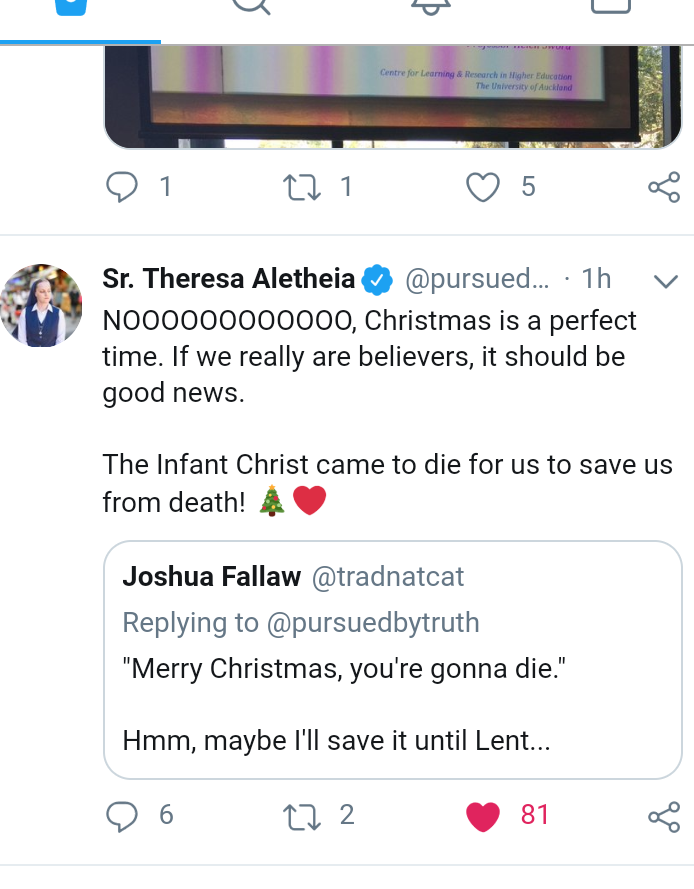 I'm with Sr. Theresa Aletheia on this. If we're going to talk about keeping Christ in Christmas, I think we have to get serious about the Cross, i.e. the WHOLE REASON Christ entered this world in the first place. And we have to get serious about what the Cross means for the human experience. It means that in this world, there will be actual suffering, there will be death. But it also means that there will be peace, not because of our ability to solve or fix our suffering, but because Christ not only entered this world, but conquered it:
I have told you these things, so that in me you may have peace. In this world you will have trouble. But take heart! I have overcome the world. (John 16:33)
In the Nativity, we must learn to locate all the facets of what Christ is saying here: peace, trouble, comfort, overcoming.
Last year, I re-read St. Athanasius' On the Incarnation during the Nativity Fast. I had read this treatise before, but mainly just with my "theological goggles" on. In doing so against the backdrop of Christmas, it dawned on me how little there actually is in that treatise about the Incarnation as we typically conceive of it. By contrast, there's an awful lot about the Cross and Crucifixion. As I wrote last year (see also here and here):
The lack of yuletide cozies in St. Athanasius' treatise is typical of Orthodoxy this time of year. In this realm of Christianity, there is something of a dearth when it comes to the quaint, pull-up-a-chair-to-the-hearth-and-bring-me-some-figgy-pudding dimension of Christmas. Instead, it's all about the theology of the matter. The incarnation. The en-flesh-ment of God's Son. And just to dispel any confusion as to what Christmas is truly about, our hymns do not speak of jingle bells, snowmen, or wassailing little drummer boys–nor even of soft-edged stable scenes–but of dark caves and awkward bodies and some rather unsavory physicalities: an unscorched womb, a despondent Joseph, a bodily (yet intact…) birth, an actual baby suckling an actual breast. The purpose of all these details is not to be graphic, but to get it through our thick, uncomprehending skulls what has actually happened–what is actually happening…
And what is actually happening is–yes–the Incarnation. But the Incarnation is in many ways just ("just"!) a prefigurement of the Cross.
I encountered this typological connection in a new and mildly humorous way this summer. On a trip to Athens in June, I got a chance to visit the Byzantine and Christian Museum. After a long morning of navigating the city, I spent my first quarter of an hour in the museum just ambling around absentmindedly, fanning myself and trying to find the coolest air conditioning vent.
As I entered a room filled with stone panels and murals, a slab relief stood out to me (pun intended). "Why is that person on a funeral bier?" I randomly wondered to myself, my brain still fried from the humid cesspool outside.
I quickly self-corrected. This, of course, was no funeral pyre, it was a manger, and "that person" was the Christ Child.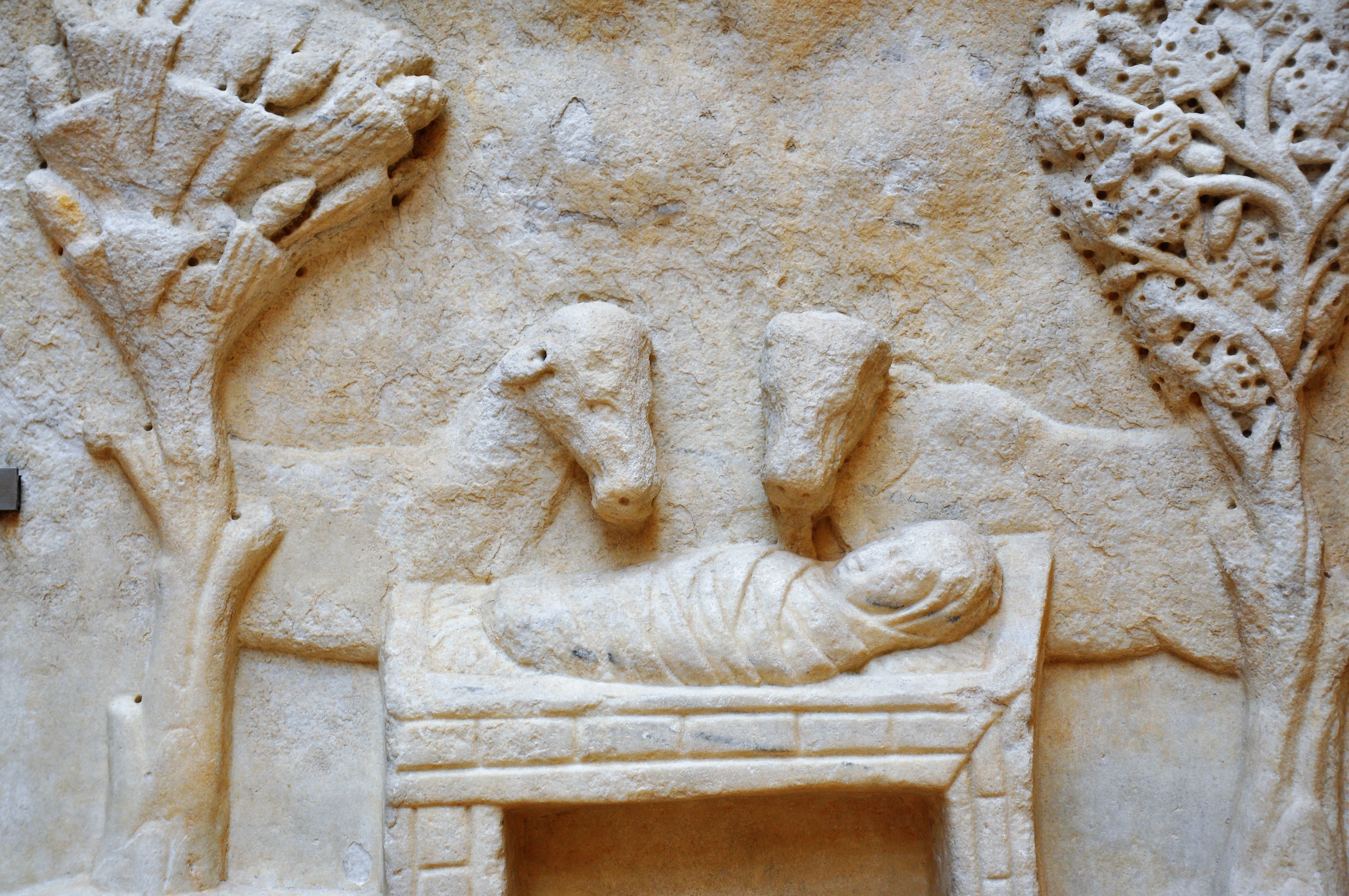 In all fairness, my mistake was not just the result of persistent 100+ degree temps and mild dehydration. We know from our iconography that we are supposed to see something of the Cross, of Christ's death, in His birth. Whether it's the visual symmetry between grave clothes and swaddling blankets, between the tomb and the cave of the Nativity, between the Holy Cross and the manger, the Nativity is kind of one long spoiler alert of Christ's death.
And this is not coincidental. Salvifically, the Incarnation occurred so Christ could take "to himself a body capable of death," and this so that He might save us:
For the Word, realizing that in no other way would the corruption of human beings be undone except, simply, by dying, yet being immortal and the Son of the Father of the Word was not able to die, for this reason he takes to himself a body capable of death, in order that it, participating in the Word who is above all, might be sufficient for death on behalf of all, and through the indwelling Word would remain incorruptible, and so corruption might henceforth cease from all by the grace of the resurrection. (St. Athanasius, On the Incarnation)
You cannot separate the Incarnation from the Cross, nor should we seek to, as Sr. Theresa Aletheia from Twitter rightly (and sweetly) points out. In our pursuit to "keep Christ in Christmas," the war we should truly be waging is not so much a cultural or constitutional one. Rather, it should be a battle we fight within ourselves, with God's help, to come to see all of life through the tragedy and hope of the Cross. It is only in doing so, I think, that we can begin to occupy the joy of this season with the fullest magnitude of our being in Christ.