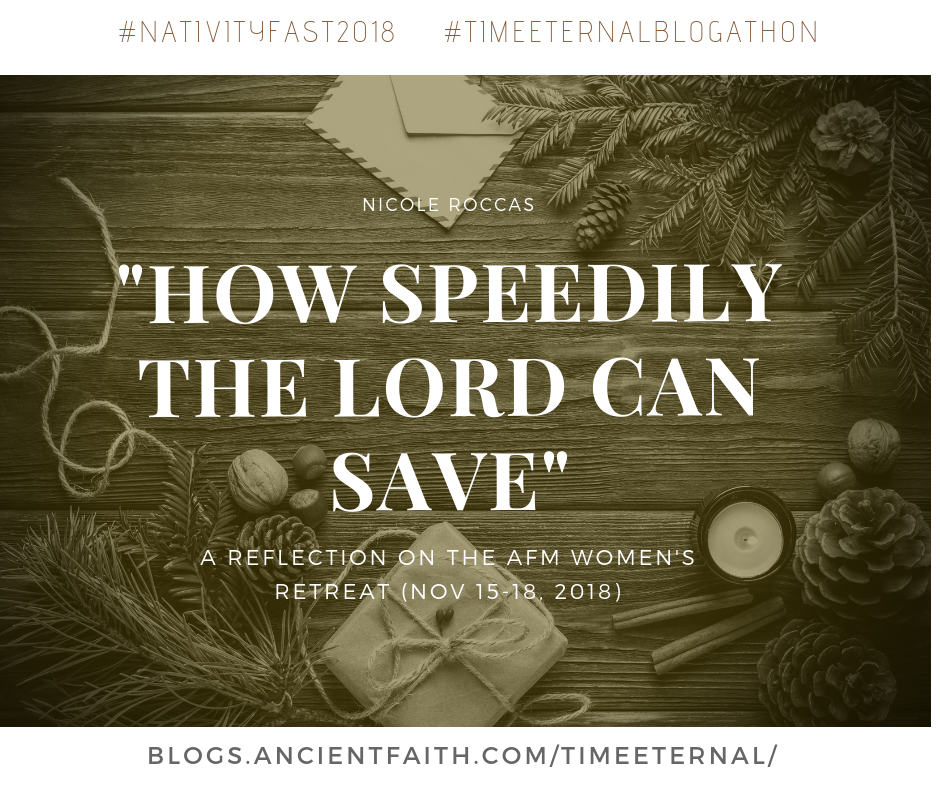 This past weekend, I had the delightful privilege of giving the keynote address at the first-ever Ancient Faith Women's Retreat (you can listen to the talk here and see my slides here; I'm working on producing a transcript of this talk sponsored by my Patreon supporters, so stay tuned for that!)
In today's installment of the Nativity Fast Blogathon, I thought I'd reflect on one of my favorite quotations from St. John of Kronstadt, which I used in the talk…
One of the more temporal and terror-inducing aspects of speaking at an event like the AF Women's Retreat is this: you have to specify the title and topic of your talk really far in advance. (I  remember Melinda Johnson from Ancient Faith asking us for this information last January or February.) This is a leap of faith; it's hard to judge what you (or your audience) will still find interesting or meaningful in 6, 10, or 12 months' time.
More than that, however, sending in my topics calls to mind the countless ways life and circumstances can change.
I would liken this to the fearful feeling I get when I begin a new journal or calendar. Writing the date on that first page for the first time never fails to evoke a degree of dread. What will my life be like when I get to the last page?
Sometimes that dread turns out to be unfounded. In this case, though, my life did change significantly since I first signed up to speak, and not in the flashy job-promotion or new house kind of way. Numerous circumstances—including (but not limited to) an untimely death in the family—forced me to relinquish my sense of control over life, the future, God, etc.
I recently read this article about how anxiety constitutes an often-overlooked "stage of grief." Profound loss casts a shadow of doubt over things you may once have taken for granted before. Life suddenly seems unpredictable and untrustworthy; you never know what's around the corner: Tragedy? Death? Darkness?
When I posted this article on social media, a reader mentioned that since the death of a loved one, she has struggled with some degree of social anxiety and agoraphobia. Others struggle with insomnia, panic attacks, or high blood pressure in the wake of a tragedy.
The kind of year I've had has reminded me—and not very gently—how quickly and decisively life can change for the worse. Last February, my father-in-law retired from decades of a hard, back-breaking job. By March, he was in the hospital with metastasized lung cancer. By mid-May, he was gone from our lives.
Similarly, this year I had friends whose marriages abruptly ended. Whose children went to jail. Whose jobs were terminated. Whose cancer returned.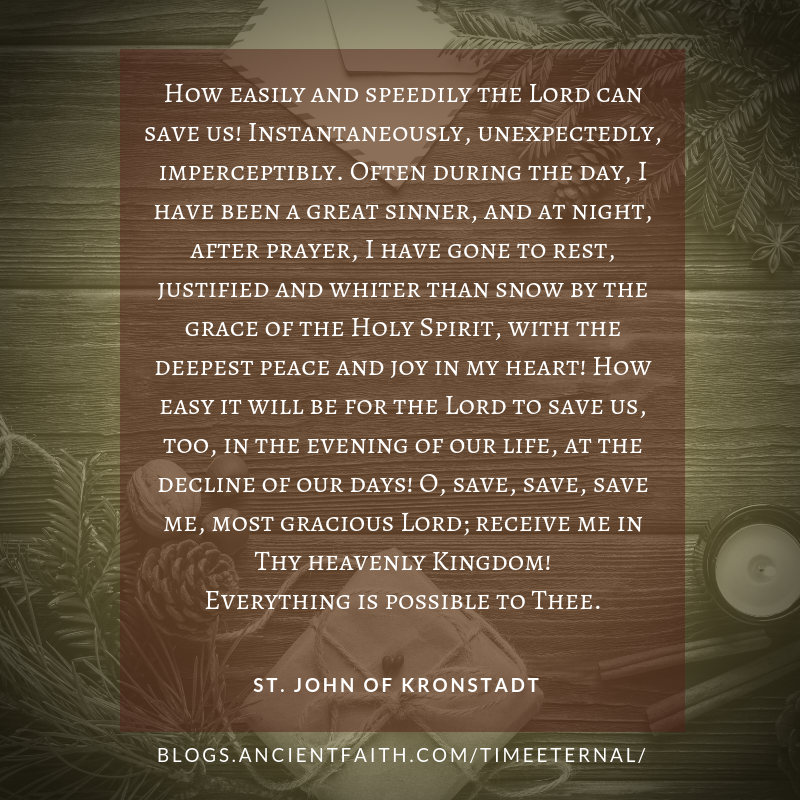 It is easy to become totally paralyzed by how quickly life can change—I know I have at times.
But as I prepared my talk for this weekend, I remembered an excerpt from the diary of St. John Kronstadt:
How easily and speedily the Lord can save us! Instantaneously, unexpectedly, imperceptibly.
Life can take a nosedive quickly and without warning—but the love of God can raise us up with even greater speed.
"Often during the day," St. John continues, "I have been a great sinner, and at night, after prayer, I have gone to rest, justified and whiter than snow by the grace of the Holy Spirit,with the deepest peace and joy in my heart! How easy it will be for the Lord to save us, too, in the evening of our life, at the decline of our days!"
It is good for me to remember these words, to absorb them into my heart for the days when life's nosedives seem imminent, or the days I seriously doubt how God could possibly work good out of the crosses I carry.
This is an especially vital truth to consider in this Nativity season of waiting and preparing our hearts for Christmas. As the weather turns dark and frigid, we remember the longsuffering of humanity is it waited for its Messiah. How many hearts must have been tested during those seemingly endless centuries; how distant the prospect of hope must have seemed, how powerful the scourge of death.
As quickly as tragedy sometimes strikes, the saving love of God is even speedier. He can change the course of history in an evening; He can whiten the stain of sin and despair "instantaneously," St. John reminds us, even "imperceptibly."
Whatever griefs and tragedies we carry with us from this year, may we open our hearts to the gift of God's speed, His unexpected and swiftly acting grace.
And may we make St. John of Kronstadt's abundant prayer our own:
"O, save, save, save me, most gracious Lord; receive me in Thy heavenly Kingdom! Everything is possible to Thee."
Amen.
~*~
Make sure to check out all the recorded talks given at this year's Ancient Faith Women's Retreat!