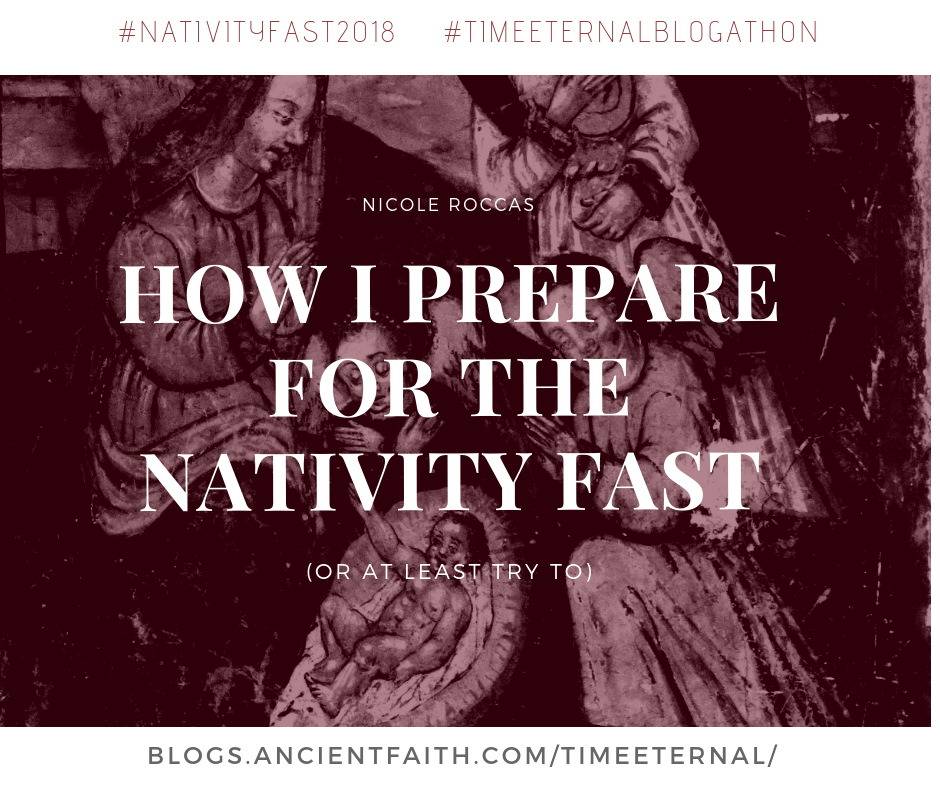 Welcome to Day 2 of the Nativity Blogathon that I'm hosting here on Time Eternal! You can catch the first post here.
I think we can all agree that the Christmas season is a lot more hectic than we'd like. On top of the Christmas parties, school concerts, work parties, and gift exchanges, for many the season also coincides with end-of-year and end-of-quarter work deadlines. Plus, in our Instagram- and Pinterest-crazed milieu, a weird pressure has emerged in the last five years that silently mandates us to not only Do All the Things, but make All the Things look aesthetically amazing and shareable with an outward-facing digital social circle.
In and amid this all, our Orthodox calendar enacts a fast that can–if we let it–slow the bustle down a bit. But even if one is intentionally trying to avoid getting swept up in all the chaos, setting boundaries and creating space for the Fast and our preparation for the Feast of Christ's Nativity is an immense challenge.   
So today, I thought I'd list some of the ways that I prepare for the Nativity Fast. These are simply the things I try to do either before or just as the Nativity season begins so that I can better live out the Fast of the Church.
Do as much Christmas planning and gift-buying as possible before the Fast begins.
I don't like to spend my Nativity Fast stressing about travel plans, secret Santa lists, hard-to-buy-for relatives (Dad and Sean, I'm looking at you), etc. So I try to tackle as much of this as I can before the Fast begins, often in a one-time planning session with myself. I'm not saying I buy every single gift and finalize all our travel plans by November 15th on the dot. But you'd be surprised how much stress is alleviated simply by planning these things out in a detailed way. For example, before the 15th, I make the difficult decisions of what I/we will be getting relatives, especially the hard-to-buy for ones. I also decide when I will order or buy these items and schedule that in my calendar. We like to do a lot of homemade gifts, which take time. Here, too, I just try to pin down what we will make and when we will make it. In doing so, I mostly eliminate the logistical stress of Christmas–yes, I still have tasks to do, but I know when I'm going to do that and don't have to have that vague stress hanging over my head.
We still go out to malls and stores in December–makes a good date night–but having the necessities planned out frees me from a spirit of desperation or consumerism.
Make at least 3-4 fasting-friendly freezer meals and do some basic meal planning.
I know from experience that Fasting Seasons can make food prep more stressful if I haven't done some basic legwork. In the week or two prior to the Fast, I try to make extra meals and freeze them for busy nights. If I don't get around to it, I make a conscious effort to spend more time the first week of the fast making double batches of food at dinner to freeze. Here are some of my favorite low-carb recipes this time of year that freeze well: Sicilian Fish Soup, Greek Octopus stifado, and this beet, ginger, and coconut milk soup. I also love a number of the recipes in Melissa Naasko's Fasting as a Family,  especially the two varieties of smoked mussel pate.
I've experimented with meal planning for Fasts and find that I simply earmarking a few more substantial/ filling recipes for the coming weeks does about as much good as making an intricate meal plan. I can use those more substantial entrees as the focal points of meals and leftovers, and supplement them with fast sides as needed.
Set up social media schedulers and Zapier tasks.
Much of my professional life requires me to maintain a social media presence. It is hard for me to get away for more than a day or two at a time. This is not ideal for me most of the time, but especially during fasting seasons, when I would like to devote more time to prayer, reflection, Church attendance, and relationships. Luckily, the past few years have seen great improvements in social media scheduling apps that allow content creators like me to step away from the computer much more often. I use HootSuite to manage my Facebook pages for Time Eternal and some of my business accounts, and I use Zapier to get posts from my blogs to social media pages. Before fasts begin, I try to schedule what I can ahead of time and create 'zaps' for what I can't. I usually still have to log in to social media once or twice a week just to make sure there are no fires, but implementing these services gives me significantly more freedom than I would have otherwise.  
Put service times in my calendar before the Christmas parties, etc.
December is busy in so many ways. Unexpected invites come up out of nowhere, last minute tasks and work projects–so much pressure to overcommit and generally fall out of sync with one's priorities. Before November 15th, I take a look ahead at the services we are planning on attending and actually write them in my calendar/planner before I start saying yes to work parties and the like. It sounds like such a simple thing, but writing them down in one's own calendar serves as a kind of "first fruit" offering to God. It doesn't mean that I'll end up being able to attend every service I set out to, but it helps clarify my decision-making process and saves me from just forgetfully going with the flow.
Assemble any reading/devotional material ahead of time.
There are a few books I read this time of year no matter what. I read Louisa May Alcott's Little Women around American Thanksgiving, for example, and I read the Dietrich Bonhoeffer devotional God in the Manger throughout December. I also like to pick one or two works of practical or pastoral theology to read or reread, such as Tito Colliander's Way of the Ascetics or Metropolitan Anthony Bloom's Collected Works.
Before the Fast, I lay these books out near my reading or prayer corner, or download them onto my Kindle so that they are visible and accessible when I need them. Again, such a simple task, but I've learned the hard way that without doing so, I may totally forget to read these books until it's too late.  
Send out Epiphany/Theophany cards rather than Christmas cards.
I knew before I ever got married that I didn't want to send Christmas cards. I just never liked the idea of stressing out about cards and addresses along with everything else this time of year. So when our first Christmas was approaching, I proposed an alternative: Theophany cards. That way, we could spend part of the twelve days of Christmas reflecting on our year and writing to friends and family. Luckily, he said yes and writing our annual Theophany Greetings has become a favorite tradition. We only send physical cards to immediate family members; everyone else, we send out a website link that we update with an annual story about our year. 
What do you do to prepare for the Nativity Fast?