Christmas being on a Sunday this year is kind of messing with my sense of time–I keep thinking it's holy week.
On this last day of the work week (perhaps last working day of 2016), time feels quiet, still and contemplative, like things are winding down. Like we are in the sad but peaceful eye of a storm that tomorrow will start building back up to something momentous–something that will be both great and tiring with all those liturgies.
This is exactly what time feels like on Holy Friday and Saturday as Pascha draws near.
I keep wondering if today, like Holy Friday, is a strict fast day. And as I look ahead to tomorrow, I find myself settling into what feels like the strange, liminal time that is Holy Saturday.
Even my Christmas bread is all baked and "resting," wrapped in white tea towels that look a bit like grave clothes, reminding me of Christ lying in the tomb on the Holy Sabbath.
But then the snow and scent of cinnamon and pine everywhere jolts me back into wintertime reality. It's a reality I suppose I will deign to accept if I must… hot chocolate and all…
Of course it's not actually holy week, but it's okay to feel like it is. The time frame of the Feast of the Nativity this year reminds us that Christmas is a type of Pascha, and Nativity/Advent is a type of Great Lent. These two great Feasts of the Holy Year are not meant to be understood as disparate, unrelated events.
There would be no Pascha without the incarnation, and we probably wouldn't celebrate the birth of Christ had the Resurrection never occurred. They are bookends of the same reality: God sending His son into our world to redeem and save us.
When you look at the Nativity icon, for example, Christ as a baby looks like a tiny adult wrapped not in swaddling clothes but in grave linens. The manger looks not unlike a sarcophagus–nearly identical to the tomb and graveclothes visible in icons that show the empty tomb of Christ following His resurrection. In both icons, the angels (and animals, in the case of the Nativity) gesture to the form of Christ. But in the second icon, death is a hollow form. Birth, which used to be haunted by the eventuality of death, is now overshadowed by the life of the resurrection.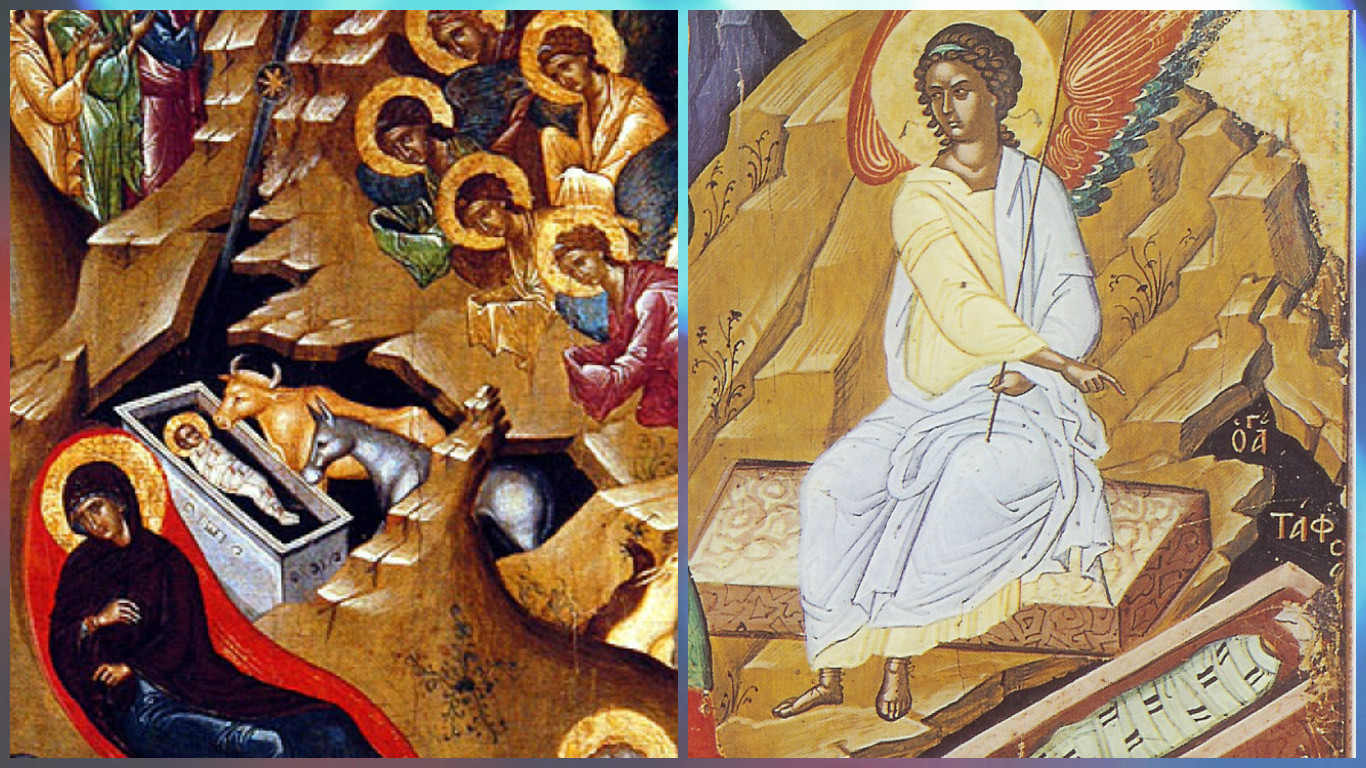 This year, I think it is fitting how Christmas falling on a Sunday allows us to really sense the crucifixion and Holy Saturday impeding on the fabric of this joyous feast. This, I think, is as it should be.
Of course, it also allows the resurrection of Christ to impinge upon His birth–every Sunday being the Lord's day, a type of Pascha. That is a coincidence in the best kind of way.
This Nativity, I've been reading bits and pieces of poetry of Wendell Berry. Berry is famous for his sabbath poems–for years, he has gone for a sabbath walk every week on his Kentucky farm and written a poem about it. I want to leave you with one such poem he wrote early in 1980, near the start of the year. It is a poem in which I cannot tell where life and death–Christmas and Pascha–begin and end. It seems full of winter and darkness, and resurrection and light, all at once. Again–I think this is as it should be.
What hard travail God does in death!
He strives in sleep, in our despair,
And all flesh shudders underneath
The nightmare of His sepulcher.

The earth shakes, grinding its deep stone;
All night the cold wind heaves and pries;
Creation strains sinew and bone
Against the dark door where He lies.

The stem bent, pent in seed, grows straight
And stands. Pain breaks in song. Surprising
The merely dead, graves fill with light
Like opened eyes. He rests in rising.
In Christ's entrance into this cold world, the pain of darkness broke into song, the sinews of creation were stretched and refashioned so that death, ultimately, would be conquered.