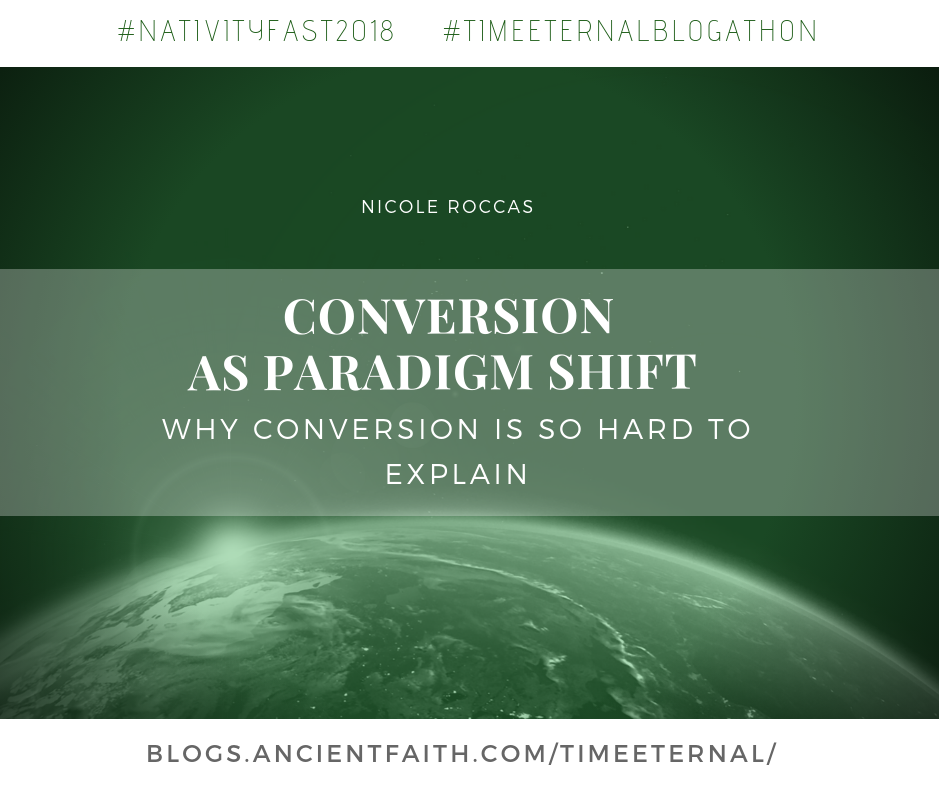 Lately, one of the dominant themes to surface during my parish's post-Liturgy coffee hour is the complicated nature of conversion. Newcomers ask me and other "converts" (of course, we're all converts! But you know what I mean…) why we became Orthodox, and many of us find it's simply too difficult to explain our reasons.
As one friend has pointed out, it's almost easier to explain your conversion before you actually convert (read: are chrismated). The reasons that bring us to an Orthodox Church initially tend to be pretty simple. It is only with time, years and years, you begin to see that the reasons God brought you here (and keeps bringing you here) are deeper, more ineffable than originally believed.
We try to explain this to newcomers, that it's hard to reduce a conversion down to a few bullet points. But I'm not sure they understand–I'm not sure even I understand my own journey.
Why is conversion so complicated?
The first reason for this, I suppose, is mystery. How God changes us and resurrects our lives is a holy mystery; we often don't even get to peer behind the veil of our own lives.
The other reason, though, is connected to what philosopher of science Thomas Kuhn called "paradigm shifts." (Here we have to go down a rabbit hole… I promise it will be relevant.)
Kuhn's classic, The Structure of Scientific Revolutions, was one of the most important books I read in graduate school. In it, he broke down the process of scientific advancement, specifically the Copernican revolution. For Kuhn, scientific revolution occurs not merely when practitioners gain enough new information/data to be intellectually convinced, but rather when this information offers a paradigm that is simpler or is more intuitive than the old one. That paradigm shift occurs only after data reaches a tipping poing, a critical mass, and offers a new narrative to explain reality.
Using the Copernican revolution as an example, Kuhn argued that this system initially appealed to a group of practitioners (albeit few) not because its data was more accurate than the Ptolemaic model (there were still a lot of kinks to work out). Instead, they were swayed by the possibility of a simpler set of formulas, a more elegant paradigm or narrative. Under the Copernican system, although the earth was not the center of the cosmos, the cosmos itself was simpler and more comprehensible. No more were endless epicycles needed to account for the retrograde motion of planets, no more did practitioners have to exhaust themselves trying to make reality conform to geocentrism.
On the flip side, of course, were opponents to the new Copernican system. We know that Galileo was thwarted by the Catholic Church–chiefly its Inquisitorial arm–for his belief in a heliocentric universe. Here, too, we see paradigms at work. Regardless of how convincing heliocentric astronomy had become by the seventeenth century, the Church (or at least those in the Catholic Church who took issue with Galileo) could not accept the new theory because it lacked a paradigm to adequately make sense of a geocentric cosmology. Had not the world been "firmly established" by God so that "it can never be moved"? Aren't humans the crowning glory of God's creation?
It was only gradually, over the course of a century or more, that the Catholic Church and Western culture at large came to accept heliocentrism as reality. This process was aided not by more convincing data but by the development of a new narrative. The rise of Newtonian physics helped provide this, with its vision of the cosmos and laws of motion as a kind of divinely ordained symphony.
Here is the point: the harder element of large-scale scientific discovery is not the actual science part, but simply waiting for a culture's paradigm or worldview to catch up with that advancement. This "lag" has to happen before a society can integrate new scientific understandings in any meaningful way. Think of evolution in the twentieth century; even today, there are certain groups who do not believe evolution is accurate. I would argue that, for these groups, this is largely because they have not found a way to reconcile evolution with a Christocentric paradigm.
Conversion as Paradigm Shift
My main purpose here is not about science, evolutionary or not. My question is: how does Kuhn's notion of paradigm shift help us understand the process of conversion?
As I mentioned above, whenever I am asked why I converted to Orthodoxy, it is difficult to give an adequate answer. I could point to my disillusionment with Evangelicalism or certain doctrines I had come to take issue with. But that's merely what brought me to the door of an Orthodox Church, not why I eventually was received into the Church–and why I stay.
I could also point to specific beliefs I held–about the Eucharist, or the Trinity–that changed over time. But again, none of that fully accounts for my conversion. The best way to explain it is that I experienced a paradigm shift–mysteriously, gradually, wholly.
Once upon a time, the idea of venerating an icon (with my lips! In Church!) made my blood curl for its idolatry; at a certain point in time, it no longer did–in fact, it seemed beautiful to do so. Once upon a time, it seemed scandalous to pay homage to the Mother of God; at a certain point, it seemed not only permissible but important. Once upon a time, receiving the Eucharist seemed insignificant, a historical reenactment, a pious but mostly unnecessary afterthought–at a certain point in time, it began to seem like everything, the whole world.
What changed was not receiving new information–I already knew about Eastern Christian ideas about icons, veneration being passed on to the Prototype, notions of sacrament, etc. Instead, what changed was my paradigm. A new narrative–about life, creation, matter, reality, Christ's activity in this world–supplanted the old. This took time.
And in my experience, once your paradigm shifts, it is pretty hard to go back. It's not about being persuaded back to an old set of principles or doctrinal statements; a paradigm is deeper and more expansive than that. It involves how you see and perceive all of life. For the same reason, it also becomes more difficult to explain this paradigm shift–or your conversion–to those who haven't undergone a similar change. To make things more comprehensible, we may attempt to reduce our conversion to a few bullet points we were intellectually persuaded by, to pin things down to a few anecdotes. But often these "conversion narratives" fall flat, for us and our interlocutor. There was more to it than those points, but how to give voice to that?
The old Psalm is true: "taste and see that the Lord is good" (Ps. 34:8). And once you taste and see this, it will change you–maybe in ways you can't take back or understand on earthly terms.
So that is what I tell people who ask me during coffee hour for a pithy synopsis of my conversion. I tell them to stick around, to taste and see, to allow themselves to enter into conversion, in all its complexity.