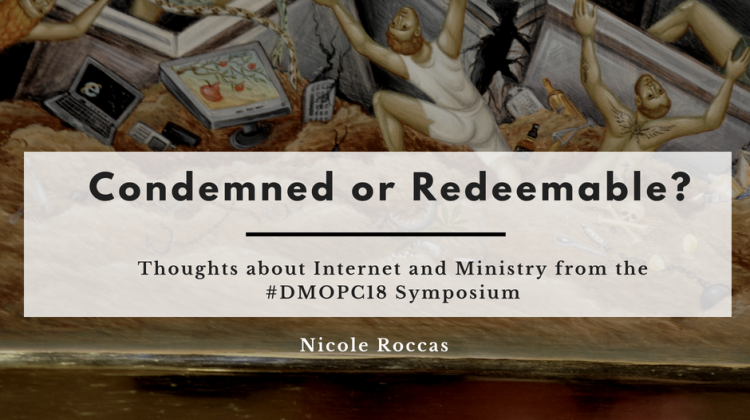 As many of you know, I have recently returned from a trip to Greece, in which I participated in the Second International Symposium on Digital Media and Orthodox Pastoral Care, held from June 18-21 at the Orthodox Academy of Crete (of Great and Holy Council 2016 fame). The symposium was organized by Pemptousia, with support from various other groups like Ancient Faith Ministries and OCN. The talks will be made available online gradually, but if you're interested in a more "on-site" experience, make sure to check out the most recent episode from Fr. Barnabas Powell's show Faith Encouraged LIVE–it features me, Fr. Powell, and the rest of the "North American" delegation representing Ancient Faith at this conference while we were still in the thick of the conference. Now, on with this post…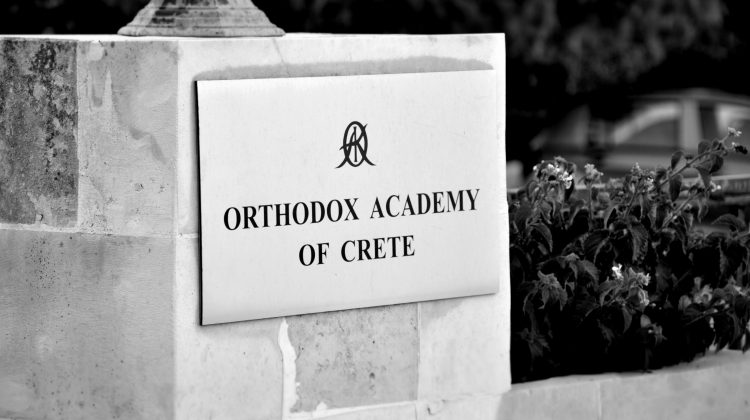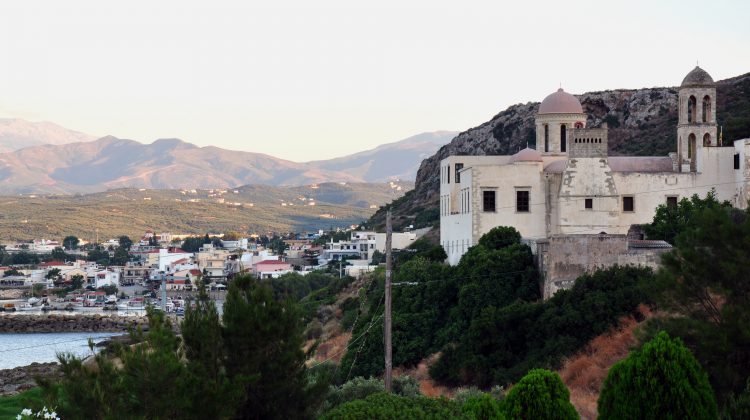 The conference has given me much to think about and I think all of the participants are still processing. I will undoubtedly have more to offer in the future, but in the meantime, here are some thoughts. I'll start not from the beginning, but from the end–the end of my time in Greece.
After the conference, I spent another week in Greece, both on the island of Crete and in Athens. I spent my final day of the trip visiting the Byzantine and Christian Museum in Athens, a priceless repository of Christian historical artefacts. After spending a full seven hours walking its galleries, I finally got to the exit of the museum and assumed I was finished. "Time for a gyro!" I mused. But as I approached the exit sign, something caught my eye. It was an artistic re-rendering of the traditional Icon of the Resurrection. In this depiction, attributed to the Holy Cenobium of the Annunciation of the Mother of God in Ormylia (Greece), Christ was pulling all sorts of people from the abyss of Hades–not just Adam and Eve, but minorities, monks, prisoners, drug addicts, prostitutes, and other folks who'd clearly had their share of temporal struggles. At the bottom of the painting, among the rubble, are strewn the paraphernalia of postmodern life: computers (both a PC and Mac, mind you, see lower left corner), cell phones, junk food, drug syringes, poker chips…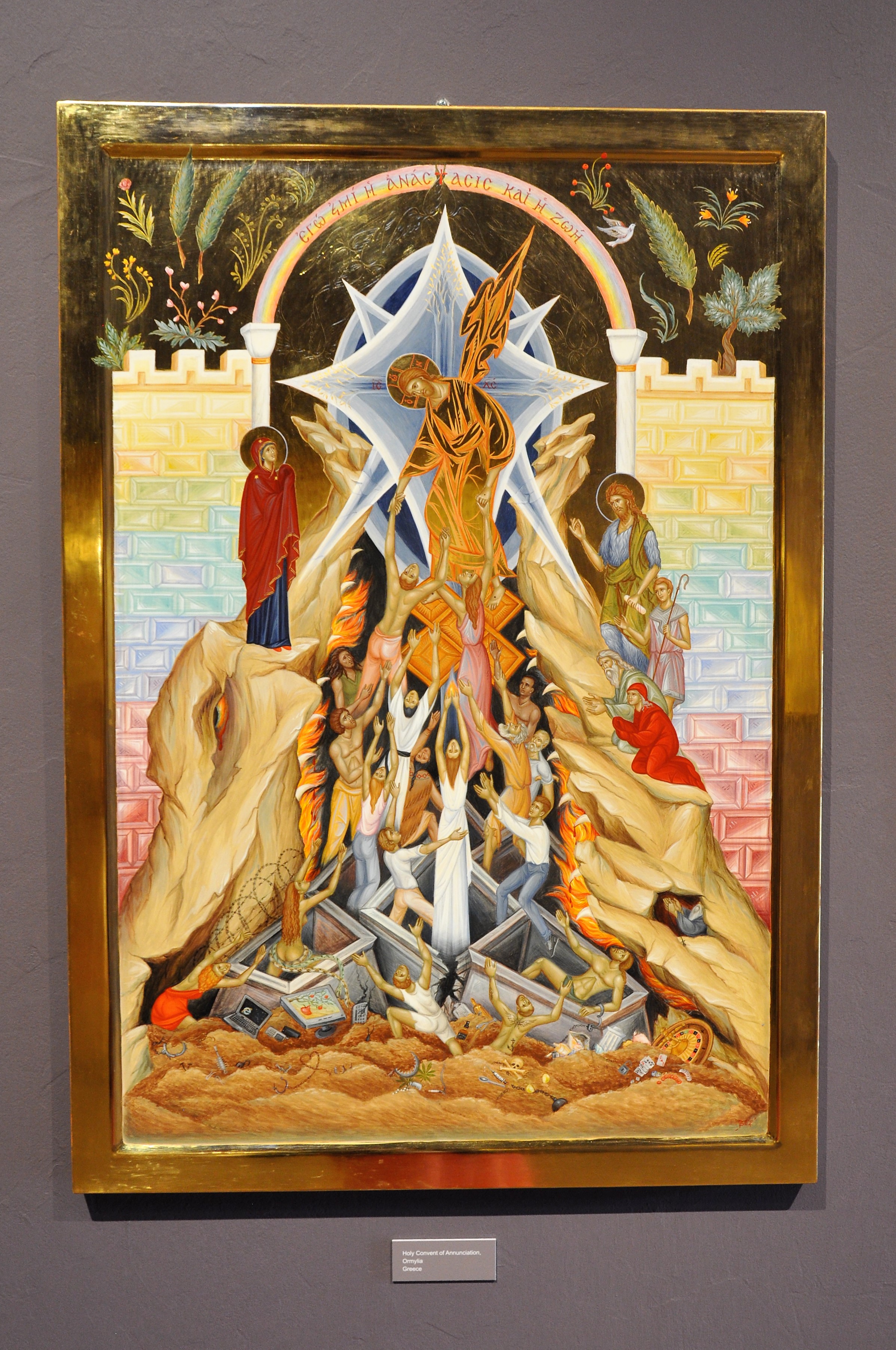 It is a visual testimony to the extent of the redemption offered to us in the resurrection of Christ, and I was speechless. Also on my mind was how it seemed to sum up much of the tension I'd been contemplating since the conclusion of the DMOPC18 a week prior…
The Tension
Something that began to surface from the first session of the conference was a palpable tension between pessimistic and (if not wholly optimistic, then at least) redemptive views of digital media and its uses in the Orthodox Church. Those opting for a more optimistic or redemptive view of the internet pointed out the necessity of having a digital presence as a Church. When it comes to strictly pastoral content like sermons and informational resources, internet ministry serves an important catechetical and apologetic function. For creative content developers like myself, leveraging digital genres like blogs and podcasts allow Orthodoxy to speak and contribute to culture in ways that would otherwise be impossible. Speaking for others in the "optimist" group, while we recognize the dangers and limits of the internet, we nonetheless see it as an important tool to offer a meaningful apologia of Orthodoxy, guide believers in their spiritual formation, and ultimately connect more people to the embodied Church or other in-person encounters. In this paradigm, the internet is not an end but a means, a bridge–we seek to help people move beyond so-called "internet Orthodoxy," and into the Church.
As you may imagine, a large contingency saw things differently. I'm labelling this the "pessimist" camp, not to denigrate them, but because that term best sums up how I interpreted their views. Speakers in this category tended to emphasize the many ways digital media is misused not only in the Church but in society at large. This included such tendencies as:
The dissemination of false information, news, and teachings;
Its role in facilitating anticlericalism and disrespect for Church authority;
Its implication in fostering addiction, narcissism, and consumerist attitudes, particularly in younger generations.
While the optimists acknowledge the same risks, folks in the pessimist group weighed them more heavily and thus devoted much of their time collaborating on how best to face (or avoid) them. Although I was unprepared for the amount of airtime that would be devoted to cautionary tales of the internet, the symposium was ultimately a beneficial space to wrestle with a phenomenon (the internet) whose potential for self- and community-destruction is recognized by both secularists and Christians alike.
Still, the more I began to listen to these concerns, the more I sensed the possibility for them to lead to dangerous outcomes: hopelessness, judgment, cynicism, or avoidance.
From my vantage point, this possibility came to fruition in the presentation given by Jean-Claude Larchet, whose talk petitioned the Church to formally include internet use among the items to abstain from during fasting seasons. While this idea is vital and life-giving (my own meagre Lenten effort always benefits from at least partial social media fasts), Larchet's manner of supporting his argument was far harsher than it needed to be. During the course of his argument, he publicly remonstrated individuals in the audience for looking at screens during his talk (from my vantage point in the back of the room, I could see many were simply using their phones or computers to take notes), and argued that we should not be devoting so much effort to online ministry since most people simply use the internet for porn and gaming. Instead of demonstrating loving, pastoral concern for the human person, his statements revealed more about his own pessimistic anthropology and judgmental tendencies. I say this not to attack Larchet (and encourage you to make up your own mind by listening to his talk when it becomes available), but rather to illustrate the need for us as Orthodox Christians to always be guarding ourselves against the destructive allure of cynicism and hopelessness. When we give into those temptations, we risk judging our fellow man and implying that they are either unworthy or incapable of being redeemed.
Speaking of judging one's fellow man, the symposium challenged me to hear people out and really listen to their concerns. Larchet's presentation aside, I met many folks whose concerns about digital ministry initially made me feel defensive (as someone who spends much of her professional life developing online content). Yet the more questions I asked in conversation, the more I learned that not only their concern but their reticence toward the Internet as a ministry tool were worth understanding and heeding. They indicate something about what the Church is experiencing and witnessing to in a digital age.
Internet in North American versus Greek Orthodoxy
As an example of this… On the last day or two of the conference, I had several eye-opening conversations with one of my "arch nemeses" there (I say that lovingly because it is a blessing to be able to hash it out in a spirit of mutual Christian respect with someone you thought you disagreed with). Based on his explanations, it became apparent that the whole optimist-pessimist fault line largely boils down to geography and history. Folks from a North American context were far more likely to see the potential and redeem-ability of the internet since Orthodoxy here is so much more disparate and loosely assembled than in the "Orthodox bloc" countries of Europe, especially Greece. Through platforms like Ancient Faith and others, the internet has served as a crucial tool to expand and stabilize the Orthodox voice in our corner of the world. When destabilizing currents emerge in the Orthodoxy of North American internet, however destructive they can be, their impact is limited and more disparate, simply because demographically we have fewer Orthodox people–online or otherwise, destructive or not.
In the Greek context, the issues are reversed. The number of online voices in the internet of Greek Orthodoxy who seek to undermine the Church are much more numerous; they have reached a critical mass that is currently impossible in a North American context. Thus they are louder, more vociferous, and able to do real damage. This trend has been exacerbated by the reality that the Church in Greece was relatively slow to recognize and respond to the internet phenomenon, mostly because there are more local churches and it is thus easier to maintain traditional forms of communication with parishioners.
And so, although the concerns many of the Greek speakers voiced in regard to online ministry initially struck me as paranoid or unproductive, I have now realized that they are dealing with real and critical issues–that is, their concerns are not groundless. Moreover, the issues they are facing serve as a lesson for North American churches and content producers in terms of how we face the increasingly turbulent current that is online discourse. What happens when we encounter points of disagreement and discord in the Orthodox internet? What happens when people begin to live more of their faith in online venues than actually going to church? How can we craft content that reconnects people with the embodied life of faith? Can we afford to avoid the internet as a ministry tool? How do we face the undeniable reality of the growing phenomenon of addiction and consumerism? Is the message of Christ compatible with the digital environment?
These are tough but rich and important questions. Moreover, I do not think the Orthodox Church is the only one wrestling with them. At the heart of these questions or quintessential tensions about what it means to be human and to have hope in a world that is drastically changing. This is a struggle anyone alive today can relate to. As a Church, I wonder if our contribution to that struggle is not simply offering judgmental, gut-response answers, but simply providing a place of love and hope in which to wrestle and struggle to hang on to our identities as created, eternally loved, human persons.
Condemned or Redeemed?
Back to the depiction of the resurrection icon in Athens… As I stared at that piece, I realized it was unclear whether those things–the computers, the cell phones, etc.–were among the chains of death Christ had broken, or whether they were included in the swell of bodies and tombs rising up to encounter Christ in His resurrection. In other words, had they been condemned or redeemed? How far does this salvation thing extend? Are there aspects of human experience that are, unequivocally and without exception, condemned?
For me, after the DMPOC18, these are still open questions as they relate to the internet and digital media. And perhaps they should remain that way. After all, computers and cell phones are not human persons, they are not made in the image of God and thus do not bear the same dignity as a living, breathing creature. Yet, to denigrate the internet as fully beyond the reach of redemption–fully incapable of bearing any wisp of the message of salvation–constrains the saving love of Christ, and also places limits on the mandate to preach the good news to all nations.
Maybe the internet is neither condemned nor redeemed, but both. Or capable of both.  What do you think?
***
For pictures of my travels, make sure to follow me on Instagram and Flickr.