Christ is risen! Welcome to a new kind of post I'm starting here on the blog called Time Eternal Roundtables. Every roundtable will center on some kind of time-related conversation starter, and I'll invite a few respondents to chime in before continuing the conversation with you folks in the comments or on Facebook.
Some of these folks will be familiar faces from Ancient Faith, others will be my friends and family, readers, other writers, or disoriented strangers I've harangued on the street to talk to me about time.
Today's question is:
Are you generally a late or punctual person? Tell us about a time when you were embarrassingly late or early for an event.
I've asked a few friends/ fellow Ancient Faith personalities to expose their unsightly late or punctual side to the world: Elissa Bjeletich, Melinda Johnson, and Melissa Naasko. By the way, all of us ladies have something very fun in common–we are speaking at and helping organize the first annual Ancient Faith Women's Retreat this November 15-18 (2018). We're excited and think you should come (if you're a woman, that is–if not, it could be awkward).  And despite what gets said on this blog post, we will all be on time for our talks. Won't we, ladies?
OK, back to punctuality and lack thereof. Here we go in alphabetical order…
Elissa Bjeletich: "Always Late"
When you have 5 kids and you are always running late, people assume that there's just a natural chaos in a big family which causes the family to run late. In my case, however, that's really not true at all. It's something about how I think about quantity and time.

My grandfather used to loudly declare that my mother "would be late to her own funeral." Mom always ran at least 30 minutes late when I was a kid, and it made me crazy. I was usually the last one picked up from school, and we always missed the beginnings of things–parties, movies, school days. Mom didn't wear a watch and she hated having clocks in the house, so she never knew what time it was. (Funnily enough, people often bought her clocks as gifts, and she was polite at the time but would later shake her head saying, 'the reason I don't have clocks is because I don't want clocks!') Mom would be doing her work and then she'd just kind of get up and leave when it seemed like the right time, which almost never worked. She made up for it in many other ways, of course, but the being late part always bothered me.

As an adult, I avoid the sloppy way my mom handled time, opting instead to embrace precision. I have clocks in every room, and they're all synchronized. I am delighted by the invention of the smartphone, with its always-correct clock. I don't like to estimate, and I see a world of difference between 196 and 198–after all, 196 is just a bit over 195, and 198 is almost 200! So when I set aside time to drive the kids to school, I reserve 6 minutes. A stop at the post office? Add 2 minutes. Going to Walgreens? 11 minutes. I add up all these smallish, precise numbers and decide that I have plenty of time to get everything finished. And sometimes I do.

I love efficiency and precision, and that means that I try to fit as many things into my day as I possibly can. Sometimes it makes my head hurt, and frequently it means that I run late. On my way to an appointment, I try to build in stops to accomplish errands along my path. In a perfect world, each stop may take only 6 or 8 minutes–but there are minutes that get lost in the parking lot and waiting for the light to change… Over the years, I am getting better at estimating them and adding them to my algorithms. One of these days, it's all going to fall in place. Until then, I run about 4 minutes late on average.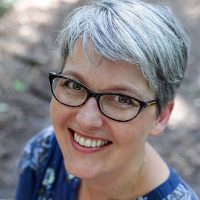 Elissa Bjeletich is a wife and mother, raising five daughters and working in the Sunday school at Transfiguration Greek Orthodox Church in Austin, Texas. Her widespread work with Ancient Faith–from podcasting to writing–is curated here. In particular, she blogs at Raising Saints, where she encourages and equips us for the important conversations through which we pass on the faith to our young people.
Melinda Johnson: "I've been"
This is a story my grandfather Keneth loved to tell about my grandmother. Reta was a Canadian wheat farmer's daughter, self-taught oil painter, pattern-less dressmaker, and a strong, practical woman. At 14, she came to America for school. The school was in a small town, and no one remembered to meet her at the train station. Reta waited a reasonable time, then pushed her trunk out of the station yard and rolled it end over end up a long hilly road to her new home. She didn't know how to give up.

In the fall of 1940, Reta was grown up, married to Keneth, and expecting her first child (my father). Wendell Wilkie was running for president, and Keneth was a "sound man" on his campaign train. In the golden age of radio, a candidate needed someone to run the sound system at campaign stops and help with broadcasting. That meant Reta could keep in touch with Keneth only by telephone or telegram – he didn't stay in one place long enough to receive letters.

The great day came, and despite attempts to reach Keneth, Reta was alone in her hospital room, waiting to give birth with no husband or mother to hold her hand. With every opportunity to panic, she looked out the window and reminded herself that everyone passing on the street came into the world this way, and if their mothers could do it, so could she. She gave birth to a healthy boy, and both were resting comfortably when Keneth reached the hospital.

In those days, the baby was kept in the nursery, and the birth took place in the delivery room.  Thus, Keneth, plunging through her door, asked the natural question – "When are you going down?"

Reta looked him straight in the eye and said calmly, "I've been."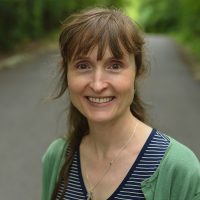 Melinda Johnson is a freelance writer and the author of two novels as well as the marketing director at Ancient Faith Ministries. Her work appears on various Orthodox websites and she blogs at melindajohnsonwriting.com/. For more about her writing, see here.
Melissa Naasko: "Latin Time"
Latin families can't handle punctuality. We just show up places sometime after a given time but never at the given time because "Latin Time". Anyone who knows me, knows that I simply cannot manage anything better than being exactly on time and even then I am running in, gasping for breath, clutching my chest, a slew of children running in after me, all sliding into their places. In fact, such an event is an accomplishment. For me, showing up five minutes late is practically half an hour early. I would call that a grand success, or at least will I call it one, as soon as I catch my breath.

My husband is the deacon and has to leave early for Proskomedia, taking a boy or two. That leaves me with the two or three other boys plus six girls. He does this with full knowledge of who I am and he should know better by now. We need to be there at a quarter of the hour so one of the boys can ring the bell, but it never fails that I am slamming on the breaks at the front door, screaming for said boy to jump out of the van, and he does. He will burst out of the van like an inmate at a prison break. People know us by now and no one is startled by the boy scrambling up the bell tower staircase as if he is fleeing wolves. This is just who we are.

There is one exception to my track record. On the day of our Chrismation, I was twenty minutes early with my children (all of them) and with our houseguests, a grand total of twenty-one people. I had been so afraid of being late that I had prepared a schedule of when to wake kids and created a list of who could have access to the bathrooms on a rotating schedule, putting the whole set of alarms into my phone. The morning clicked along like I was running a space shuttle launch with military precision. I had planned an opportunity for all the children to have a chance to use the single church bathroom before the service so we showed up early enough for that, list in hand.

The priest, knowing me, told us to arrive half an hour earlier than he needed but didn't expect us to actually be there. Seeing us out the window as he was brushing his teeth, he had to send someone to unlock the door. The cantor showed up forty-five minutes later, convinced she would beat us, and found us all shoeless and waiting in the narthex. This morning has become something of a legendary event, a mythical occurrence that one can't be sure actually happened but it did. One morning, one single morning, I was nearly an hour early for something. Put that in the record books because you won't see it again.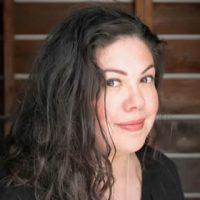 Melissa Naasko, a wife and mother of eleven children, lives on a hobby farm in the rugged wilderness of the Upper Peninsula of Michigan. She is the author of the Fasting as a Family cookbook available through Ancient Faith Publishing.
Nicole Roccas: "Cannoli with Greeks"
I am, by nature, a hyper-punctual person. This often conflicts with the Greek culture/ family I married into…

Two years ago, I spent a day exploring Manhattan with my husband and his siblings. As we approached Port Authority to catch a bus back to our hotel in New Jersey, my husband and his sister spied Carlos' Bake Shop on 8th and 42nd.  I had no idea who this Carlos was, but was quickly informed that only the best cannoli in the world are said to dwell there. They insisted we couldn't leave NYC without a box of them, never mind that the line stretched halfway down the street and we had only a scant 35 minutes before the last bus of the night left.

After tense negotiations, I finally condescended to go alone and purchase our tickets to save time. In return, my husband and siblings solemnly vowed to exit the line and head for the bus at the 30-minute mark (without a tantrum). "We have to at least try for the cannoli. If not, we'll never know," they reasoned.

After leaving to buy the tickets, I soon found myself disoriented in the maze of hallways and escalators in the terminal. Each turn led me down another corridor identical to the last. Ten minutes went by. Then twenty. Panicked sweat soaked my clothes. I hardly knew what was scarier: being too late for the bus or being lost in a downtown NYC venue, alone, late at night, and without a cell phone. Five minutes after our bus had left, the endless labyrinth finally deposited me at the 8th St. exit. I assumed my family would be frantically searching for me—possibly they had even called the cops by now. Definitely, they would be upset over missing the bus because definitely, they had exited the line ten minutes prior, per our agreement. I almost felt sorry for them.

Suddenly, I spied them down the street, just stepping out of Carlos', juggling boxes of cannoli and already taste testing to see whether the chocolate or the vanilla ones were best.

"Well, thanks to you, we're late! I hope those cannoli were worth it!" I yelled at the top of my lungs down the block. My husband and sister-in-law paused mid-cannoli. Several passersby stood back to give this crazy woman some space. I eyed them as they got closer like a tiger ready to pounce. "You have absolutely no idea what I've been through. I almost died tonight—and on top if it, we're late!"

Eventually, we did make it back to Jersey that night, but not without several hours of tense silence punctuated by my in-laws randomly giggling about they had never seen me so mad before.

A year later, we all found ourselves back on 8th and 42nd, the smell of cannoli wafting out of Carlos' like a fragrance of the gods.      

"Absolutely NOT!" I glowered before anyone had a chance to even ask. (As usual, they persisted, and as usual I gave in. What are you going to do, they are the world's best cannoli.)

To this day, roughly once a week, I have a recurrent nightmare in which I am racing through an abandoned bus terminal. In the dream, the hallways never end, my in-laws never show up, and I'm never on time for the bus.  I wake up in a cold sweat. And there are no cannoli to comfort me.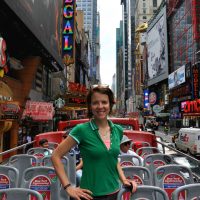 That's me, Nicole Roccas, in NYC two summers ago (the day prior to the aforementioned cannoli fiasco).
We'd love to hear from you! Are you late or punctual? Why? Were you ever embarrassingly late or early for something? Follow up in the comments below or on Facebook!